Printed from https://www.writing.com/main/newsletters/action/archives/id/6674-Two-Outlines-for-the-Price-of-a-Mystery.html
Mystery: November 26, 2014 Issue [#6674]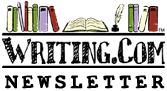 Mystery





This week: Two Outlines for the Price of a Mystery

Edited by: ember_rain
More Newsletters By This Editor



1. About this Newsletter
2. A Word from our Sponsor
3. Letter from the Editor
4. Editor's Picks
5. A Word from Writing.Com
6. Ask & Answer
7. Removal instructions





The first story I ever read by myself was a mystery. My first short story I ever wrote was a mystery and of course, the first novel I ever tried to write--I really need to finish it--was a mystery. Life itself is just one good mystery waiting to reveal itself just around the corner of time. Life would be boring without it and that is why I occasionally do this newsletter--to remind myself that everyone needs a little mystery.



| | |
| --- | --- |
| ASIN: B01DSJSURY | |



Good News, I remembered to check on recent topics for this newsletter.

Bad news, Someone recently did one on what I wanted to talk about. If great minds think alike then Jeff
and I are on a roll.

You won't be subjected to the importance of procedure when solving a mystery again. However, that meant I needed a new topic. So I went on a How to write a mystery novel Google search and found a really nice article that I will link at the bottom of this Newsletter.

Most of what she had to say was pretty straight forward. It wasn't anything I hadn't heard before, she just did said it in a very amusing fashion. There was one point though that had a light going off in my head. I am finding I wish I had, not so much thought of it, but utilized it better in my NANOWRIMO novel this month.

My novel isn't a mystery though I could see how some could argue it might be. Right now I have a character stranded in the middle of no where without a clue to where she is. I mean, she isn't even sure what country it is. That's kind of a mystery.

The idea was to have two outlines. One which follows your police detective, PI, Old lady with a way of being where the murders happen, through all the clues and is clear to your reader.

The other outline or set of notes applies to all of your suspects. While you're helping your reader sort the clues on why a person dressed up as Hamburgerler is actually stealing hamburgers just before each murder happens exactly two blocks away. The guy in the Hamburgerler suit has to be somewhere. You need to know where, even if your readers don't.

You also need a list of suspects. All of them have something to hide that makes them look guilty. Only one is actually guilty. It doesn't look good if you have Sam Jones lying about his affair and Matt Johnson lying about his drug addiction only to confuse who was lying about what later. These are the things you need to know, even if your reader doesn't. So, you need a second outline or at the very least a really good novel writing program.

The best ones will have character development tools that leave you room for making notes. I mean if your anything like me, you may not even know who did it until the clues lead you there. Having a place to keep all of your victims info and all of your suspects info outside of your actual storyline, seems like a no-brainer but the truth is, its time consuming and even when we have a writing program that makes it easy we still don't always use it..

29 chapters in and I am just now realizing that only three of my chapters are worth anything. Why? Because I didn't keep up with where all my characters were located or how they got back to the location of the scene I was writing. People are just magically popping up all over the place. That's okay for the sprite that likes to turn herself into a potted plant. It's not okay for my main character to be in an entirely different city and show up at his house without me writing something to show he came home.

Regardless of what kind of Novel you are writing, there are always elements you need to keep straight and the more characters you have the harder it is. Consider, at the very least, keeping a list of characters and where they are located in your world. I promise, it will make life a whole lot easier.

Oh right that article. 25 things you need to know about writing a mystery

Charon City Blues: 1st Stanza (13+)
High tech and low life is the name of the game for private detective Chris Black.
#

1679596

by A. Barnes
Invalid Item
This item number is not valid.
#

2018443

by Not Available.
Invalid Item
This item number is not valid.
#

2017819

by Not Available.
Invalid Item
This item number is not valid.
#

2018207

by Not Available.
Invalid Item
This item number is not valid.
#

2011965

by Not Available.
Invalid Item
This item number is not valid.
#

1092086

by Not Available.
Inhumane Actions (E)
A story of independent security technology partner and the problems of keeping people safe
#

1757830

by Litteratus di Humana



Have an opinion on what you've read here today? Then send the Editor feedback! Find an item that you think would be perfect for showcasing here? Submit it for consideration in the newsletter!
https://Writing.Com/main/newsletters/action/nli_form



Don't forget to support our sponsor!




| | |
| --- | --- |
| ASIN: B01MQP5740 | Kindle |



So how do you keep up with what your characters are up to when they aren't actually in your story?

Comments on my last newsletter

Quick-Quill

I could have had this conversation. I watched the whole CM series up to the present. Year. Now its about the characters can they keep them interesting? I love Grimm and I wad worried at the end of last season. Looking to see where the new girl goes and how they play the MC out of his problem. This is the idea when writing. Give a twist or new character if you hit a dry spot.

Saira Mokhtari
: highly recommend your husband watch the Leverage commentaries as they explain that they have researched everything that they do with only very slight exaggeration on some things. My brother, who can be extremely difficult to please if something doesn't seem plausible, loves Leverage for this exact reason. Perhaps y'all can start enjoying it again if you watch the commentaries that are on every single episode on DVD. I'd like to know what he has to say about Burn Notice and White Collar.

He loved Leverage. We never missed an episode. Then Sophie (Gina Bellman) left the show and was replaced by Jeri Ryan (Tara Cole). He likes Tara as an actress but he wasn't happy with the way they wrote Sophie out. He just quit watching. When Sophie came back, it was to late for him to keep watching. If he thinks its something that goes against the nature of the character, he won't keep going either. The evolution has to be obvious and it wasn't with Leverage.

Burn Notice we stopped watching when I couldn't handle yet another kidnapping. I mean do people really get kidnapped that often? White Collar, we loved. For a long time it was great. I watched it with great pleasure. Then he started telling me how it was going to end during a commercial break. That always meant he was either heading to the XBox or about to load up Civ 4. I hate watching TV alone, especially when hes just going to be proven right. LOL


| | |
| --- | --- |
| ASIN: B07NPKP5BF | Toy |



To stop receiving this newsletter, click here for your newsletter subscription list. Simply uncheck the box next to any newsletter(s) you wish to cancel and then click to "Submit Changes". You can edit your subscriptions at any time.



Printed from https://www.writing.com/main/newsletters/action/archives/id/6674-Two-Outlines-for-the-Price-of-a-Mystery.html