Printed from https://www.writing.com/main/newsletters/action/archives/id/6712-Love-is-a-Promise.html
Romance/Love: December 17, 2014 Issue [#6712]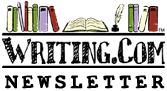 Romance/Love





This week: Love is a Promise

Edited by: ember_rain
More Newsletters By This Editor



1. About this Newsletter
2. A Word from our Sponsor
3. Letter from the Editor
4. Editor's Picks
5. A Word from Writing.Com
6. Ask & Answer
7. Removal instructions





This newsletter will take a look at what romance has become through the end of 20th century into the 21st Century. We will discuss how to handle the modern romance with an eye to modern issues that often end marriages and relationships while keeping one foot firmly in the realm of "love at first sight". I know its possible. I live it every day. I also know how sometimes love seems like it might not be enough.



| | |
| --- | --- |
| ASIN: B07YXBT9JT | |



I was watching Dr. Who with the kids a few weeks back. In it the love of his current companions life has died and been turned into a Cyber-man, thanks to a newly regenerated Master that is now the Mistress. In their conversation at the end of the show, The doctor tells her that Mr. Pink would never hurt Clara because love isn't an emotion. It's a promise. I made the kids rewind and listen again. Love is a promise. It's the biggest promise you can make and the most important that you don't break.

Then on Yahoo this morning, I saw an article about a study on why people stay together. The running theme through long running relationships? Appreciation for the little things. Rather than assuming that your partner knows hes appreciated for putting up the dishes or shes appreciated for cooking even the most simple of suppers, say it. Its all about the thank you.

Even in the most structured of romantic stories have one thing in common. Its all about learning to trust the promise. In this day and age everyone breaks their promises. We all say, "I promise I will do it later." then forget to do it. "I promise I won't be late." Then we get stuck in traffic. I promise has become almost as meaningless as I love you. How can you trust someone who says they love you when they also love their car, that latte they are drinking, or a movie?"

These are the struggles of a Romance writer. How to get through the everyday uses of love and promise to the point where your characters can agree. It's also why Romance stories are so important. As romance writers we have the opportunity to show the world that broken promises can be fixed. That something as simple as an "I'm sorry. I should have paid more attention" or a "Thank You for making my day easier. I really appreciate it," can mean the world to someone.

I will take it one step further and say, that just being thoughtful towards each other is what it really is. Gratitude is part of thoughtfulness. Letting your spouse come home from work expecting you to be there when you aren't without getting a phone call, text message, or at least finding a note on the fridge isn't thoughtful. I have heard women say they would go insane if they had a husband that called them as much as mine does me. Clanbear
works in the fairly dangerous field of Airplane Cabinet building. Everyday, he is working with huge machines that could remove fingers, break ribs, any sort of thing. He also drives over fifty miles one way on some of the worst roads in our state. He knows I worry. I always worry. So he calls me just so I know nothing bad has happened.

It is my privilege to worry about him and his thoughtfulness to answer that worry with a phone call or text message. Sometimes all it says is "Smile, Sweets." Just a little note so I know hes thinking about me. Its kind and thoughtful and in no way intrusive into my day. These are the things we need to remember when writing believable characters whose love can pass the test of time. Is it a promise they can keep? Did you do the work inside the story to show that they can?

There are struggles when trying to combine the lives of two unique individuals. With each struggle that is overcome a new part of that promise is made. Throw in a bit of thoughtfulness and childlike wonder and you have the makings of an amazing romance that can stand the test of time.





Invalid Item
This item number is not valid.
#

2021600

by Not Available.
Soul Census - War of Shadows - Book 1 (13+)
Paranormal fantasy set in 1930s. Elements of Reincarnation, Soulmates, Mythology & Nazis
#

1877118

by AJVega
Welsh Gold (13+)
The school charmer falls for the new girl who has a secret that he may not cope with.
#

2021453

by Andy~2021 has to be better
Loving Tina (E)
A tale about the importance and the significance of love
#

2021388

by Bryan
A Magical Christmas (E)
"At our age," Angela said, "surprises can be dangerous."
#

2021165

by Bikerider
Invalid Item
This item number is not valid.
#

2021159

by Not Available.
Affirmation (E)
After all these years...
#

2021113

by Robert Martin
A Letter To Jessie (E)
A letter I've written to my departed wife. Of our life, love...and of moving on.
#

1963811

by Alexandre4577
Invalid Item
This item number is not valid.
#

1577538

by Not Available.



Have an opinion on what you've read here today? Then send the Editor feedback! Find an item that you think would be perfect for showcasing here? Submit it for consideration in the newsletter!
https://Writing.Com/main/newsletters/action/nli_form



Don't forget to support our sponsor!




| | |
| --- | --- |
| ASIN: B083RZJVJ8 | |



No questions this week. Just a suggestion. Do something thoughtful for someone you love romantic or otherwise. It is the season of giving after all.


| | |
| --- | --- |
| ASIN: B085272J6B | Kindle |



To stop receiving this newsletter, click here for your newsletter subscription list. Simply uncheck the box next to any newsletter(s) you wish to cancel and then click to "Submit Changes". You can edit your subscriptions at any time.



Printed from https://www.writing.com/main/newsletters/action/archives/id/6712-Love-is-a-Promise.html