Printed from https://www.writing.com/main/newsletters/action/archives/id/6781-Creature-Creation.html
Fantasy: January 21, 2015 Issue [#6781]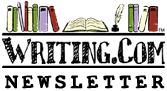 Fantasy





This week: Creature Creation

Edited by: ember_rain
More Newsletters By This Editor



1. About this Newsletter
2. A Word from our Sponsor
3. Letter from the Editor
4. Editor's Picks
5. A Word from Writing.Com
6. Ask & Answer
7. Removal instructions





I love fantasy. Everything about it makes me smile blissfully like some brainless zombie, not really looking, but waiting for my next meal. From books like Lord of the Rings, to movies like The Beast Master, to video games like Mass Effect and Dragon Age, I can't get enough fantasy. You find it, I will read it, play it or watch it.

Why do I love it? Because it allows me just for that period of time to forget I am suppose to be the adult that explains away all that goes bump in the night and lets me embrace the fun of believing Big Foot is real and alive in my woods. I hope to share some of that with you.



| | |
| --- | --- |
| ASIN: 197380364X | |



I hate to admit it. My children are better writers than I am. Each and every one of them, from My oldest who is twenty one and already starting her own business to my youngest who can make anything out of Legos and tell amazing stories to go with what he builds; my children are geniuses. I know every mother says that. We should. Even if it's not true, every child deserves to believe their mother honestly believes they are the best at everything.

In my case, I know my children are better than me. I write fantasy stories that twist what we already have and know. I ask what if questions that change the known into the unknown but I could never see a Stick Bug, go looking for pictures of different ones, find their link to the Praying Mantis and turn them into a tree like sanctioned being that looks like a cross between a tree and a Praying Mantis. My fifteen year old has. That was just her newest drawing. I have to catch my breath when I look at her art. It isn't like so much of the fantasy art that has just enough elements of the surreal to let us know its fantasy. No, the backdrop for these creatures is believable and very earth like. It's her way of getting you to suspend your disbelief for acceptance, because it just feels like it belongs. She wants to be a manga artist one day. I do believe she is well on her way.


My fourteen year old started writing with me several years back doing the children's version of NANOWRIMO. She is currently developing her own creatures for her stories. Most are new versions of a chimera. But she describes them so clearly that her slightly older sister can draw them.

Me? I'm just happy that no one put a trademark on elves and dragons. Please note, I am not saying that people who can create their own creatures are better than those of us who don't. I am just saying, if you have the ability to suspend your own disbelief and imagine some strange creature climbing out of the trees, then go for it. It doesn't have to be Big Foot, or a troll. It can be anything you wish.

For now, I am sticking to the tried and true. But who knows, maybe something will crawl across my desk that inspires a brand new creature in my next story or maybe I will stick with the tried and true. The point is simply to cling to that world of make believe we all grew up in, and never ever let the adults around us tell us we have to grow up so much we can't see the natives hiding in the trees, or imagine the neighborhood dogs being some tripped out alien creature waiting to eat us for dinner.





Invalid Item
This item number is not valid.
#

1911770

by Not Available.
Invalid Item
This item number is not valid.
#

2026462

by Not Available.
Invalid Item
This item number is not valid.
#

2026500

by Not Available.
Invalid Item
This item number is not valid.
#

2014030

by Not Available.
Coin Toss (E)
Finding a strange coin.
#

2026413

by Teargen
Metamorphosis (13+)
Choosing the next vampire to join the ranks.
#

2007199

by Shaye
The Kindred (E)
Vampires; Form: Trijan Refrain Variation
#

2024441

by ShelleyA~11 years at WDC



Have an opinion on what you've read here today? Then send the Editor feedback! Find an item that you think would be perfect for showcasing here? Submit it for consideration in the newsletter!
https://Writing.Com/main/newsletters/action/nli_form



Don't forget to support our sponsor!




| | |
| --- | --- |
| ASIN: B07YJZZGW4 | Kindle |



Do you create your own creatures?


| | |
| --- | --- |
| ASIN: B07YJZZGW4 | Kindle |



To stop receiving this newsletter, click here for your newsletter subscription list. Simply uncheck the box next to any newsletter(s) you wish to cancel and then click to "Submit Changes". You can edit your subscriptions at any time.



Printed from https://www.writing.com/main/newsletters/action/archives/id/6781-Creature-Creation.html