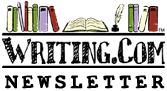 Drama





This week: Drama in Moral Dilemmas

Edited by: Joy
More Newsletters By This Editor



1. About this Newsletter
2. A Word from our Sponsor
3. Letter from the Editor
4. Editor's Picks
5. A Word from Writing.Com
6. Ask & Answer
7. Removal instructions





"Memories warm you up from the inside. But they also tear you apart."
Haruki Murakami, Kafka on the Shore


"You fit into me
like a hook into an eye

a fish hook
an open eye"
Margaret Atwood

"Waiting is painful. Forgetting is painful. But not knowing which to do is the worst kind of suffering."
Paulo Coelho, By the River Piedra I Sat Down and Wept

"It does good to no woman to be flattered [by a man] who does not intend to marry her; and it is madness in all women to let a secret love kindle within them, which, if unreturned and unknown, must devour the life that feeds it; and, if discovered and responded to, must lead, ignis-fatuus-like, into miry wilds whence there is no extrication."
Charlotte Brontë, Jane Eyre

Hello, I am Joy
, this week's drama editor. This issue is about giving depth to stories and characters by making the protagonists face a moral dilemma.

Thank you for reading our newsletters and for supplying the editors with feedback and encouragement.

Note: In the editorial, I refer to third person singular as he, to also mean the female gender, because I don't like to use they or he/she.




| | |
| --- | --- |
| ASIN: B01MQP5740 | Kindle |

A strong moral dilemma can transform a good piece of fiction, a film, or a play into a great one, as it will evoke passionate, intense, and conflicting emotional response in readers and viewers. Why do you think that is?

I believe it is because, ever since humans were put on earth, they liked to do the right thing. Even those who did wrong thought they were doing the right thing at the moment of their action, regardless of whether what they considered right agreed with others' opinions or not. In the same vein, people usually say they like to pick the lesser of the two evils, but if there is a lesser evil in fiction, there won't be a moral dilemma. In a moral dilemma, the evils have to be equal in force such as: Rick's choice in Casablanca, Sophie's Choice between her children, Jean Valjean's choice of actions in Les Miserables.

A moral dilemma, therefore, arises from a situation where:

• A character has to decide which of the two or more actions to take since he has the ability to do all of them.

• The character cannot perform all of the actions as they contradict one another; therefore he has to pick only one of them.

• Equally strong moral reasons abound for choosing each action. Moreover, the possible actions are in conflict with one another. No matter the choice, someone or something will suffer. In other words, there is no single right way to act, and the character's decision will be agonizing.


Moral choices have been with us since the dawn of humanity, ever since Eve bit into the apple, ever since Sophocles's Antigone buried her brother's body, ever since our religions, cultures, and families instilled values in us.

Values and beliefs matter like those we've been given; therefore, we can give them to our characters, so they have to face difficult moral choices, and let's not forget that even criminals and killers have their own moral code. The readers and viewers can only relate to characters with strong convictions and attitudes. Thus, the first rule is to give the character strong but, at times, opposing convictions.

Next comes creating the scenes that will test each of the protagonist's values or the equally difficult choices thrown at him. As writers, then, we need to test him in how far he can go by putting one of the choices into action. This will show his convictions, values, and character.

After that, we'll have to put him in a difficult position, from which he cannot free himself, and set it up so that everything that matters to him will be in danger with any motion he makes, but he has to act, regardless; otherwise, all will be lost. We have to show him and the readers that he must live with the consequences of his decisions and actions.

Another point to keep in mind is that the genre of the story may have a lot to do with the moral dilemma of a character. For example, fantasy and science fiction can explore morality and spiritual issues on a larger scale than the romance genre where the themes of faithfulness and betrayal between lovers are stronger than other considerations.

As a last resort, whatever difficulties we choose for them, our characters can always come up with an unexpected action that may be logical and also consistent with their psychological makeup, or they may choose one of the options.

Tip: Moral dilemmas may also be used as story prompts. Just think of several equally strong moral dilemmas in your life or in someone else's life that you have witnessed, or Google search "List of Moral Dilemmas." You'll find many strong scenarios for a future story.

Until next time...

Enjoy!
It would be kinder (18+)
The grim story of a doctor and the patient he'll never forget
#

2026968

by Rob Tailor-back again!
The Costs (13+)
Conflict arises between colonists on an alien world. 2nd Place, "What a Character" contest
#

1869535

by Mitchopolis
Michael's Best Friend (13+)
The base where Bradley was quarantined was overrun in the chaos; Bradley went missing.
#

2023616

by Bikerider
Invalid Item
This item number is not valid.
#

1966266

by Not Available.
The Shoes (13+)
A freestyle poem about The Holocaust and the lessons learned.
#

2025868

by LiveToWrite
Invalid Item
This item number is not valid.
#

2007714

by Not Available.
Angelic Lies (18+)
For Balance of Chaos. Elijah, an angel, has some inner conflict
#

1634627

by Dawn Embers
The Screenwriting Group (E)
A Writing.Com group dedicated to the craft and business of screenwriting.
#

1979733

by Jeff
The Writer's Cramp (13+)
Write the best POEM or STORY in 24 hours or less and win 10K GPs!
#

333655

by Sophy v.2021
Monthly Monstrosity Contest (13+)
Write the best story using the prompt to win 10,000gps...
#

2027807

by JubeCube ~ SSDGM
Jane Austen Contest (13+)
Short story contest to celebrate Jane Austen's literature
#

1978499

by ~Minja~
ASIN: B0079KT81G
ID #112319

Product Type:

Kindle

Reviewer:

~MM~

Review Rated:

E

Amazon's Price: $ 9.99



Have an opinion on what you've read here today? Then send the Editor feedback! Find an item that you think would be perfect for showcasing here? Submit it for consideration in the newsletter!
https://Writing.Com/main/newsletters/action/nli_form



Don't forget to support our sponsor!




| | |
| --- | --- |
| ASIN: B07K6Z2ZBF | |

*~*~*~*~*~*~*~*~*~*~*~*~*~*~*~*
This Issue's Tip: Good dialogue need not be brimming with wit to be interesting. It has first to fit the character speaking it. Fragments of sentences and jumbling the word order, once in a while, help give it a touch of realism.



*~*~*~*~*~*~*~*~*~*~*~*~*~*~*~*


Feedback for "Writing Fiction from News Stories"
*~*~*~*~*~*~*~*~*~*~*~*~*~*~*~*
Quick-Quill

My first ms was based on a news article. When I ran into a writing wall I called the sherff who worked the case. It was comical at first when he hung up on me 3 times. He finally helped me and loved my first draft. Its an on going investigation and someone else has continued the research. I love to write from the news reports. Many best sellers are based on a news story or special interest story. Keep your eyes and ears open and your own handy.

Your sheriff made me chuckle. Nice that he came around and was so helpful.
Thanks for sharing your experience.



*~*~*~*~*~*~*~*~*~*~*~*~*~*~*~*





| | |
| --- | --- |
| ASIN: B085272J6B | Kindle |



To stop receiving this newsletter, click here for your newsletter subscription list. Simply uncheck the box next to any newsletter(s) you wish to cancel and then click to "Submit Changes". You can edit your subscriptions at any time.