Printed from https://www.writing.com/main/newsletters/action/archives/id/6832-The-Bumbling-Detective.html
Mystery: February 18, 2015 Issue [#6832]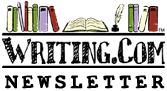 Mystery





This week: The Bumbling Detective

Edited by: ember_rain
More Newsletters By This Editor



1. About this Newsletter
2. A Word from our Sponsor
3. Letter from the Editor
4. Editor's Picks
5. A Word from Writing.Com
6. Ask & Answer
7. Removal instructions





I normally would put this big long thing here about how my family taught me to love mysteries from infancy but I am using the hot spot on my phone to connect to the internet. I didn't want to miss another newsletter. So here's hoping all I do is use the roll over from last month.



| | |
| --- | --- |
| ASIN: B07YXBT9JT | |



Many of you may have noticed my absents and for that I am sorry. A couple of weeks ago, our phone company decided to end their dial up services all together despite not having everyone covered by DSL coverage. I have been informed by everyone my only option is to get satellite and that requires I cut down more trees than I would have ever considered. No one understands what I mean when I say I live on 11 acres of woods. What I mean is that outside of a few dead trees that might fall on one of the out buildings, our land has pretty much stayed untouched by chain saw. I even have all that under grow the park services is always burning off to keep wild fires in check. I need a goat.

But the past couple of weeks has been about more than my odyssey to find affordable, reliable internet service. First the van stopped working. We thought it was the fuel tank. The mechanic thought it was the fuel tank. Turned out it was the coil and a fuse. So he replaced both of those and it started up, once. The second time, nothing. Why? The brand new coil was burned through again and the fuse was blown. That was Thursday. Hopefully by the time this gets to all of you, he will know why and it won't cost me an arm and a leg to fix a van we have had right at a year.

Then a week ago the car we have had since before the van decided it didn't need to have a tie rod anymore. At least it broke when we pulled into the Toad Suck One Stop, instead of while we were driving. I was stuck at the convenient store for two hours waiting on a tow. They guy who showed up was the same one that had come to get the van when it quit.

We thought Hubby would be able to fix it, but no. Its the original tie rod to the car and the auto parts store doesn't sell a tool that will remove the factory original. So we ended up buying a new car. Well, a new to us car. We have never had a new car.

We had hoped to get this little pistachio V.W. Bug but it was gone when hubby went by. We were going to give it to songbird lullabies
for her 21st birthday. We ended up going to a dealership and getting a pretty good deal. Then today, Hubby and I saw the car we were wanting to get, back in its old parking spot with the same price on it. Only someone had added magnetic stickers to the door with the name of an auto sales. Then it hit me. The universe saved us. The auto sales was owned by the slum lord that targets ex cons and immigrants, charges an arm and a leg for a small spot to put your head, then doesn't bother to make sure the water or pluming even works. I know because many of the guys my husband has worked with have lived in his rentals and he was seriously fined for it a few years ago. Didn't change anything. This got me to thinking about this newsletter.

Sometimes some of the best mysteries are those hidden in plan sight among life's little missteps. Sometimes, the best detective is a house wife still in curlers, running down the street after her kids bus, cause he forgot his lunch and his science project. Sometimes, while dealing with the mundane frustrations of life, you come across clues to solve the mystery in front of you.

Whats even better, not only does including your own little life frustrations in the story for your detective to deal with help you deal with it, it also gives your detective character that they might not have had otherwise. They don't have to handle it the way you did. I mean my husband could have stopped and asked the people at the house if the car was still for sale. He didn't, but maybe your detective would and maybe just maybe, there would be something about the person who answered the door or something inside they could see that would help to solve the mystery. You never know what the bumbling detective will luck his way into when dealing with the little frustrations.





Charon City Blues: 1st Stanza (13+)
High tech and low life is the name of the game for private detective Chris Black.
#

1679596

by A. Barnes
Invalid Item
This item number is not valid.
#

1995462

by Not Available.
Invalid Item
This item number is not valid.
#

2019783

by Not Available.
Invalid Item
This item number is not valid.
#

2019819

by Not Available.



Have an opinion on what you've read here today? Then send the Editor feedback! Find an item that you think would be perfect for showcasing here? Submit it for consideration in the newsletter!
https://Writing.Com/main/newsletters/action/nli_form



Don't forget to support our sponsor!




| | |
| --- | --- |
| ASIN: B07YJZZGW4 | Kindle |



So would you ever consider working some of your life frustrations into your mystery?


| | |
| --- | --- |
| ASIN: B01MQP5740 | Kindle |



To stop receiving this newsletter, click here for your newsletter subscription list. Simply uncheck the box next to any newsletter(s) you wish to cancel and then click to "Submit Changes". You can edit your subscriptions at any time.



Printed from https://www.writing.com/main/newsletters/action/archives/id/6832-The-Bumbling-Detective.html