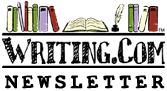 Noticing Newbies





This week: April Fool's Day

Edited by: Jace
More Newsletters By This Editor



1. About this Newsletter
2. A Word from our Sponsor
3. Letter from the Editor
4. Editor's Picks
5. A Word from Writing.Com
6. Ask & Answer
7. Removal instructions





Hi, I'm Jace
.

Welcome to this issue of the Noticing Newbies newsletter. Join me as I take you into some nooks and crannies of Writing.Com that you may not have found time to check out yet.

Don't forget to toss me a note about what you liked or didn't like in my column, or about a topic you'd like to see discussed. This newsletter is about and for you. And for you seasoned members, I hope you'll find something you can take from my ramblings.
Your Noticing Newbies Newsletter full-time Editors:

| | |
| --- | --- |
| ASIN: B083RZJVJ8 | |

The Fools of April



Today is April 1st--April Fool's Day for those of us who, and I use the term loosely, celebrate this unofficial holiday. It's a day that is often spent in playing jokes, pranks and hoaxes on family, friends and strangers. Hmm, I guess that covers pretty much everyone.

How many of us have been the butt (pun intended) of such shenanigans? I suspect most pranks are of a more personal nature, one on one between a prankster and the prankee (okay, so I made that word up). In any case, I'd hope no one is injured or property is not damaged during the conduct of your April Fool's Day festivities.

The World Wide Web contains listings of practical jokes played on the unsuspecting and gullible public via television, radio, newspapers, and other internet media. For example, even King's College, Cambridge succumbed to April Fools by releasing a YouTube video on April 1, 2014, announcing a major policy change on decision to discontinue the use of boy sopranos and using grown men who have inhaled helium gas.



Almost 60 years ago, BBC television showed Swiss farmers harvesting spaghetti from trees and claiming the dreaded spaghetti weevil had been eradicated. So many folks contacted the station wanting to know where they could get their own spaghetti plants, they were forced to admit it was an April Fool's hoax the following day.

You might run across a joke or two here on Writing.Com during this 24-hour period. But, I'd like you to keep in mind, there are 29 more days in this month. That means you have so much more that you can accomplish in April.

Check out the Account Anniversaries located under Writing.Com Tools in the navigation menu. A quick search revealed more than one thousand members broken down by Moderator, Preferred Author and Registered Author who have been active within the last six months listed by their account activation date. Perhaps a friend or acquaintance is listed there. Take time to wish them a Happy Anniversary. Send an email, a c-Note, a review, or a merit badge.

There is a group here that exists specifically for this activity. "Anniversary Reviews"
, run by Same Ol' Sum1
, is open to all, and you can earn gift points and merit badges for yourself by doing something fun for someone else. And you aren't relegated to just one day in the month.
I think you'll find this is a much better way to spend your time this month.







Check out these Newbies (I've selected folks who have filled out their Biography or something in their Bio-Block). Take a moment to review something in their Port ... or just say hi.

Invalid Item
This item number is not valid.
#

2035490

by Not Available.
1. Morning Coffee (18+)
BLACKBIRD series ep.1 #youlikeit - chapter 1
#

2035572

by Prelooker
Invalid Item
This item number is not valid.
#

2034891

by Not Available.
Invalid Item
This item number is not valid.
#

2036283

by Not Available.
Invalid Item
This item number is not valid.
#

2036265

by Not Available.
Dumb, Stupid Luck (18+)
A racing team becomes obsessed with a harbinger of death...
#

2033810

by J. Robert Kane


User submitted items;

Making My Own Religion: Part 1 (18+)
Rough draft of a 3 pt series about religion, depression, relationships, & mental abuse
#

2031837

by Zandria



Have an opinion on what you've read here today? Then send the Editor feedback! Find an item that you think would be perfect for showcasing here? Submit it for consideration in the newsletter!
https://Writing.Com/main/newsletters/action/nli_form



Don't forget to support our sponsor!




| | |
| --- | --- |
| ASIN: B07YJZZGW4 | Kindle |



And from the mailbox about my last Noticing Newbies newsletter, "Ch-Ch-Changes"
.

From M Frederick
: Nicely done, Jace. Change is something that should never be approached with reluctance. Change is necessary. Change allows the evolution process to kick-start itself, in a sense. In my experience, very rarely does this cause a disturbance. I am, very much, looking forward to P15. New tools and new toys are always fun to play with and implement. Thanks for the informative article. Write on!



Thanks.


From zoomsqrd
: Thank you for all the information and updates you provide to us. Technically I am not a newbie anymore but still feel like one and read everything you write. Thank you. Z



I appreciate your encouragement. Thanks for dropping by each week.



From ironlaw: I think change does cause stress as people generally do not like change. They are comfortable and now there are bumps in the couch causing them to move in a different way. If the pressure has good outcomes meaning new rules and communication even perhaps risks make the site and members better then it's a great thing. We all are more worthy. I trust the administration to do what's best.



I agree.


From Zandria
: Hi! I would really love to be in the Noticing Newbies newsletter! It is so far, my favorite one! I enjoy discovering new and upcoming writers in the community. If you would, please take a look at my first part to my 3 part series! Thank you.



Consider it done!
See above.




And from the mailbox about a previous Noticing Newbies newsletter, "Rewarding Reviewers"
.

From aegreenfield: This is good advice. New members may just need reviewing tips to write useful reviews, much like I did when I started here.



Not just new members either....

| | |
| --- | --- |
| ASIN: B07YJZZGW4 | Kindle |



To stop receiving this newsletter, click here for your newsletter subscription list. Simply uncheck the box next to any newsletter(s) you wish to cancel and then click to "Submit Changes". You can edit your subscriptions at any time.