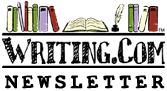 Horror/Scary





This week: What Readers See

Edited by: LJPC - the tortoise
More Newsletters By This Editor



1. About this Newsletter
2. A Word from our Sponsor
3. Letter from the Editor
4. Editor's Picks
5. A Word from Writing.Com
6. Ask & Answer
7. Removal instructions



This newsletter is about attracting readers with images.

Sage Quotes:

"I found I could say things with color and shapes that I couldn't say any other way - things I had no words for."
~ Georgia O'Keeffe

"We have art in order not to die of the truth."
~ Friedrich Nietzsche

"Without tradition, art is a flock of sheep without a shepherd. Without innovation, it is a corpse."
~ Winston Churchill

"The world is but a canvas to our imagination"
~ Henry David Thoreau




| | |
| --- | --- |
| ASIN: B01MQP5740 | Kindle |

What Readers See



A Picture is Worth a Thousand Words



Whether you're a published author or just putting your stories on WDC to attract readers and get feedback on your writing, it's important to remember:

"A picture is worth a thousand words."




There are two ways to attract readers to click on your books or stories whether on Amazon or on the Genre pages at WDC.

#1 Put "By STEPHEN KING" on it.

#2 If your name doesn't happen to be Stephen King, then you better have some really good picture because there's a lot of writing out there and competition is stiff.


In the publishing world, it's well known that a good cover can make or break a book's sales. The

Big Publishers

have their own marketing and design departments that analyze what covers appeal to which groups of readers. Authors get absolutely no say on their cover. The professionals choose it.

Why?



"Statistics show that eighty percent of what sells the book is the book cover. A simple design can oftentimes have little appeal to the majority of readers, while a unique and memorable design will grasp the interest of the masses." ~ Aventine Press





"A book's cover is even more important to online customers than those browsing in a bricks-and-mortar bookshop. This is because time-pressed internet book shoppers often buy on the strength of the cover, title, and one-line description alone." ~ The Alliance of Independent Authors





"For a self-published book to sell, the cover is key. Regardless of how eloquent or entertaining its text may be, a book will have trouble catching a buyer's eye or being taken seriously by reviewers if it looks homemade." ~ Publisher's Weekly





"The first rule of online publishing success is this: never underestimate the power of the thumbnail. It's how readers buy books online, so your cover should be designed to look great at thumbnail size." ~ The Alliance of Independent Authors




But you don't really need to me to tell you that the cover can attract or repel a potential reader.
You know that because every time you walk into a book shop, your eyes draw you to what looks the most interesting. That's what you pick up. That's what you start reading.

It's the same on WDC.

When readers come on the site looking for something to read and click a genre button, they'll find pages of things to choose from. Which ones stand out?
The ones with the pictures!



If a reader visited the Horror pages, would he open this --

Invalid Item
This item number is not valid.
#

1596627

by Not Available.


Or one of these.

Invalid Item
This item number is not valid.
#

2015356

by Not Available.
Invalid Item
This item number is not valid.
#

1170864

by Not Available.
Slaughterhouse (18+)
You'll start seeing things that aren't really there, son, and that'll be the first sign.
#

1955768

by W.D.Wilcox
Morley Rising (18+)
Deja Vu? Or is it...
#

1786659

by Orion69
Candy's Last Trick (18+)
Flash Fiction inspired by 120 Pieces of a Nightmare...
#

1257200

by Fictiøn Ðiva the Wørd Weava
Yet three-quarters of authors don't attach pictures to their stories, books, groups, or contests.
The StoryMaster
and The StoryMistress
have given the lucky users of this site the option of choosing different designs and photos to put on their work ~ or they can find their own and upload a picture themselves.

You get this option on Section 5: Cover in the editing section of most of your items.

Take advantage of it. It's easy and free to do it on WDC whereas most self-publishing authors pay between $100-$750 to have a cover made for their novels and short stories.


Make your work stand out. Get more readers. Put an image on your items.



What attracts your eye when you see a book in a bookstore or on Amazon?
Until next time: Let the horror bleed onto the pages with every word!

Here are some spooky contests and stories for your reading pleasure!

(Notice the IMAGES!)
Invalid Item
This item number is not valid.
#

2027807

by Not Available.
Recent entries:
Though I Tried (ASR)
A man lost in the wilderness seeks help and shelter. What he finds is neither.
#

2028639

by J. Thayne
Invalid Item
This item number is not valid.
#

2031810

by Not Available.
Weekly SCREAMS!!! (XGC)
A Terrifying Contest Of Horror And Three Time Quill Award Winner!
#

2020439

by Angus
Recent entries
Invalid Item
This item number is not valid.
#

2038626

by Not Available.
Invalid Item
This item number is not valid.
#

2038469

by Not Available.
Invalid Item
This item number is not valid.
#

2038494

by Not Available.
Invalid Item
This item number is not valid.
#

2028734

by Not Available.
Recent entry:
Invalid Item
This item number is not valid.
#

2034211

by Not Available.



Have an opinion on what you've read here today? Then send the Editor feedback! Find an item that you think would be perfect for showcasing here? Submit it for consideration in the newsletter!
https://Writing.Com/main/newsletters/action/nli_form



Don't forget to support our sponsor!




| | |
| --- | --- |
| ASIN: B07RKLNKH7 | Kindle |

Your full time Horror Newsletter Editors:
billikus and
LJPC - the tortoise
have published --
** Image ID #1969199 Unavailable ** ** Image ID #2036940 Unavailable ** ** Image ID #1969200 Unavailable ** ** Image ID #1969201 Unavailable **
Soul Cutter--Lexa Cain (Amazon)
Biggun--LXCain (Smashwords)
The Watercourse--W.D.Wilcox (Amazon)
Possession--W.D.Wilcox (Amazon)




To my delight, some writers took the time to comment on my last newsletter: "Men vs Women"
Thank you!
Comments listed in the order they were received.
very thankful
writes: I would love to read more horror fiction by women. I've read horror novels by Elizabeth Massie and Sarah Langan. I write weird west novels, and yes, that is a boy's club to, but I believe that women can break "the glass ceiling" if they just keep writing and put themselves out there.

I also think women can break that glass ceiling if we work hard enough. Thanks for replying to the newsletter!


billikus writes: Boy, you sure have opened a can of worms here. Look, good writing is good writing, regardless of the gender, BUT, I have to admit, I am prejudice against women writers. I don't know why, exactly, but they just don't grab me for some reason. I have tried and tried; given them all a chance. But I hate J. K Rowling, Stephanie Myers, and Suzanne Collins, all famous authors, and all hacks...in my opinion.
I just love letting the worms out!
Almost all the horror/thriller novels I read are by men. It's not that the women can't write, it's that I want lots of action with minimal emotion and men have no trouble with that.
Vampyr14
writes: The gender imbalance seems to be on everyone's mind at the moment. I love horror by women. I just wish there was more of it… Women have a unique perspective, and it needs representing.

There's gender imbalance in romance and erotica too. I know a guy who writes erotica under a female name because women readers think only another woman can understand what they want to read.


blunderbuss writes: Hi LJPC

I think it's a chicken and egg problem. Women writers tend to stick to the genres in which they are more likely to be rewarded and published. I wrote a poem on this question a couple of years ago. Unlike lots of my other stuff, it's never received much attention! This is not intended as a plug, either.

Invalid Item
This item number is not valid.
#

1875825

by Not Available.
I absolutely agree with you. Women mostly read and write romance or mystery. Men write thrilllers and horror. But part of it is "reader expectation" too. That's why some authors use pen names. Thanks for writing to the NL and including your poem. I read it and loved it!
dragonwoman
writes: I think feminine horror is not better than masculine, just different.



I agree with you. Many good horror novels have been written by women. Theirs are just different from the men's.




Joy
writes: Such sad lists, but they only show "the women's place" in history. I am sure if another list could be put together beginning from the second half of the 20th century, it would favor women more than these two. And if sexism is still in style with the major publishers, the electronic age is going to change that. It takes a long time and strong muscles to rub out established dirt.

Thanks for an eye-opening NL.
Thanks very much for reading and commenting, Joy. We definitely have to rub out the dirt!
ẂebẂitch
writes: Very interesting facts about Male vs female horror writers, Laura.
I guess I always figured that men were considered by publishers to be the better horror writers, although I've read some great horror written by women. I say, don't judge a horror/thriller book by the sex of the author. A different point of view can be surprisingly refreshing and even more frightening.


Thank you for highlighting my story.


~WW

You're welcome, WW. Thank you for your great reply!
Taniuska
writes: Awesome post... wow, I had no idea how many books some of these writers sold. Amazing. I read a lot of horror, but unless they are my favorite authors, I never pay attention to who writes them. I see if the story grabs my attention. My fav. are Richard Laymon and Anne Rice.

Those are great authors. Thanks so much for replying to the newsletter!

| | |
| --- | --- |
| ASIN: 1945043032 | |



To stop receiving this newsletter, click here for your newsletter subscription list. Simply uncheck the box next to any newsletter(s) you wish to cancel and then click to "Submit Changes". You can edit your subscriptions at any time.