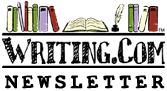 Comedy





This week: Writing Romantic Comedy

Edited by: Lonewolf
More Newsletters By This Editor



1. About this Newsletter
2. A Word from our Sponsor
3. Letter from the Editor
4. Editor's Picks
5. A Word from Writing.Com
6. Ask & Answer
7. Removal instructions



Romantic comedies concern the continual battle between comfort and longing, between fear and desire. We all can be terrified of intimacy, pain, or loss, so we shut down emotionally in one way or another. But the beauty and power of a romantic comedy is that we can identify with a hero facing the same eternal struggle.

| | |
| --- | --- |
| ASIN: B01IEVJVAG | |

Comedy is most effective when common, everyday themes are given an obscure twist, which helps us to see comedic events in our lives that we normally would not recognize. Romantic comedy is not about laughing at other people, it is about laughing at ourselves. Falling in love is a huge challenge, because if it does not go smoothly (and no romantic comedy will go smoothly) it challenges all we like to believe about ourselves. And this is a positive mine of comedy material because we ALL do silly things when we are falling in love.



~ ~ ~



WRITING THE CHEMISTRY

We go into a romantic comedy already knowing that our leads are going to meet, lose and, ultimately, get each other. So creating two unique characters our readers will fall in love with and NEED to see united is the most important key to the stories success. All great characters have purpose and credibility, are empathic and complex. But romantic comedy leads have additional requirements. They're emotionally incomplete people who are completed by their mate-to-be. One (if not both) of your protagonists should have an inner conflict that the story's romantic relationship confronts and ultimately resolves. So whether your couple be made up of opposites, or two sides of the same coin, write compelling characters -- who believably belong together.


THE HUMOR IN A ROMANTIC COMEDY

The characters in a romantic comedy never think their situation is humorous. They are desperate to achieve their goals, and terrified by the conflicts they face. When the people in the story are laughing, the readers aren't.

The driving motivations in romantic comedies actually grow out of immense pain and loss. The plots of the most successful romantic comedies of all time involve unemployment, disease, prostitution, physical abuse, physical deformity, humiliation, ridicule, the loss of one's children, attempted assassination, suicide and death.

The humor then arises from the way the heroes OVER-REACT to their situations. They devise fantastic plots, pose as women, adopt false identities, juggle two lovers simultaneously, tell enormous lies, fly across the country to meet a voice on a radio, or do everything imaginable to sabotage their best friend's wedding.



~ ~ ~



Conscious or not, the lies in romantic comedies are always designed to protect the protagonist's image. Better to lie to the person they love than to expose the unworthy person they believe themselves to be.
But of course, the character's deception can never work, because it is only by standing up for who they truly are that they can achieve real fulfillment and self worth, and connect with the love of their life. The romance character is truly the hero's destiny; it is the reward for finding the courage to grow and change. Romantic comedies almost always have happy endings. In the rare instance where the hero doesn't get the girl, the audience still feels that the resolution is the best, and most appropriate, for the story


Spellacheka (E)
Poetry from an unknown proof reader
#

397583

by Bhaskar
Baseball Sized Tattoos (13+)
The Twins aren't playing baseball...
#

453467

by The Milkman
Harry Potter's Chat Room (13+)
Written like a chat room with the characters, Harry, Ron, Hermione+ others.
#

1069601

by Tegan L. Elliott
Transients (13+)
A field trip to the twenty-first century.
#

1601979

by 🌓 HuntersMoon
Sara's Port, Ch. 13 (18+)
HOLIDAY INTERNET ROMANCE NOVEL
#

586004

by ♥HOOves♥



Have an opinion on what you've read here today? Then send the Editor feedback! Find an item that you think would be perfect for showcasing here? Submit it for consideration in the newsletter!
https://Writing.Com/main/newsletters/action/nli_form



Don't forget to support our sponsor!




| | |
| --- | --- |
| ASIN: B000FC0SIM | |


| | |
| --- | --- |
| ASIN: B07P4NVL51 | Toy |



To stop receiving this newsletter, click here for your newsletter subscription list. Simply uncheck the box next to any newsletter(s) you wish to cancel and then click to "Submit Changes". You can edit your subscriptions at any time.