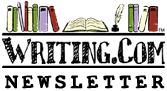 Noticing Newbies





This week: Is Content Really King?

Edited by: I like big books #2233315
More Newsletters By This Editor



1. About this Newsletter
2. A Word from our Sponsor
3. Letter from the Editor
4. Editor's Picks
5. A Word from Writing.Com
6. Ask & Answer
7. Removal instructions




The Noticing Newbies Newsletter's goal is to make the newer members feel welcome and encourage them with useful information and/or links to make navigating Writing.com easier. Writing.com members of all ages and even veteran members can find useful information here. If you have specific questions, try visiting "Writing.Com 101"
and/or "Noticing Newbies"
.

Meet The Noticing Newbies Full-Time Newsletter Editors

| | |
| --- | --- |
| ASIN: 197380364X | |





"Technique holds a reader from sentence to sentence, but only content will stay in his mind." ― Joyce Carol Oates



While Bill Gates may have been the one that made this phrase what it is today, how true is it?

According to Vancouver Film School :



Content is king: Content creators who own intellectual property have all the leverage. That's a great thing for writers. Create IPs you can control. Your film or TV show should be just one branch of where your 'big idea' can go. Social media. Pod-casts. Gaming. Tech. Blogs. Stage. Books. Create it. Own it. Fund it. Brand it. Make it.



That's a pretty strong statement, right? There are different opinions surrounding that same question. I think it also depends on what you consider the content. In the quote above, I believe he means the entire idea. Some may ask though, is that the entire product or if you're speaking of a story – is it just the plot? Myself, I think it's more the queen than the king in that regard. I consider the character as the king and the plot as the queen. I've noticed I'm not the only one that uses that analogy (but in different ways).

From an article by Brian Honigman on Contently.com :



"Content is king, distribution is queen, and she wears the pants," said Jonathan Perelman, VP of Agency Strategy at BuzzFeed, during his talk at Behance's 99U Pop-Up School event on September 20th.

As the Internet has evolved, so has the ways that people discover content. Content used to be discovered on forums, then through email, highly-trafficked blogs, and search, leading to the SEO craze, explained Perelman. Now, it's primarily discovered through social media.



So what does this mean for you as an author? It means write, keep writing and make sure your content is awesome, but at the same time don't keep it all locked up. You've heard the phrase "kill your darlings", right? Well, I say if you're serious – share your darlings. Write, polish, publish and distribute. Review and improve then build your platform. Blogging, Twitter, Facebook, use any means necessary to get your name out there and show off your work.

Write and Review on! ~ Brooke



Cited in Forbes as the most influential woman in Social Media and recognized by ForbesWoman as one of the top 20 women bloggers, Ann Handley is the Chief Content Officer of MarketingProfs and author of:
| | |
| --- | --- |
| ASIN: 1118905555 | Book |
[Related Links]

This month's links are educational newsletter editorials that go hand-in-hand with today's topic.


"What's Your Platform?"
by Shannon

Learn the art of self-promotion


"Ebooks & Self-Publishing"
by Jeff

How ebooks have changed the way we self-publish our work.


"Top of the Heap"
by Jay (*still* away for a while)

So, how do you get to the top of the pile? (Spoiler alert: there is no one true answer...)


"Where Are You?"
by Annette

Extensive and over-accurate location descriptions can harm your story.


"Not available"
by A Guest Visitor
Beyond the fiction basics, what do you need to know to create a virtual experience for the reader? Purpose-->Structure




At this time, the items below have no reviews. I thought perhaps it would be nice to change that. Give them a try.


One Line Excerpt:


We never saw her again after graduation day.




~
~



One Line Excerpt:


Lorark could not find the will inside himself to think of anything other than the men in his squad that had either been wounded or paid themselves out.




~
~



One Line Excerpt:


Being beautiful involves so much more than appearance.




~
~



One Line Excerpt:


Perhaps I would've learned to appreciate my prison's grandeur, if I was not victim to its silent snare.




~
~



One Line Excerpt:


The day before yesterday my world was filled with screaming tornado warnings, booming, crashing, house-shaking thunder and staggering lightening flashes from black, roiling clouds as far as I could see.




~
~



Have an opinion on what you've read here today? Then send the Editor feedback! Find an item that you think would be perfect for showcasing here? Submit it for consideration in the newsletter!
https://Writing.Com/main/newsletters/action/nli_form



Don't forget to support our sponsor!




| | |
| --- | --- |
| ASIN: B07YJZZGW4 | Kindle |


| | |
| --- | --- |
| ASIN: B07N36MHWD | Kindle |



To stop receiving this newsletter, click here for your newsletter subscription list. Simply uncheck the box next to any newsletter(s) you wish to cancel and then click to "Submit Changes". You can edit your subscriptions at any time.