Printed from https://www.writing.com/main/newsletters/action/archives/id/7021-Contests-and-Writing-Prompts.html
Noticing Newbies: June 03, 2015 Issue [#7021]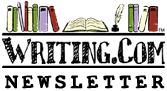 Noticing Newbies





This week: Contests and Writing Prompts

Edited by: ember_rain
More Newsletters By This Editor



1. About this Newsletter
2. A Word from our Sponsor
3. Letter from the Editor
4. Editor's Picks
5. A Word from Writing.Com
6. Ask & Answer
7. Removal instructions





I thought I would step back and take a look at what helps encourage our muses. Simply because being away from all of you has mine sitting in a corner with her arms around her knees rocking back and forth like she thinks the world is coming to an end.



| | |
| --- | --- |
| ASIN: 0910355479 | |



I have the urge to write. I don't mean keep working on the editing of my book. I mean write, something new, something simple or complex, I don't care I want to write. but like I mentioned in my about this newsletter my muse isn't having any of it. But, there are ways around that. I started with reading. I have read the latest installment of J.R. Ward's Brotherhood Series, and Patricia Briggs Alpha and Omega Series which follows a popular supporting character from her Mercy Thompson Series. I even let my best friend talk me into reading a teen series she found that uses "Alice in Wonderland" as its foundation, by A.G. Howard. The series doesn't have a name yet but the name of the first book is "Splintered". If you are a fan of Alice in Wonderland, you will love it.

Reading is usually all I need. But no, not this time. I have even thought of accusing my 15 year old of kidnapping my muse. Why? Because while I am stuck with out any inspiration, she keeps coming up with a new manga series she wants to do. I think shes up to twelve now and she hasn't even finished the artwork for the first one. That child floors me. All of my children amaze me but her creativity just leaves me in awe.

So now the question is what do I do when the normal doesn't work? The answer of course is come here to WDC. If the prompt of the day on the Hub Page doesn't get the creative juices flowing then the contest page usually does. I don't have enough data to actually enter anymore but hey, who says you have to enter to write a story based upon a contest?

Not sure what I mean by the hub. It's our main page. The prompt it gave me this morning was a good one. I would do it if I was inclined to write first person pieces. I'm not. I also don't watch talk shows so, I probably couldn't do it justice.

So, I will be heading to the contest page both to give you a few links and to try and kick start my muse. If all else fails... I'll rinse and repeat tomorrow.





Invalid Item
This item number is not valid.
#

1966417

by Not Available.
Invalid Item
This item number is not valid.
#

2043072

by Not Available.
Invalid Item
This item number is not valid.
#

2042952

by Not Available.
Fantasy Flash Fiction Contest (18+)
Prompt-based fantasy flash fiction contest. Biweekly. Gift point prizes.
#

2042168

by Duchess Laughing Lemurs
Invalid Item
This item number is not valid.
#

1473144

by Not Available.
Writing 4 Kids Contest (ASR)
If you'd like to try your hand at writing for kids, this is the contest for you!
#

1999597

by Cubby



Those are just a few of the great contests being held here on WDC you can find them by clicking on the community link in the left hand sidebar and then selecting contests.






Have an opinion on what you've read here today? Then send the Editor feedback! Find an item that you think would be perfect for showcasing here? Submit it for consideration in the newsletter!
https://Writing.Com/main/newsletters/action/nli_form



Don't forget to support our sponsor!




| | |
| --- | --- |
| ASIN: 0997970618 | Book |



So what do you do when your muse doesn't cooperate?


| | |
| --- | --- |
| ASIN: 1542722411 | Book |



To stop receiving this newsletter, click here for your newsletter subscription list. Simply uncheck the box next to any newsletter(s) you wish to cancel and then click to "Submit Changes". You can edit your subscriptions at any time.



Printed from https://www.writing.com/main/newsletters/action/archives/id/7021-Contests-and-Writing-Prompts.html