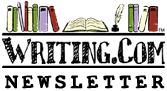 Romance/Love





This week: Paranormal Romance

Edited by: Elle - on hiatus
More Newsletters By This Editor



1. About this Newsletter
2. A Word from our Sponsor
3. Letter from the Editor
4. Editor's Picks
5. A Word from Writing.Com
6. Ask & Answer
7. Removal instructions





Paranormal romance is not a new subgenre, and has in fact been around since the '80s, although its popularity has increased dramatically since 2000. What exactly is paranormal romance, and what is its appeal?



| | |
| --- | --- |
| ASIN: B083RZ2C5F | Kindle |



I recently had the opportunity to meet Nalini Singh, a paranormal romance author who has sold more than six million books. When asked why she started writing paranormal romance, she replied that there wasn't enough romance in the fantasy books she read.

Paranormal romance is defined as being any romance that includes elements that can't be explained by science. More simply, it's anything beyond normal. If it doesn't exist in our world, but it exists in your romance, then your romance is paranormal.

So...vampires right? Glittery or otherwise. Yes, vampires are paranormal. So are all shape-shifters (men that can take animal form), and indeed all mythical creatures. This gives you a wide range of beings you can incorporate into your novels, whether as heroes or villains. Your paranormal being does not have to conform to some existing idea of what such a creature should be like though. You are only limited by your imagination (and perhaps in some respects, what your audience will tolerate).

But a romance can be paranormal without any bizarre creatures inhabiting the landscape. Some historical romances are not even billed as paranormal, yet they contain elements of it. A Scottish Highland romance that features a seer, who sees dreams of the future, is not unusual. There are healers or 'wise women' who utilise powers beyond the normal.

Telepathy and similar paranormal traits can easily be brought into romance novels, contemporary or otherwise. A great example of this is Maya Banks' military romance novel Whispers In The Dark. It is part of her KGI series about men who work as elite mercenaries. The earlier books in the series contained no paranormal elements, and yet telepathy and telepathic healing are introduced in this novel. The next in the series, Echoes At Dawn, is similar in paranormal content, and then the series reverts to regular (if you can call it that) military romance.

Time travel romances are an example of paranormal romance. Because travelling back in time is not actually possible in reality, it is paranormal. Whether the majority of the book is set in medieval times, Regency England or wherever, with or without any other paranormal elements, time travel romances are, by definition, paranormal romances.

Other worlds, other planets and outer space are all great setting for romances, and any of these would mean the story is classed as paranormal. You might be thinking 'Isn't that just science fiction?', and you'd be correct. But in general, romance with a science fiction subgenre is classed as paranormal romance. Same as romance with a fantasy subgenre. So there really is no limit on what you can create. And those of us who enjoy fantasy or science fiction, but enjoy our happy ever after endings and our romantic themes, can enjoy the best of both worlds.





See what other Writing.com members have to say about these paranormal romances:

"By My Choice...: A Valentine's Day Story (Valentine's Day Stories)"


"Dark Lover: The First Novel of the Black Dagger Brotherhood"


"The Fire Rose"


"Cloaked in Fur (Crimson Romance)"


And why not review these paranormal items and give the authors some feedback?


Happy Accidents (13+)
It was just a checkbook he wanted to return. 2013 Quill Nominee
#

1950948

by Ms. Nixie Saint Nick
Invalid Item
This item number is not valid.
#

1946200

by Not Available.
Invalid Item
This item number is not valid.
#

2032623

by Not Available.
Invalid Item
This item number is not valid.
#

2041710

by Not Available.
Undead Embrace (13+)
A dark poem from a mortal to a vampire lover.
#

1567082

by neilbco
Caught (18+)
First Draft: Kidnapped to rule a galaxy - and hating it!
#

1913445

by Christine



Have an opinion on what you've read here today? Then send the Editor feedback! Find an item that you think would be perfect for showcasing here? Submit it for consideration in the newsletter!
https://Writing.Com/main/newsletters/action/nli_form



Don't forget to support our sponsor!




| | |
| --- | --- |
| ASIN: B01FST8A90 | |



Do you enjoy reading or writing paranormal romance? What are your favourite paranormal elements? Do you have any favourite paranormal romance novels to recommend?

Thank you for your feedback to "Romance/Love Newsletter (May 6, 2015)"
:

Hi Elle, thanks for including my short story in this newsletter. And thanks for the intriguing newsletter! For me the crucial element is the happy ending; I wouldn't call it romance if it didn't have that (I like to have happy characters). However, the development of a relationship isn't often the centre of a story for me, so maybe I'm not writing romance after all but drama that includes romance. A question for you - is a love story the same as a romance? I'm beginning to think it isn't; that a love story doesn't need a happy ending (just a good one) but a romance does. - Osirantinsel


Funny how most of the serial romance publishers look for format. RWA is a stickler on that. Very old fashioned to a point. they like sex and happy endings. The real test is conflict. When A meets B, what happens between them and tries to separate them is what makes a great romance story. I suggest Shanna By Kahterine Woodiwiess. this book contains, romance, sex, mystery, suspense, revenge and restitution. When you get done reading its the one book I feel you should disect and use as the plumb bob for the best romance story written. - Quick-Quill

| | |
| --- | --- |
| ASIN: 0910355479 | |



To stop receiving this newsletter, click here for your newsletter subscription list. Simply uncheck the box next to any newsletter(s) you wish to cancel and then click to "Submit Changes". You can edit your subscriptions at any time.