Printed from https://www.writing.com/main/newsletters/action/archives/id/7070-Summer-Camp-Has-Arrived.html
Noticing Newbies: July 01, 2015 Issue [#7070]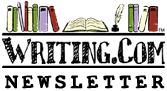 Noticing Newbies





This week: Summer Camp Has Arrived

Edited by: ember_rain
More Newsletters By This Editor



1. About this Newsletter
2. A Word from our Sponsor
3. Letter from the Editor
4. Editor's Picks
5. A Word from Writing.Com
6. Ask & Answer
7. Removal instructions





How I got to be a Mod, I don't know. This dyslexic mother of 6 with dreams of one day being published hits a road block like very little internet time a lot. But, I push on. I was in shock when I became a mod. Who wants someone who can barely spell cat right? Well WDC did. And I have been grateful for the ego boost ever since. If you find a mistake, then I am sorry. I often wish I could type things in mirror image. It might come out exactly right then.

My purpose for doing this newsletter isn't to be perfect but to put new members at ease that yes even people like me are accepted here.



| | |
| --- | --- |
| ASIN: B07RKLNKH7 | Kindle |





Camp Nano Here We Come



As this is hitting your inbox many of us have started on a journey of putting ourselves in our chair and trying to write a set amount of words. In November when the official NaNoWriMo happens there is a flurry of activity here. WDC hasn't quite caught up to cabin fever yet. I hope one day we will.

Camp Nano is different in that you don't have to write 50,000 words to win. You can set your own word count. Then you can choose to be in a cabin or not. You can, if everyone does it in the same assignment cycle, pick people you want to share a cabin with. Or, like me, you can choose to join in a mass group of complete strangers and pretend that you are attending a real camp for writers. I never got to go to camp as a kid so this is my chance to at least pretend I'm getting the experience.

Why do Camp Nano? For the same reason we do NaNoWriMo. The first lesson every writer who has been published will tell you is that you need to write on a schedule. So many words a day preferably at the same time. In November we attempt to write 1667 words a day. I have found, however that by March the habit has been broken and I'm no longer writing like I should. Camp Nano's first session comes along in April and then its second in July. Coinciding with spring break and the month most people take a vacation.

It's a great chance to reset your habit and get back in the groove of things. I've been saving my data so I can participate this month. I hope to see a bunch of you there. Not only is it a great goal for us writers, but it helps out an awesome literacy group that helps get books into the hands of the underprivileged as well as helping schools teach fiction writing.

Oh, and I know it started today but you can still sign up and get started cabin assignments are always ongoing.

Need the link? Camp Nano



Thought you might enjoy the work of some of our newer members.


Invalid Item
This item number is not valid.
#

2046589

by Not Available.
These Doors Must Remain Open (13+)
Meh poem, its a poem of poetical nature... poetically
#

2046555

by H.Chinaski
The Tune of Forgotten Memories (E)
Here's a little something I wrote after I listened to my best friend's windup toy.
#

2046553

by Erwin
Invalid Item
This item number is not valid.
#

2046550

by Not Available.
Invalid Item
This item number is not valid.
#

2046514

by Not Available.



Have an opinion on what you've read here today? Then send the Editor feedback! Find an item that you think would be perfect for showcasing here? Submit it for consideration in the newsletter!
https://Writing.Com/main/newsletters/action/nli_form



Don't forget to support our sponsor!




| | |
| --- | --- |
| ASIN: B07K6Z2ZBF | |



So.... Whose going to camp?


| | |
| --- | --- |
| ASIN: B004PICKDS | |



To stop receiving this newsletter, click here for your newsletter subscription list. Simply uncheck the box next to any newsletter(s) you wish to cancel and then click to "Submit Changes". You can edit your subscriptions at any time.



Printed from https://www.writing.com/main/newsletters/action/archives/id/7070-Summer-Camp-Has-Arrived.html