Printed from https://www.writing.com/main/newsletters/action/archives/id/7173-Groups-The-Heart-of-WDC.html
Noticing Newbies: August 26, 2015 Issue [#7173]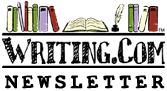 Noticing Newbies





This week: Groups: The Heart of WDC

Edited by: ember_rain
More Newsletters By This Editor



1. About this Newsletter
2. A Word from our Sponsor
3. Letter from the Editor
4. Editor's Picks
5. A Word from Writing.Com
6. Ask & Answer
7. Removal instructions





I am one of those people who would say I love to write but, I'm not really a writer. WDC taught me to stop saying that. I write. So I am a writer. I am a dyslexic writer who found a place where it is rare for people to make me feel horrible because my spelling and punctuation might not be perfect. Instead, they offer helpful tips so that I can fix the areas I have issues with and do it with a gentle smile and a kind heart. You have to love people like that. I know I do. The fact they overlooked it to make me a mod and let me do this newsletter... Well that's a priceless Master Card just can't understand.



| | |
| --- | --- |
| ASIN: B07YJZZGW4 | Kindle |



To those who are so new you may not have had time to figure it out yet or those who have been here a while and are still trying to get your feet under you, you may be wondering how in the world does one really fit in in such a huge place. Reviews is always my answer. Doing reviews is the soul of WDC, but we aren't going to talk about that today. Today we are going to talk about it's heart. The very heart of WDC is of course our brilliant The StoryMaster
and The StoryMistress
who are like the very young and very unique urban hippy parents (yes that is suppose to be a complement) to a multitude of writer children but surrounding the inner heart is the outer one, our groups.

If you have yet to join one you really need to look into them and consider it. We have so many different ones from writing groups, to poetry groups, to reviewing groups. Leading the charge:



Reviewing Groups




WdC SuperPower Reviewers Group (E)
Join the fun! We inspire reviewers through kindness and learning! Four time Quill winner!
#

1300305

by Maryann
- They have an abundance of things to review and are one of the oldest if not the oldest group on WDC. They love a good newbie.


Showering Acts of Joy Group (E)
On indefinite hiatus
#

1499415

by Pat ~ starting a new journey
Ms. Pat and the Chickadees are always looking for good reviewers to help out. It would seem they never run out of items in the garden looking to be watered by the reviews of their members.


The Rockin' Reviewers (13+)
~Quality reviews given in a positive and encouraging manner
#

1630911

by Hannah ♫♥♫
- not only do they do some great reviewing but they offer a lot of help for newbies including writing courses or at least they did before I had to change my handle to: still trying to get internet.


The WDC Angel Army (ASR)
Dedicated to promoting positivity, encouragement, and support to the WDC community.
#

1188309

by iKïyå§ama
The angel army was one of the first groups I joined. Though no longer a member due to just being overwhelmed by too much to do, The angel army is an amazing place to start if your looking to feel at home.


Anniversary Reviews (E)
Celebrate Writing.Com member account anniversaries with reviews. Earn GPs and MBs.
#

1565040

by Same Ol' Sum1
- Not a group persay but sitll worth the mention. Everyone loves a good review on the anniversary of the date they joined WDC



Newbie Groups



Though many of the ones listed above qualify as great for Newbies there is one that stands out above the rest. If you haven't joined yet you should.

The Newbies Academy Group (E)
Need assistance and guidance. Stop on by!
#

1949660

by ~ Sisco ~
- Sisco has done an amazing job at helping new members learn the ropes. I highly recommend seeking out his group if you are feeling lost.




Writing Groups




October NaNo Prep Challenge Group (E)
October NaNo Prep Challenge participants.
#

1474310

by Brandiwyn🎶
- This is a once a year writing group. Its only really active in October but many of us couldn't make it through November without it.


NaNoWriMo Plus (13+)
A writing group inspired by NaNoWriMo with monthly goals.
#

1593387

by Dawn Embers
- Though set up to help people meet their goals during Nanowrimo, This group does a great job of helping keep people focused on their writing goals all year long.


Unofficial Erotica Newsletter Group (18+)
A group dedicated to publishing an unofficial WDC erotica newsletter.
#

1085692

by Jeff
- in case your writing tends to be a bit more adult.


Invalid Item
This item number is not valid.
#

1919215

by Not Available.
- I haven't had a chance to do much with this group but the premise has always interested me.



Charity Groups




RAOK Upgrade Brigade Group (E)
RAOK (Random Acts Of Kindness) helps members by Upgrading them.
#

398524

by Writing.Com Support
- this is one of my favoirte groups because we get to pay it back by helping out people who can't afford their upgrade. They are also a great group to review for. It's all about paying it forward.


Transformation Game Group (E)
This is the group for those who wish to be transformed for charity.
#

1833897

by scriptboy
- This is a new group to me but it looks interesting.


W.T.G.H. Upgrade Group (ASR)
W.T.G.H. Upgrade Group
#

753439

by Lexi
- I am not familiar with this group either but any group willing to help with upgrades is a group I feel I should promote.

As you can see, the heart of WDC is alive and well and full of abundance that you can join in on. We hope to see you join one or twenty, which ever works for you. I think I'm currently at 24. I would have never made it here without the WDC Groups. Hurry and join before you miss out on something.



Just a few of our newbies
Invalid Item
This item number is not valid.
#

2054395

by Not Available.
I will just take my giraffe and go (E)
Light hearted poem about a child and her imaginary giraffe friend called George
#

2054383

by Sarah Anne Bryant
Invalid Item
This item number is not valid.
#

2054374

by Not Available.
Invalid Item
This item number is not valid.
#

2054359

by Not Available.
Colors (E)
My perspective on color in the world. Also, I wanted to make people think a tad bit.
#

2054342

by Nobody
Invalid Item
This item number is not valid.
#

2054317

by Not Available.



Have an opinion on what you've read here today? Then send the Editor feedback! Find an item that you think would be perfect for showcasing here? Submit it for consideration in the newsletter!
https://Writing.Com/main/newsletters/action/nli_form



Don't forget to support our sponsor!




| | |
| --- | --- |
| ASIN: B07N36MHWD | Kindle |



So which group did you join? Inquiring minds want to know.


| | |
| --- | --- |
| ASIN: B07YXBT9JT | |



To stop receiving this newsletter, click here for your newsletter subscription list. Simply uncheck the box next to any newsletter(s) you wish to cancel and then click to "Submit Changes". You can edit your subscriptions at any time.



Printed from https://www.writing.com/main/newsletters/action/archives/id/7173-Groups-The-Heart-of-WDC.html