Printed from https://www.writing.com/main/newsletters/action/archives/id/7220-Horror-in-the-Mundane.html
Horror/Scary: September 23, 2015 Issue [#7220]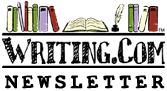 Horror/Scary





This week: Horror in the Mundane

Edited by: blue jellybaby
More Newsletters By This Editor



1. About this Newsletter
2. A Word from our Sponsor
3. Letter from the Editor
4. Editor's Picks
5. A Word from Writing.Com
6. Ask & Answer
7. Removal instructions



We all struggle with finding inspiration from time to time. Here are a few things you can do to combat it.

| | |
| --- | --- |
| ASIN: B01MQP5740 | Kindle |


Writers block can be one of those hideously tedious things. We all struggle from time to time with inspiration, what to write, the next story idea. I have often sat at my computer wanting to write but with no inkling of what to write. Other times it comes like flowing water and I can write and write and sometimes have several projects going on at once. You ever find that?

This newsletter is about those times that maybe you can't figure out what you want to write or how to start. For me, I find that I have quite an imaginative brain. I see different and unique things in mundane life and it is often these things that I turn into short stories or even longer pieces.

For example, I was driving to work one morning last week and I saw a truck in front of me. We were stopped at a red light so I plenty of time to take a look and on the mud flap at the back I noticed two words: Body Tipper. I think anyone looking at me in that moment would have seen a variety of expressions from confusion to the cogs ticking to a downright evil smile. The thought that came to me in that moment was this: although I knew the truck probably had some very innocent use, that actually it was a truck used for tipping bodies into mass graves and had incidentally been modified throughout the ages since back when it was a cart. I know, pretty morbid. But that's just one instance.

I work with some fairly interesting people and there is always something going on at work and you know what, I find that I'm never without an idea.

A couple of pointers:


Open your eyes. Watch everything carefully, take note of things you see, people you might meet, interactions that take place. Sometimes even just seeing something can spark an idea.


Listen hard. Conversations taken out of context can lead to some pretty horrifying ideas.


Talk to people. Talk to them about their experiences, enjoy their company, find out what they're about, what they like. You'll always meet someone who sees something completely different to you.



Invalid Item
This item number is not valid.
#

2057526

by Not Available.
Invalid Item
This item number is not valid.
#

2057585

by Not Available.
Invalid Item
This item number is not valid.
#

2056968

by Not Available.
Invalid Item
This item number is not valid.
#

2057523

by Not Available.
Invalid Item
This item number is not valid.
#

2057399

by Not Available.
Invalid Item
This item number is not valid.
#

2057167

by Not Available.
Thirteen Strikes (E)
Louis gets more than he bargains for when he buys a new clock.
#

2056916

by TM Ritz
Under the Bed (13+)
Is that someone's breathing Joshua hears?
#

2032433

by Osirantinous
The Chain of Roses (18+)
With each murder he leaves a calling card. Prompt: a single red rose.
#

2027901

by ~MM~
Windows (13+)
Looking into a window is not the same as looking through it.
#

973777

by W.D.Wilcox



Have an opinion on what you've read here today? Then send the Editor feedback! Find an item that you think would be perfect for showcasing here? Submit it for consideration in the newsletter!
https://Writing.Com/main/newsletters/action/nli_form



Don't forget to support our sponsor!




| | |
| --- | --- |
| ASIN: 197380364X | |


I challenge you to open all of your senses for a day. Talk to people, listen hard and watch everything. See if you come up with something.

LJPC - the tortoise
said of my last Horror/Scary Newsletter: Hi Blue Jellybaby! You're absolutely right about research leading to amazing inspiration. Anyone who's stuck can research what interests them and are sure to come up with some great ideas--sometimes based on true events. The truth is often stranger than fiction. Terrific NL!

~ Laura



Thanks, Laura. Much appreciated!

| | |
| --- | --- |
| ASIN: B07RKLNKH7 | Kindle |



To stop receiving this newsletter, click here for your newsletter subscription list. Simply uncheck the box next to any newsletter(s) you wish to cancel and then click to "Submit Changes". You can edit your subscriptions at any time.



Printed from https://www.writing.com/main/newsletters/action/archives/id/7220-Horror-in-the-Mundane.html