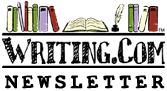 Drama





This week: Bringing your drama to life

Edited by: Elle - on hiatus
More Newsletters By This Editor



1. About this Newsletter
2. A Word from our Sponsor
3. Letter from the Editor
4. Editor's Picks
5. A Word from Writing.Com
6. Ask & Answer
7. Removal instructions





If your drama is feeling flat and/or boring, what can you do to bring it to life? What tools do you have at your disposal to help pull your readers in to the story, and once there, keep their interest? I explore (and explain) some advice that is popular with reviewers.



| | |
| --- | --- |
| ASIN: 197380364X | |



I have recently been challenged, on two different fronts, to 'put my money where my mouth is' and practice showing instead of telling. Yes, I am one of those reviewers who tells writers that they need more showing in their writing. Not as a matter of course, obviously, but when I think their writing will benefit from such advice. It's a popular refrain, practically a cliche these days, and yet that doesn't make it any less true.

For those who are unfamiliar with showing versus telling, it is the difference between telling the reader a fact and describing the scene (showing it) so that the reader comes to that conclusion on their own.
For example, as part of a poetry class held by the "Fantasy and Science Fiction Society"
, I had to come up with a descriptive way of saying 'She was tired'. My offer was 'She drooped with exhaustion.' Do you see the difference? What about 'The plant died' versus 'A final tattered leaf came to rest on the dry soil as the seedling gave up its struggle to survive.' Or even 'It was warm' versus 'Waves of heat shimmered above the pavement.' Which is more descriptive, being told that it is warm, or the author describing the heat to you in a way that helps you to picture the scene?

Why does it matter? It draws the reader into your story and not only grabs their attention, but helps to hold it.

In drama, this is particularly important. It is easy to say 'He was upset' or 'She was excited' but when we are shown those emotions, the drama becomes more real to the reader, more intense. You could say 'She was scared', but it is much more dramatic to say 'Her breath caught in her throat as a footstep sounded from the shadows, the hair on her arms and the back of her neck standing up as she quickened her pace.'

Showing is almost inevitably longer, with a higher word count, than telling. If you're participating in National Novel Writing Month (NaNoWriMo), this is a good thing!
But either way, it helps to bring your drama to life and draw your readers into the story.

Now, I would be remiss if I didn't point out that every good story is a balance of showing AND telling. But if you're struggling to capture the mood, or your drama feels a little flat, see if you can restore that balance by converting some of your telling into showing.


And if you want to practice your showing, make sure you check out "Invalid Item"
.



Invalid Item
This item number is not valid.
#

1706238

by Not Available.
Showing Why Showing is Important (18+)
Why showing is important in fiction
#

1970226

by Max Griffin 🏳️‍🌈
Creating Motion in Fiction (13+)
How to apply show don't tell principle and adjust the pace of the story
#

1357824

by Joy
"Telling" Vs. "Showing" - Part 1 (E)
Tighten your writing and learn to identify if you are "telling" instead of "showing"
#

1250873

by Rohini
Invalid Item
This item number is not valid.
#

818096

by Not Available.



Have an opinion on what you've read here today? Then send the Editor feedback! Find an item that you think would be perfect for showcasing here? Submit it for consideration in the newsletter!
https://Writing.Com/main/newsletters/action/nli_form



Don't forget to support our sponsor!




| | |
| --- | --- |
| ASIN: B01FST8A90 | |



This is my first Drama newsletter, so I'd appreciate your feedback. Feel free to share any particularly good examples of 'showing' that you may have.

| | |
| --- | --- |
| ASIN: B004PICKDS | |



To stop receiving this newsletter, click here for your newsletter subscription list. Simply uncheck the box next to any newsletter(s) you wish to cancel and then click to "Submit Changes". You can edit your subscriptions at any time.