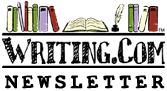 Noticing Newbies





This week: #WriterWednesday

Edited by: I like big books #2233315
More Newsletters By This Editor



1. About this Newsletter
2. A Word from our Sponsor
3. Letter from the Editor
4. Editor's Picks
5. A Word from Writing.Com
6. Ask & Answer
7. Removal instructions




The Noticing Newbies Newsletter's goal is to make the newer members feel welcome and encourage them with useful information and/or links to make navigating Writing.com easier. Writing.com members of all ages and even veteran members can find useful information here. If you have specific questions, try visiting "Writing.Com 101"
and/or "Noticing Newbies"
.

Meet The Noticing Newbies Full-Time Newsletter Editors

| | |
| --- | --- |
| ASIN: B07RKLNKH7 | Kindle |





"Twitter provides us with a wonderful platform to discuss/confront societal problems. We trend Justin Bieber instead." - Lauren Leto, writer, as well as creator and co-founder of Texts From Last Night website





Hashtags are everywhere.
#WriterWednesday #ScriptChat #Novelines #Storytelling #WritingTip



Do you use hashtags but don't have an account on Twitter? Why? Okay, yes they still work other places but that is where they were born and where they live and breathe every day.

Author to author - I have a question for you.

What if I told you that you had an opportunity to get your work in front of 320 million people, free? Would you say where do I sign up?

Think about it. In the second quarter of 2015, 66 million people in the United States had an active Twitter account. That number balloons to 316 million if you go worldwide. In this age of technology and internet commerce, don't you want to take advantage of any opportunity you have to get your writing in the hands of others? Okay, maybe you aren't ready for that, but what about learning from other writers, agents, screenwriters and teachers?



Twitter misperception is that you need to tweet, to have something to say and broadcast, for the service to be meaningful to you… 'Why would I tweet?,' and '…but I don't want to tweet' are two common refrains from the non-adopter that highlight this," he wrote. For Twitter to succeed, people shouldn't even be asking those questions in the first place.

Instead, they should already know that Twitter is where you go to get this wonderful, customized feed of news, gossip, information from any of those 43 million sources. And they should be able to easily get their feed customized to include at least some of those.



Let's face it; many people don't understand how to use Twitter effectively. If you follow the right people, it can be very useful. My first Twitter account, I got sucked into the void of comedy writers. You could seriously waste hours reading tweets from comedians. Are they funny? Oh yes. Was it useful? Not really. Some people argue they already have a Facebook account so they don't need another account at Twitter. While Twitter is compared to Facebook almost constantly, in my opinion, they're very different. Twitter is at heart an information sharing platform. Many of you may say well, that is what Facebook is. Unless you make all your posts public and someone trips over them in a search, it doesn't have the same power as Twitter in reaching beyond people you already know to get you in front of a new audience. Maybe you've read editorials about setting up an author page and getting yourself out there. Perhaps you've ever considered it. Why not now? You won't know what you're missing until you take the plunge. You sign up, 'follow' your interests – authors, script writers, editors, publishers, etc. and sit back and watch the amazing information flow. Learn. Pretty soon you'll be "retweeting" useful articles or information, gaining "followers" and making contacts with other writers, agents, and like-minded people. Those "followers" that you gather are all potential readers and future fans. All because you signed up and "followed" some authors you like or people that you share interests with. It doesn't get much easier than that.

Still aren't convinced? Here are just a few reasons why people join Twitter .


Micro-blogging – Pretty much every major blogger micro-blogs on Twitter. They find followers that often become subscribers.


Share Interests – Share that great article or book you read using one of the many url-shortening services such as bit.ly, you can also share blog posts, images or videos.


Networking – As you gain followers, they learn more about you and your network of peers will grow. The same is true for you, and you'll meet more people that share similar interests and gain knowledge.


Promotion – When you or better yet, someone else in your network, shares your links. Learning – with so much free sharing of information and links to more sources, regular Twitter users get educated daily.


News/Information – As your network of followers grows, you can learn by asking questions to your network and getting some of the fastest answers anywhere on the net. Some call it "Polling" – asking a quick question to your whole network is a fast way to gauge current trends or fads.


Breaking news – The use of hashtags on Twitter in real time can actually keep you more involved with the world around you. "Trending" tags change and evolve with world events.

Like anything else, you get out of Twitter what you put into it. So why not give it a try?

Your first tweet could be to introduce your writing. At the bottom of the Writing.com page you'll see Site Links on the left. The first link says "Refer a Member" - click that link and you'll be shown an address you can share that links right back to your portfolio here. It doesn't get much easier than that, does it?

What's the first page you need to follow? Well, our page of course!
https://twitter.com/WritingCom

Write and Review on! ~ Brooke


"Good basic information for beginners on how to use the site and how to attract followers.".
| | |
| --- | --- |
| ASIN: B0065DBFTG | |
[Related Links]

This month's links are useful articles that revolve around the topic above.


Twitter is a place your fans can engage directly with you. You can use Twitter to interact with other users as much or as little as you want — it doesn't have to take a lot of your time. Twitter:Notes for Authors
You need to be smart when using hashtags – don't over use them (never use more than 3 hashtags per tweet), be natural and never spam people. But when used selectively and cleverly, hashtags can be of great benefit to your writing career. 100 Twitter Hastags Every Writer Should Know
Twitter will provide you with instant accessibility to the greatest minds in publishing, writing, public relations, and editing. And this channel is probably the best platform to keep you up to date on writing conferences, book marketing techniques and workshops about your genre.The Ultimate Guide to Twitter for Writers
A simple link to Stephen King's Twitter account. Why? Because he posts some great pictures of his dog Molly AKA Thing of Evil and because he's Stephen King, duh? Why wouldn't you want to follow him? Stephen King's Twitter


Here are some new stories that caught my eye. Why not give it a read and let the author know what you think?


Excerpt:


Pulling out the bottle, he noted curiously that the back of his hand was ashen gray from the sweat he had just wiped from his brow. His mind struggled at the 'why' of this, but the reason slowly slipped away, drifting into a background of murky thoughts.

Mason's mind was starting to cloud again, but many things still remained clear. His name was Mason Brown, he was a nanobiologist, and he was a prisoner. He also knew that the treatment in his pack would help him remember. Remove the fog clouding his mind.




~
~



Excerpt:


Conan grumbled out of his nap, disturbed by a presence in his stable, and woke up to a face mere inches from his own. He swallowed a startled shout, and in its place put on what he imagined was a seething glare. In his half-asleep stupor, it resulted in more of a moist squint.

The face didn't respond as he had hoped, which would have been backing off and leaving him to his slumber; instead, its features pulled into a smile that reached deep into Conan's hindbrain and tripped all of the alarms. A foreboding crept over him, as if he were a mouse who had just met his new neighbor, the cat.




~
~



Excerpt:


He, was lean, buffed and clean shaven; and he was always cloaked in a fine tan that blended well with his beaming brown eyes. His thrice-broken nose took a few curves on the way to its tip but ended up fairly plumb. But it was his mouth that you noticed first, simply because he was one of those sunny sons of bitches who is always smiling. And, as a logical consequence of this inflated good humor, he was either whistling or belting out a number on just about any occasion and for no special reason; sometimes he didn't even realize that he was with whistle or song.




~
~



Excerpt:


How much longer will it take until I go insane? Better yet, what will be the last straw that will push me over the edge? Will it be the constant 'disciplining' techniques that the Ring Leader uses on us all? Or will it be the screams of the suffering and already insane performers of the circus? No, the one thing that might seriously push me over the edge is the damn clicking of the train as it rides over the rails. It might not seem much to normal people, but to us, so much more lies behind this one simple and consistent noise.




~
~



Excerpt:


The Ascension Parade was a tradition that occurred in the kingdom of Atrillia whenever someone ascended to the throne. When the King had died of age ten nights past, the seal was broken from the Scroll of the Will of the King. Thus it was revealed, with no surprise to anyone, that Princess Raya Bannon of Atrillia, grand daughter of the late King Vice Bannon, would succeed her grandfather to the throne and rule all of Atrillia as long as she may live.




~
~



Excerpt:


Until that day, V hadn't seen Aida for nearly two years, let alone those few glimpses from a distance she scrounged. Now this accidental encounter in a café let V. to enjoy the sight of her without being compromised. Aida was there, in all her beauty, not having changed a bit since their last meeting. She carelessly chatted with her friends, unusually relaxed and joyful. The sound of Aida's laugh reaching V's ear had the Jericho trumpets effect, making the walls within collapse one by one. As time passed, all V could do was trying to absorb as much of Aida's voice as possible, to make the time still, so that she could recreate this perfect moment in her memory for the years to come.




~
~



Have an opinion on what you've read here today? Then send the Editor feedback! Find an item that you think would be perfect for showcasing here? Submit it for consideration in the newsletter!
https://Writing.Com/main/newsletters/action/nli_form



Don't forget to support our sponsor!




| | |
| --- | --- |
| ASIN: 0996254145 | |


| | |
| --- | --- |
| ASIN: B07NPKP5BF | Toy |



To stop receiving this newsletter, click here for your newsletter subscription list. Simply uncheck the box next to any newsletter(s) you wish to cancel and then click to "Submit Changes". You can edit your subscriptions at any time.