Printed from https://www.writing.com/main/newsletters/action/archives/id/7397
For Authors: December 30, 2015 Issue [#7397]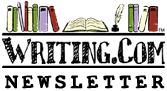 For Authors





This week: Consistency

Edited by: Lt. Storm Machine
More Newsletters By This Editor



1. About this Newsletter
2. A Word from our Sponsor
3. Letter from the Editor
4. Editor's Picks
5. A Word from Writing.Com
6. Ask & Answer
7. Removal instructions





"It's not what we do once in a while that shapes our lives. It's what we do consistently."
― Anthony Robbins

"Success is neither magical nor mysterious. Success is the natural consequence of consistently applying basic fundamentals."
― Jim Rohn

"Perfection of effort is not required, by the way. It is the consistency of attempting to work these tools that brings the progress. It's like anything else. If I want to tone muscle, lifting a ten-pound weight a few times every day will move me toward my goal much quicker than hoisting a fifty-pound barbell once a week. Yes, it really is true: "Slow and steady wins the race." Just try a little, every day. You'll see."
― Holly Mosier





| | |
| --- | --- |
| ASIN: 0995498113 | |



Do you write every day? It doesn't have to be a hard and fast rule. Writing comes from creativity, and some of us tend to use excuses like needing inspiration.

The beauty of consistency is giving yourself a way to prepare for what is coming. For difficulty sleeping, a pre-bedtime routine can gear the mind toward sleep. And just like Pavlov's dog, we condition ourselves to expect something to happen.

What do you do to condition yourself to be in the mood to write? Develop a routine. Prepare the way for your brain to be ready. It might be like morning pages where you give yourself three pages of absolute dreck (750 words). It might be re-reading what you wrote during your last session. It might be reading a page from something that inspires you.

Once you find that winning combination for writing, send it through the next phase (editing, rewriting, whatever other words you have for cleaning up the word vomit). This might be a completely different ritual to prepare you for your task.

Full-time obligations like careers and children provide obstacles to overcome if you really want to write. However, if you struggle to cut out a little time for your writing, your preparation schedule and consistency (every Sunday morning at 7 with a cup of coffee and your favorite notebook) lead to new possibilities. Make it work for you.



Invalid Item
This item number is not valid.
#

2069988

by Not Available.
For Old Time's Sake (E)
Down memory lane.
#

2069924

by Jatog the Green
A Different Kind of Sword (13+)
Edward makes a new sword. My stab at what advertising would be like in the past.
#

2069826

by Kimberly Kate
Invalid Item
This item number is not valid.
#

2069773

by Not Available.
Spring Freeze (18+)
Chad and Molly fall into the frigid, icy water! Will they survive the cold night ahead?
#

2069441

by TJs doing Keto
The Christmas Curse (13+)
Three teenagers must save Christmas from an ancient spell.
#

2069216

by brom21
The Mascot of Geisterdorf (18+)
A Scientific Career Becomes Complicated
#

2069085

by Hatsuda
Invalid Item
This item number is not valid.
#

2068944

by Not Available.
The Grind (13+)
A 100 word contest entry
#

2068877

by michaelk2
What Happened to Baby Louise? (E)
The story of Louise Valley's short, but sad life so far as I know it.
#

2068695

by Alanna Fitzgerald



Have an opinion on what you've read here today? Then send the Editor feedback! Find an item that you think would be perfect for showcasing here? Submit it for consideration in the newsletter!
https://Writing.Com/main/newsletters/action/nli_form



Don't forget to support our sponsor!




| | |
| --- | --- |
| ASIN: B01MQP5740 | Kindle |



I'm a Guest Editor, so I haven't any feedback to share.

"A skeptic, I would ask for consistency first of all."
― Sylvia Plath, The Unabridged Journals of Sylvia Plath


| | |
| --- | --- |
| ASIN: 197380364X | |



To stop receiving this newsletter, click here for your newsletter subscription list. Simply uncheck the box next to any newsletter(s) you wish to cancel and then click to "Submit Changes". You can edit your subscriptions at any time.



Printed from https://www.writing.com/main/newsletters/action/archives/id/7397