Printed from https://www.writing.com/main/newsletters/action/archives/id/7418-Darkest-Verse.html
Horror/Scary: January 13, 2016 Issue [#7418]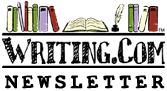 Horror/Scary





This week: Darkest Verse

Edited by: Elle
More Newsletters By This Editor



1. About this Newsletter
2. A Word from our Sponsor
3. Letter from the Editor
4. Editor's Picks
5. A Word from Writing.Com
6. Ask & Answer
7. Removal instructions





I'll admit it, I'm not a fan of scary stories or horror movies. I don't read them nor watch them. So how it is that I have not only read, reviewed and written items in the horror/scary genre, but enjoyed them? Maybe there's just something different about poetry...



| | |
| --- | --- |
| ASIN: 0995498113 | |



It was all 🌑 Darleens lost in the Dark
's fault. In 2014 she created the "Dark Dreamscapes Poetry Contest"
, and it was my first real introduction to poetry that fell in the dark or horror/scary genres. I didn't expect to like it, because I am a romantic and I like my happy endings. I don't like horror movies. I only read books that have happy endings, however much the hero or heroine are tortured along the way. But Darleen was a friend, so I ventured in.

My first entry, a few months after the contest started, wasn't particularly dark (more like a light grey
), but it was a start, and Darleen cheered me on. I read some of the other entries, and while dark, they were very good. They had a certain dark beauty, as only poetry can have. The more I read, the more I practiced, and the better I got. That's how it works, right? I won an honourable mention in September 2014 with "Alone"
and was so thrilled. I never thought I could write anything dark, poetry or prose, and I was doing it!
I kept entering as often as I could, and in June 2015 I won second place with "Haunted"
. I intend to keep working hard at it in the hope of one day writing something worthy of first place.

For me, the darkness is alleviated by the beautiful words we choose. Despite the great many number of books I read, a thesaurus will always be my favourite. I use it all the time. Instead of dark, we have shadowy or I play with the idea of soot or pitch. Instead of horror we could use terror or dread... Being able to play with the words doesn't detract from the theme of the poem, but it lends a certain elegance.

For some, dark poetry is a way of expressing their pain, lancing their wounds. There is a reason that poetry is so popular with people who are struggling to deal with their emotions. It gives them a voice. Just never make the mistake of assuming that a poem tells you about a poet's personal feelings or history. Mine rarely do, and that kind of assumption is careless.

Have you tried to write dark poetry? I dare you to give it a try. Paint dark pictures with your words, and cloak them in exquisite grace and sophistication.



These are some of the previous winners of the "Dark Dreamscapes Poetry Contest"
.


Invalid Item
This item number is not valid.
#

2063631

by Not Available.
Cry Your Eyes Out (18+)
Inspired by bulging eyes and vacant stares.
#

2047160

by Cinn
Hollow Dreams (13+)
Dream or nightmare? (Form: Double Etheree)
#

2003851

by 🌜 HuntersMoon
All's Hell That Ends Well (18+)
My entry for the Dark Dreamscapes Contest: July. Photo prompt.
#

1999097

by Carmen
The Tempest in the Moonlight (E)
The tempest of the storm shows me who I am. (Constanza Form)
#

1992121

by Angels in my Ear



Here are some more dark contests for you to challenge yourself with:


Love Shouldn't Hurt Poetry Contest (GC)
1st Poetry Contest raising awareness about abuse. Next round is Feb.5th-Mar 5th
#

2040807

by Witchy woman
Weekly SCREAMS!!! (XGC)
A Terrifying Contest Of Horror And Three Time Quill Award Winner!
#

2020439

by Fangus
Invalid Item
This item number is not valid.
#

2066181

by Not Available.
Invalid Item
This item number is not valid.
#

2043072

by Not Available.
Scary Animal tales (E)
A short story contest. Show me the monster.
#

2068383

by Danger Mouse



Have an opinion on what you've read here today? Then send the Editor feedback! Find an item that you think would be perfect for showcasing here? Submit it for consideration in the newsletter!
https://Writing.Com/main/newsletters/action/nli_form



Don't forget to support our sponsor!




| | |
| --- | --- |
| ASIN: B07RKLNKH7 | Kindle |



Share your favourite dark poem with us.
It can be one you wrote, or one written by someone else (appropriately credited of course!).


| | |
| --- | --- |
| ASIN: B07NPKP5BF | Toy |



To stop receiving this newsletter, click here for your newsletter subscription list. Simply uncheck the box next to any newsletter(s) you wish to cancel and then click to "Submit Changes". You can edit your subscriptions at any time.



Printed from https://www.writing.com/main/newsletters/action/archives/id/7418-Darkest-Verse.html