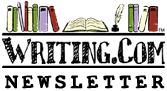 Horror/Scary





This week: BLACKSTAR

Edited by: W.D.Wilcox
More Newsletters By This Editor



1. About this Newsletter
2. A Word from our Sponsor
3. Letter from the Editor
4. Editor's Picks
5. A Word from Writing.Com
6. Ask & Answer
7. Removal instructions




| | |
| --- | --- |
| ASIN: B01DSJSURY | |



BLACKSTAR





In the villa of Ormen, in the villa of Ormen
Stands a solitary candle, ah-ah, ah-ah
In the centre of it all, in the centre of it all
Your eyes
On the day of execution, on the day of execution
Only women kneel and smile, ah-ah, ah-ah
At the centre of it all, at the centre of it all
Your eyes, your eyes
Ah-ah-ah
Ah-ah-ah
In the villa of Ormen, in the villa of Ormen
Stands a solitary candle, ah-ah, ah-ah
In the centre of it all, in the centre of it all
Your eyes
Ah-ah-ah
Something happened on the day he died
Spirit rose a metre and stepped aside
Somebody else took his place, and bravely cried
(I'm a blackstar, I'm a blackstar)
How many times does an angel fall?
How many people lie instead of talking tall?
He trod on sacred ground, he cried loud into the crowd
(I'm a blackstar, I'm a blackstar, I'm not a gangstar)

I can't answer why (I'm a blackstar)
Just go with me (I'm not a filmstar)
I'm-a take you home (I'm a blackstar)
Take your passport and shoes (I'm not a popstar)
And your sedatives, boo (I'm a blackstar)
You're a flash in the pan (I'm not a marvel star)
I'm the Great I Am (I'm a blackstar)
I'm a blackstar, way up, on money, I've got game
I see right, so wide, so open-hearted pain
I want eagles in my daydreams, diamonds in my eyes
(I'm a blackstar, I'm a blackstar)
-David Bowie




The first time I saw Bowie's new video, 'Blackstar', my mouth fell open. "What is this?" I asked myself. "This is very different, very strange."

For me, it was just the feel of it all, so creepy, so uncomfortable, and filled with innuendo.

From Bowie's bandaged face adorned with doll's eyes, to the three scarecrows crucified in a field of corn screaming-away the 'Raggedy Man', all the way to the final reveal of the demise of Major Tom, Darkstar delivers. With its dissonant melodies, erratic drum beats, and electrified dancers caught-up in primitive body spasms that appear beyond their control, the whole song is reminiscent of ancient Voodoo rituals and believers locked within deep-trance.

But that's not all . . . none of it takes place on Earth, it is not of this world.

Bowie says it is in the villa of Orman (an ancient Norse village) which we are to assume is on another planet. Even the young woman who discovers Major Tom's space-suited skeletal remains has a tail wagging behind her, and always hanging in the heavens above is this ominous Blackstar.

This is Bowie's real Space Oddity, a place squeezed in-between music, ritual, death, and religion. If you haven't seen the video, it is a must see. But be warned, it is eerie and uncomfortable, hard to watch, and listen to, the atmosphere even has a brittle taste . . . at first.

It took me a dozen plays before a familiar and recognizable melody touched, my heart, my mind. After that I began to see the meaning of it all . . . and the genius.

I used to listen to a jazz saxophonist named John Coltrane. His music was at first hard to listen to as well because it took you into realms beyond music and sounds, to a place of pure emotion and primitive understandings. It was not melodic by any means, but it became melodic the more I listened to it. Darkstar is like that. In fact you can hear Coltrane-like riffs in the background.

Anyway, it got me to thinking about 2001 Space Odyssey, and the horrors of space out there in the blackness and how we perceive it. Humans are fragile beings, and our bodies are not designed for space travel, and yet, we continue to explore the possibilities and solve the problems we encounter because underneath it all, we are explorers, all of us. We must know, the unknown.

You could say David Bowie's fate was indeed written in water. For me, it was certainly written in tears. I have always admired him for his clever and versatile melodies. But this, this is a magnum opus.

Rest in peace David Bowie, rest in peace.

Until next time,

willwilcox










SPACED-OUT
Invalid Item
This item number is not valid.
#

2071278

by Not Available.
Free? (13+)
Fifty years in the future...
#

1883336

by Fangus
Invalid Item
This item number is not valid.
#

1598723

by Not Available.
XERO: Lost Legacy (13+)
Justice or Revenge. The path to both is through the same door.
#

2050263

by GRIMM
Destination-Space (13+)
Word Count 1528
#

1865269

by Quick-Quill
Invalid Item
This item number is not valid.
#

2071876

by Not Available.
Proxy (18+)
Absence makes the heart grow fonder.
#

1888527

by Bilal Latif
Pilot (E)
A trip to Ganymede. Memories are given.
#

1237050

by Kotaro
The Voyage of the Wayfarer (18+)
"Don't try to talk. I was able to awaken you. You have been dead for three days."
#

1021633

by W.D.Wilcox



Have an opinion on what you've read here today? Then send the Editor feedback! Find an item that you think would be perfect for showcasing here? Submit it for consideration in the newsletter!
https://Writing.Com/main/newsletters/action/nli_form



Don't forget to support our sponsor!




| | |
| --- | --- |
| ASIN: B01IEVJVAG | |

DEAD

LETTERS





pinkbarbie
Says...
Thanks for this newsletter and for sharing your thoughts and the stories you picked.


Fangus

Celebrates...
Thank you for that wonderful Christmas Horror/Scary Newsletter, Bill! And that Christmas tree at the top made my day!
Happy Holidays to EVERYONE!


LJPC - the tortoise

Has the Hoiliday Spirit...
Hi Bill! I get ridiculously excited about Christmas too. The decorations, the lights, gingerbread houses, the TV specials, etc. It's all wonderful - like a fairy tale! I don't worry about the Buy-buy-buy stuff. Everyone needs to do business to keep the economy going round and round. Wishing you and your family a Merry Christmas and a peaceful and prosperous 2016!

~ Laura


Quick-Quill

Shares The Joy...
I believe in the Birth of Christ. Those who are atheists have a hard time explaining why for over two thousand years one person's life had made the impact world wide. there is no other living person who has commanded that respect. Without His life this world would be a lot worse off than it is now. Christmas is just our way of acknowledging his deity and life on earth. From Away in a Manger, to The Hallelujah Chorus, I love every song.
(And sappy Hallmark movies)





| | |
| --- | --- |
| ASIN: B07YXBT9JT | |



To stop receiving this newsletter, click here for your newsletter subscription list. Simply uncheck the box next to any newsletter(s) you wish to cancel and then click to "Submit Changes". You can edit your subscriptions at any time.