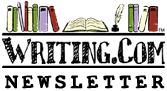 Action/Adventure





This week: Epic Journeys and Adventures

Edited by: Elle - on hiatus
More Newsletters By This Editor



1. About this Newsletter
2. A Word from our Sponsor
3. Letter from the Editor
4. Editor's Picks
5. A Word from Writing.Com
6. Ask & Answer
7. Removal instructions





This is my first action/adventure newsletter, but I have been the host of "The Lair Contest (Mythical Creatures)"
for more than two years now, one of the few contests on the site that actively encourages the writing of long action/adventure poems. Although my contest is not for 'real' epic poems, I wanted to explore with you what exactly epic poetry is.



| | |
| --- | --- |
| ASIN: 0996254145 | |



If you search online for a definition of an epic poem, there don't seem to be too many hard and fast rules, with most sources acknowledging that the form is changing over time, but there are a few basic criteria.

The poem is long, sometimes even as long as a book (or multiple books).

The poem is centered around a person or group of people who go on an adventure or journey (sometimes even a metaphorical journey of discovery).

There should be lots of action and adventure.

There is no set form for an epic poem. Some use dactylic hexameter, some poets even create their own forms... Most (all?) do use a form of some description though.

So, how long is long? Well, the Mahabharata, attributed to Vyasa, is perhaps the longest known epic poem and contains over 200,000 individual lines, written in couplets.
By comparison, The Faerie Queene by Edmund Spenser, which is actually incomplete despite being more than 35,000 lines long, seems positively short!
The Iliad, attributed to Homer, is more than 15,000 lines and Paradise Lost by John Milton is more than 10,000 lines. To further cement that idea for you, Cattalus 64 by Cattalus was a mere 409 lines, and so is considered an epyllion or little epic. I don't know about you, but I haven't written any poems more than 50 lines long, let alone tens of thousands or even hundreds of thousands of lines long!

Many epic poems follow a tradition of starting in medias res, which means they start in the thick of the action, and explain the backstory later. This is similar to what we are taught to do with our action and adventure stories - grab the reader's attention by starting with the action, and incorporate the backstory later when your reader is already hooked. If you're reciting a poem to an audience, which is what epic poems were intended for, you'd want to capture their attention right at the beginning, wouldn't you?

Although most epics are set on the world we are familiar with, not fictional worlds, most include some form of mythical creatures or deities that aid or impede the subject of the poem. I don't believe that fictional worlds are necessarily forbidden in epic poetry - indeed, it seems almost anything goes and the form is pretty flexible really - so don't let that put you off if you were thinking about writing something set on another world entirely.

So the next time you're thinking about writing (or reading) an epic novel, think about an epic poem instead. Use the skills you've learned for your action and adventure stories, and put them to work on a story told in verse. It might even be a good goal for this year's NaNoWriMo!



These are not technically epics, of course, but I'm sure these poets would love to hear what you think of their long poems.
The Leprechaun (ASR)
Pride comes before a splash! Written for "The Lair" contest.
#

1944290

by Thursday--Goodbye Virus!

200 lines


The Myth of Osiris (13+)
The story of the Egyptian god Osiris. 120 lines.
#

2029836

by Andy~NaNo'ing

120 lines


Who Are the Yule Lads? (E)
Description of who the Yule Lads are
#

2024015

by TJ Marie

97 lines


Invalid Item
This item number is not valid.
#

1821542

by Not Available.

68 lines


Mermaid or Mirage? (E)
one man's experience
#

2036387

by alfcollier

64 lines


The Ferryman's Curse (13+)
The origins of Charon - the ferryman of death
#

1981665

by HuntersMoon-Lucky 13

56 lines


The Kindred (E)
Vampires; Form: Trijan Refrain Variation
#

2024441

by ShelleyA~12 years at WDC

54 lines


Invalid Item
This item number is not valid.
#

1997750

by Not Available.

52 lines


Invalid Item
This item number is not valid.
#

1984328

by Not Available.

40 lines






Have an opinion on what you've read here today? Then send the Editor feedback! Find an item that you think would be perfect for showcasing here? Submit it for consideration in the newsletter!
https://Writing.Com/main/newsletters/action/nli_form



Don't forget to support our sponsor!




| | |
| --- | --- |
| ASIN: B01MQP5740 | Kindle |



Have you read an epic poem? I'd love to hear what you thought about it. Write in and tell me!


| | |
| --- | --- |
| ASIN: B083RZ2C5F | Kindle |



To stop receiving this newsletter, click here for your newsletter subscription list. Simply uncheck the box next to any newsletter(s) you wish to cancel and then click to "Submit Changes". You can edit your subscriptions at any time.