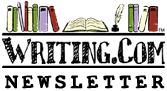 Noticing Newbies





This week: Virtual Vacations

Edited by: Reader? Check out 2233315
More Newsletters By This Editor



1. About this Newsletter
2. A Word from our Sponsor
3. Letter from the Editor
4. Editor's Picks
5. A Word from Writing.Com
6. Ask & Answer
7. Removal instructions




The Noticing Newbies Newsletter's goal is to make the newer members feel welcome and encourage them with useful information and/or links to make navigating Writing.com easier. Writing.com members of all ages and even veteran members can find useful information here. If you have specific questions, try visiting "Writing.Com 101"
and/or "Noticing Newbies"
.

Meet The Noticing Newbies Full-Time Newsletter Editors

| | |
| --- | --- |
| ASIN: B07K6Z2ZBF | |





"Never go on trips with anyone you do not love." - Ernest Hemingway



At one time or another, we all lack ambition. It's bound to happen and we look for different ways to combat the urge to just stare at the wall while we try and think of story ideas. Unless of course, you're one of those rare people that have plenty of ideas and no problem finding all the time you need to write prolifically day-in and day-out. You're not one of those people, right? If you are, just skip this editorial and well, get back to writing.

For the rest of us, this is about something I stumbled across that I found inspriring. Who likes to take a drive when you need a break? Is that your hand I see raised? Okay, here's the secret. It's one anyone with internet access should have access to. It's Google Maps.

Here is what you do. Choose a destination. Let's say you've always wanted to see New York City here in the United States. Well, when you take a trip, the first step is choosing a hotel (since we don't have to worry about airfare Ha!) so since we cost isn't a problem, let's choose one of the most highly rated hotels there, Would you choose the Ritz Carlton? Perhaps The Plaza Hotel at the corner of Fifth Avenue and Central Park South is more your style. Let's go there. We type in the address into Google Maps and get BAM. Your vacation has begun.



Click the picture on the left-hand side of your screen and just like that, you'll be thrust into the crowd among others visiting this lovely city. Where would you like to go? Are you hungry and looking for Benihana? Perhaps you would prefer something more cultural and want to head straight for The Museum of Modern Art? If the Museum is your choice, simply use your mouse and click (like you're moving your car) to the end of the street, turn right and go four blocks, take another right and the museum will be on the right hand side half way down the block.

Boring you say? Well, that depends on your imagination. As a writer your imagination should be exercised regularly to be in top shape. Many hotels and popular places has interior pictures and even videos of the interior so you can see most details first hand of where you'll be 'staying".

Another version of the virtual roadtrip exists when you want to delve back into your memory. Ever wondered what the childhood neighborhood looks like twenty or even thirty years later (if you're old enough that is). Google is the easiest place to visit neighborhoods, look around and be inspired when you see something that sparks a memory or even see something that surprises you, something you didn't know about your hometown. I recently took a virtual ride through the town I grew up in and was shocked at the current state of some of the neighborhoods I spent a considerable amount of my childhood in. I found it very interesting and it sparked an enormous amount of memories to spring forth. Some memories were so vivid, I could smell the air in the local family pizza parlor and taste the homemade garlic bread. It was really surprising.

On the other hand, wandering through neighborhoods can cause you to stumble across some of the most unique and inspirational homes that just beg to have stories told about them. Take for instance this home on the east side of the now famous Flint, Michigan that once belonged to a man affectionately known as Gypsy Jack.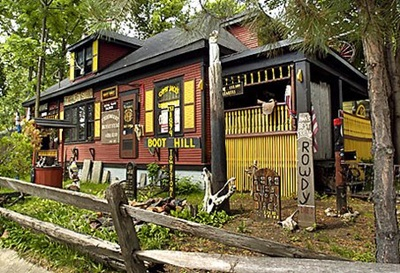 Or since we were just in New York, what about this bizarre gem of architecture aptly named "The Mushroom House". You can even rent this unique structure for $10,000 a month.




Those are just two examples of structures that are fascinating. I highly recommend a virtual walk down memory lane if you're feeling uninspired. It doesn't take a lot of money to take this trip. It just takes time and imagination. Two things writers have in abundance. Be safe ou there folks.

Write and Review on! ~ Brooke


"Music, maps, verbal and visual coaching compliment live cycling action."
| | |
| --- | --- |
| ASIN: B00HMR234A | Outdoors |


Please enjoy the work of these members who wrote items that have something to do with a vacation. Some of these items have not had the benefit of a single review. Will you be the first?





~
~
~
~
~
~
~
~
~
~
~
~
~
~
~
~
~
~
~
~



Have an opinion on what you've read here today? Then send the Editor feedback! Find an item that you think would be perfect for showcasing here? Submit it for consideration in the newsletter!
https://Writing.Com/main/newsletters/action/nli_form



Don't forget to support our sponsor!




| | |
| --- | --- |
| ASIN: 1542722411 | Book |


I received some wonderful feedback to my last newsletter [#7382] "Spellcheck Won't Save You From These"
and I'm proud to share it with you.

From Cynaemon
The one that drives me crazy is hearing people say they are getting their pet spaded. Do they mean they are digging his grave with a spade? It is spayed, not spaded! I want to give you this piece of mind so that I will have peace of mind. LOL. Okay, that is not quite correct, but you get the idea.
This made me laugh out loud. Thanks for sharing your thoughts.

From Nixie 🦊
Great wealth of information, Brooke. A book to consult, and a handy listing of members here who have found time to help others with similar issues. All and all, a well-rounded news letter. I kept trying to click the little audio icon to hear the word pronounced. Just kidding.

I didn't realize how that looked, but it did look like you should be able to do that. Thanks for writing in my friend.

From pumpkin
Comment on the word "verbiage". I thought it meant too many empty words, excessive speech. I had a boss--one whom I didn't like, so I never discussed it with him--who used it to mean word usage or proper choice of words. In other words, he was trying to be politically correct or make himself sound smarter, so he tried to use the right "verbiage". Then I heard someone else use it the same way. Maybe I was wrong.
It could have a different meaning in another country, but in the US, it is used when people use too many words (or obscure words) to make your point. It has basically the same meaning as verbose, just a different part of speech. Thanks for much for sharing your thoughts on the topic.


From katherinerose via email.


I did enjoy your newsletter on Grammar very much. When I went to school (way back when) Grammar was drummed into us so hard, that it helped me to grow up loving words, writing and books. Thank you. Can't wait to go check your other newsletters on the subject.

ps. English was not my first language, so I had to study harder than most in the class.

Shame students today are not taught this kind of subject like we were.



It really is a shame. Unlike many school subjects, grammar is one you can use in whatever career you choose and wherever you go in life. Thank you for writing in.

| | |
| --- | --- |
| ASIN: B07N36MHWD | Kindle |



To stop receiving this newsletter, click here for your newsletter subscription list. Simply uncheck the box next to any newsletter(s) you wish to cancel and then click to "Submit Changes". You can edit your subscriptions at any time.