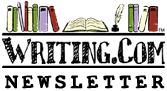 Poetry





This week: Pablo Neruda

Edited by: Stormy Lady
More Newsletters By This Editor



1. About this Newsletter
2. A Word from our Sponsor
3. Letter from the Editor
4. Editor's Picks
5. A Word from Writing.Com
6. Ask & Answer
7. Removal instructions



This is poetry from the minds and the hearts of poets on Writing.Com. The poems I am going to be exposing throughout this newsletter are ones that I have found to be, very visual, mood setting and uniquely done.
Stormy Lady

| | |
| --- | --- |
| ASIN: B00KN0JEYA | |



Walking Around
by Pablo Neruda

It so happens I am sick of being a man.
And it happens that I walk into tailorshops and movie
houses
dried up, waterproof, like a swan made of felt
steering my way in a water of wombs and ashes.

The smell of barbershops makes me break into hoarse
sobs.
The only thing I want is to lie still like stones or wool.
The only thing I want is to see no more stores, no gardens,
no more goods, no spectacles, no elevators.

It so happens that I am sick of my feet and my nails
and my hair and my shadow.
It so happens I am sick of being a man.

Still it would be marvelous
to terrify a law clerk with a cut lily,
or kill a nun with a blow on the ear.
It would be great
to go through the streets with a green knife
letting out yells until I died of the cold.

I don't want to go on being a root in the dark,
insecure, stretched out, shivering with sleep,
going on down, into the moist guts of the earth,
taking in and thinking, eating every day.

I don't want so much misery.
I don't want to go on as a root and a tomb,
alone under the ground, a warehouse with corpses,
half frozen, dying of grief.

That's why Monday, when it sees me coming
with my convict face, blazes up like gasoline,
and it howls on its way like a wounded wheel,
and leaves tracks full of warm blood leading toward the
night.

And it pushes me into certain corners, into some moist
houses,
into hospitals where the bones fly out the window,
into shoeshops that smell like vinegar,
and certain streets hideous as cracks in the skin.

There are sulphur-colored birds, and hideous intestines
hanging over the doors of houses that I hate,
and there are false teeth forgotten in a coffeepot,
there are mirrors
that ought to have wept from shame and terror,
there are umbrellas everywhere, and venoms, and umbilical
cords.

I stroll along serenely, with my eyes, my shoes,
my rage, forgetting everything,
I walk by, going through office buildings and orthopedic
shops,
and courtyards with washing hanging from the line:
underwear, towels and shirts from which slow
dirty tears are falling.

Pablo Neruda was born Ricardo Eliecer Neftalí Reyes Basoalto in Chili on July 12, 1904. His father, José del Carmen Reyes Morales worked for the railway and his mother, Rosa Basoalto was a school teacher. His mother died only two months after he was born, leaving his father to raise him. His father moved them to Temuco, where José met and married Neruda's stepmother. Neruda grew up with one step sister and one step brother.

Neruda's father discouraged his son from persueing a writing career. So he wrote his first book, Crepusculario in 1923 under the name Pablo Neruda, to avoid any disappointment from his father. Neruda sold all of his things just to afford getting the book published. One year later he published Veinte poemas de amor y una cancion desesperada ("Twenty Love Poems and a Song of Despair") soaring Neruda into the spot little as a writer. He stopped his studies and began devoting his time to writing.

In 1927 Neruda started his long political career. He served as honorary consul in Burma, and then as Chilean consul Buenos Aires. In 1936 the Spanish Civil War began and Neruda chronicled the events of the war which included execution of García Lorca in Espana en el Corazon. Neruda published Visiones de las hijas de Albion y el viajero in 1935. Followed by Espana en el corazon: Himno a las glorias del pueblo en la guerra in 1937. In 1943 he was elected to the Senate and the Communist Party. Once the government changed Neruda was expelled from the Senate. During this time he wrote and published Canto general. Neruda married three times during his political career, with the first two marriages ending in divorce.

Neruda was honored numerous times in his life, the International Peace Prize in 1950, the Lenin Peace Prize and the Stalin Peace Prize in 1953, and the Nobel Prize for Literature in 1971. Neruda was serving a two-year term as ambassador to France when he fell ill. He was diagnosed with cancer and resigned from his position. On September 23, 1973 died of leukemia in Santiago, Chile. Many of his poems and his books were translated after his death. A Separate Rose was translated and published in 1985, followed by 100 Love Sonnets in 1986 and Late and Posthumous Poems, 1968-1974 in 1989.Then The Yellow Heart was published in 1990.


Leaning Into The Afternoons
by Pablo Neruda

Leaning into the afternoons,
I cast my sad nets towards your oceanic eyes.
There, in the highest blaze my solitude lengthens and flames;
Its arms turning like a drowning man's.
I send out red signals across your absent eyes
That wave like the sea, or the beach by a lighthouse.
You keep only darkness my distant female;
From your regard sometimes, the coast of dread emerges.

Leaning into the afternoons,
I fling my sad nets to that sea that is thrashed
By your oceanic eyes.
The birds of night peck at the first stars
That flash like my soul when I love you.
The night, gallops on its shadowy mare
Shedding blue tassels over the land.

Tower Of Light
by Pablo Neruda

O tower of light, sad beauty
that magnified necklaces and statues in the sea,
calcareous eye, insignia of the vast waters, cry
of the mourning petrel, tooth of the sea, wife
of the Oceanian wind, O separate rose
from the long stem of the trampled bush
that the depths, converted into archipelago,
O natural star, green diadem,
alone in your lonesome dynasty,
still unattainable, elusive, desolate
like one drop, like one grape, like the sea.


Thank you all!
Stormy Lady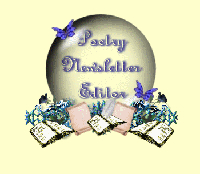 ~~~~~~~~~~~~~~~~~~~~~~~~~~~~~~~~~~~~~~~~~~~~~~~~~~





~~~~~~~~~~~~~~~~~~~~~~~~~~~~~~~~~~~~~~~~~~~~~~~~~~
The winner of "Stormy's poetry newsletter & contest"
[ASR] is:

Dead-ends Laced with Thorns (E)
A daughter's addiction and a mother's self-blame
#

2075040

by Warped Sanity


A daughter's addiction and a mother's self-blame
Searching with an open heart that peace adorns,
I was led astray with the promise of more.
Chasing butterflies to dead-ends laced with thorns,
I left a crimson path along the labyrinth floor.

A beacon to this young mother's heavy heart,
Among my blood stained tears an angel was birthed.
Her genes doomed her to infliction from the start,
In the throes of addiction she was unearthed.

With the desperation that dysfunction brings,
My reason was overcome by fallacy.
I met a jackal that clipped my angel's wings
And he cut the cord that bonded her to me.

For years I have tried to get back what was lost,
But the connection has been scorched and ripped free.
The price of misjudgment has come at great cost;
Through the maze of addiction she is lost to me.

She traded my love for an angel with horns;
Her spirit taken through a dark corridor.
Chasing butterflies to dead-ends laced with thorns,
She leaves a crimson path along the labyrinth floor.

Honorable mention:

Searchseeker (E)
"The Searchseeker" looks for a dab of spirit-wisdom amidst a maze of confusing emotions.
#

2074137

by ClarityofClouds

~~~~~~~~~~~~~~~~~~~~~~~~~~~~~~~~~~~~~~~~~~~~~~~~~~

~~~~~~~~~~~~~~~~~~~~~~~~~~~~~~~~~~~~~~~~~~~~~~~~~~


These are the rules:

1) You must use the words I give in a poem or prose with no limits on length.

2) The words can be in any order and anywhere throughout the poem and can be any form of the word.

3) All entries must be posted in your portfolio and you must post the link in this forum, "Stormy's poetry newsletter & contest"
[ASR] by March 25, 2016.

4) The winner will get 3000 gift points and the poem will be displayed in this section of the newsletter the next time it is my turn to post (March 30, 2016)





forsaken temptation music guitars stage reckless party dawn
Good luck to all
~~~~~~~~~~~~~~~~~~~~~~~~~~~~~~~~~~~~~~~~~~~~~~~~~~

~~~~~~~~~~~~~~~~~~~~~~~~~~~~~~~~~~~~~~~~~~~~~~~~~~

The Angels Among Us (E)
Angels come in many different forms and shapes. For the Angels Among Us Contest.
#

2076317

by Kittiara
Shattered Screams (GC)
When boys replace toys...
#

2075764

by Gaby
Winter Wonderland (E)
Taking a macro look at a microscopic landscape
#

2070382

by Elle

~~~~~~~~~~~~~~~~~~~~~~~~~~~~~~~~~~~~~~~~~~~~~~~~~~


~~~~~~~~~~~~~~~~~~~~~~~~~~~~~~~~~~~~~~~~~~~~~~~~~~

Invalid Item
This item number is not valid.
#

2065677

by Not Available.
The Call of the Wilderness (13+)
Beyond the garden gate.
#

1843883

by A E Willcox
Song of the Seasons (13+)
The Greek myth of the origin of the seasons
#

2070745

by Andy~hating university

~~~~~~~~~~~~~~~~~~~~~~~~~~~~~~~~~~~~~~~~~~~~~~~~~~


~~~~~~~~~~~~~~~~~~~~~~~~~~~~~~~~~~~~~~~~~~~~~~~~~~

Invalid Item
This item number is not valid.
#

2076456

by Not Available.
Invalid Item
This item number is not valid.
#

2075686

by Not Available.
Invalid Item
This item number is not valid.
#

2076341

by Not Available.

~~~~~~~~~~~~~~~~~~~~~~~~~~~~~~~~~~~~~~~~~~~~~~~~~~







Have an opinion on what you've read here today? Then send the Editor feedback! Find an item that you think would be perfect for showcasing here? Submit it for consideration in the newsletter!
https://Writing.Com/main/newsletters/action/nli_form



Don't forget to support our sponsor!




| | |
| --- | --- |
| ASIN: 0995498113 | |


| | |
| --- | --- |
| ASIN: B01MQP5740 | Kindle |



To stop receiving this newsletter, click here for your newsletter subscription list. Simply uncheck the box next to any newsletter(s) you wish to cancel and then click to "Submit Changes". You can edit your subscriptions at any time.