Printed from https://www.writing.com/main/newsletters/action/archives/id/7511-Spring-is-in-the-Air.html
Romance/Love: March 16, 2016 Issue [#7511]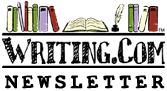 Romance/Love





This week: Spring is in the Air

Edited by: Annette
More Newsletters By This Editor



1. About this Newsletter
2. A Word from our Sponsor
3. Letter from the Editor
4. Editor's Picks
5. A Word from Writing.Com
6. Ask & Answer
7. Removal instructions



Hello romantically inclined readers and writers, I am Annette
and I will be your guest editor for this issue.

| | |
| --- | --- |
| ASIN: B000FC0SIM | |

** Image ID #2002196 Unavailable **





Spring is in the Air





As nature awakes all around us, so do the romantic feelings.





Do you have to come out of a cold winter to feel romantic in spring?



Images of spring are often combined with flowers and little white bunnies hopping over luscious green grass. Also in the meadow is a pair of lovers with a picnic basket discussing nothing and everything.

Growing up in cold Berlin, Germany, with winters so cold rivers froze solid enough to drive cars over them, I have vivid memories of that first day every year when it was warm enough to wear a dress at least for a few hours without getting a cold. Spring brought people into the streets to sit in cafes, put blankets in the parks, and simply enjoy not having to be cooped up in their apartments any longer.

Of course, all that commotion meant you could meet new people and even find a romantic love interest. Since much of our Western romance comes out of medieval Europe in the years 500 to 1500, it is only natural that spring is considered a romantic season.

But not everybody lives where there is a proper long and harsh winter. How about the South were it's pretty much warm year round? I don't think you have to come out of a cold winter to feel more frisky in spring. It's literally something in the air. More pollen? That too, but something that wakes us up after the shorter days of winter (warm or cold) and reminds us that there is more to life than toil and work.

Allow a walk in nature to awaken your romantic story telling. Watch birds, flowers, flying insects ... anything at all. If you can't go on a walk, at least look out of your window and open it to feel the breeze. Let spring take you away on a romantic adventure on paper.



A memory of spring (18+)
Xavier 'reads' memories from photos. This time it's love, war and a bench.
#

2040338

by Osirantinous
Wait For Snow (E)
Love like the season lives, dies and longs for return.
#

1172753

by brian k compton
Two Faithful Lovers (E)
A poem dedicated to a new couple's budding romance.
#

2000102

by Tim Chiu
Adella of Burbank (18+)
Changeling Fantasy about a young girl who gets swept up in a war between Fairy Nations
#

2069899

by Twiga
Leaf (E)
Springing leaf
#

2008915

by Samberine Everose
Spring Freeze (18+)
Chad and Molly fall into the frigid, icy water! Will they survive the cold night ahead?
#

2069441

by TJ likes Cadbury eggs & Peeps
What I did over spring break (ASR)
A young man recalls the strange way he met his wife
#

2060261

by John Glover
Invalid Item
This item number is not valid.
#

2039957

by Not Available.
Serenade in Spring (E)
The music in spring
#

1939312

by Samberine Everose
Spring Awakenings (13+)
Sara finds new life after the dormancy of loss.
#

2041885

by 💙 Carly - BLUE!!💙



Have an opinion on what you've read here today? Then send the Editor feedback! Find an item that you think would be perfect for showcasing here? Submit it for consideration in the newsletter!
https://Writing.Com/main/newsletters/action/nli_form



Don't forget to support our sponsor!




| | |
| --- | --- |
| ASIN: B07N36MHWD | Kindle |

I received no comments for my last Romance/Love newsletter "Love Eternal"
.

| | |
| --- | --- |
| ASIN: 0996254145 | |



To stop receiving this newsletter, click here for your newsletter subscription list. Simply uncheck the box next to any newsletter(s) you wish to cancel and then click to "Submit Changes". You can edit your subscriptions at any time.



Printed from https://www.writing.com/main/newsletters/action/archives/id/7511-Spring-is-in-the-Air.html