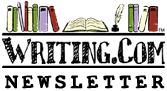 Noticing Newbies





This week: Mental Health Awareness

Edited by: Reader? Check out 2233315
More Newsletters By This Editor



1. About this Newsletter
2. A Word from our Sponsor
3. Letter from the Editor
4. Editor's Picks
5. A Word from Writing.Com
6. Ask & Answer
7. Removal instructions




The Noticing Newbies Newsletter's goal is to make the newer members feel welcome and encourage them with useful information and/or links to make navigating Writing.com easier. Writing.com members of all ages and even veteran members can find useful information here. If you have specific questions, try visiting "Writing.Com 101"
and/or "Noticing Newbies"
.

Meet The Noticing Newbies Full-Time Newsletter Editors

| | |
| --- | --- |
| ASIN: 1542722411 | Book |




"It's an odd paradox that a society, which can now speak openly and unabashedly about topics that were once unspeakable, still remains largely silent when it comes to mental illness. " ― Glenn Close



Online and in real life you will encounter many different types of people. While it's easy sometimes to tell where people are from by listening to an accent, some things are harder to establish. 42 million people live with anxiety disorders, one in 17−about 13.6 million−live with a serious mental illness such as schizophrenia, major depression or bipolar disorder and 14.8 million people live with major depression. The stigma surrounding those with mental health issues or even talking about mental health disorders pervades our society. What makes this especially scary is that many people experience these issues themselves or have a close friend or family member that struggles every single day without receiving appropriate medical care. Approximately 60 percent of adults and almost one-half of youth ages 8 to 15 with a mental illness received no mental health services in the previous year.


One-half of all chronic mental illness begins by the age of 14.

We have a lot of young writers in our community. Like adults with mental illness, teens also suffer from social stigma, which leads to shame, secrecy and sadly, social isolation. For teens, mental illness can pose a particular problem because adolescents are still developing and figuring out who they are and what peer groups they fit with. Anything that marks them as different makes finding their niche even harder, While it's clear that a person with mental illness is more likely to do harm to themselves than others, the shame from the stigma surrounding mental illness can have chilling consequences. It's very important we embrace, engage and respect every single member of our community regardless of social standing, age, or gender.



"When a kid comes down with leukemia in 8th grade and goes for treatment, all of his or her peers have empathy and send cards and some may even shave their heads, but when a child goes in for a psychiatric condition, it's 'wow' that's different, and there's not that empathy," says Dr. Felipe Amunategui, assistant professor and child and adolescent psychologist at University Hospitals Case Medical Center in Cleveland.




Major depressive disorder affects approximately 14.8 million American adults, or about 6.7 percent of the U.S. population age 18 and older, in a given year.

As an online community, we encounter people we barely know daily through reviews, chat systems and just through groups and email. As we develop relationships here, it's important to remember they could be struggling with depression or a number of medical illnesses that we can't readily see. Your first instinct may be that you can't help or make a difference, but you can. Have you ever encountered someone that you think may be having a difficult time or needs some support, but you weren't sure what to say or do?


"I'm here for you."
Sometimes simply being alone or feelings of loneliness can make a person feel sad. Also, if a person is suffering from depression they may feel unworthy of support and therefore don't reach out. The small effort of having a person step up and talk to them can help them feel less alone and make a huge difference.
"What can I do to help?"
While very few of us are trained on how to help a clinically depressed person, reaching out can have its advantages. The person you make the offer to will likely tell you there is nothing you can do. This is normal as a symptom of depression is feeling hopeless. However, the fact that you offered can make a difference. The feeling that someone cares enough to ask can have an effect on their thoughts and in some cases can even save a life.
"There is help available to get through this difficult time."
If while talking to someone, you feel you're out of your depth and think the person could benefit from help, telling them there is help available can sometimes make a difference. Don't be afraid to suggest that you think reaching out for professional help or even a crisis line may be helpful. There are many services online and off that can offer support to those in need. If you think the person is in danger of hurting themselves, the best thing you can do is get them emergency services. Sometimes even a ride to the emergency room can save a life. You can find several links to crisis lines and other information in my "Related Item" linked below
What is the difference between sadness and depression?

Different circumstances require different responses, right? Let's make sure we know the difference between depression and just having a bad day. Depression is diagnosed when a person experiences five or more specific symptoms every day for more than two weeks, according to the American Psychiatric Association.


Click to see the list of symptoms

▼




All statistics are from NIMH and NCCP.

Write and Review on! ~ Brooke


"Beyond the Blues is an invaluable tool in providing a comprehensive approach to treating depressed teens."
| | |
| --- | --- |
| ASIN: B0077RMW2S | Kindle |
[Related Links]

This month's links are supportive and encouraging groups in our community.


"WDC's Guiding Light"
by Crys-not really here

WDC's group for members who suffer from anxiety, shyness, and depression.


"The Newbies Academy Group"
by Sisco ~ Back!

A Group to help all newbies with site and writing guidance.


"The Grief Hostel Guests"
by Nixie 🦊

Join an active support group in your time of need.


"The WDC Angel Army"
by iKïyå§ama

Dedicated to promoting positivity, encouragement and support to the WDC community.


"Youth Suicide Prevention Initiative"
by Reader? Check out 2233315

Social forum to offer support and information to at-risk youth & peers seeking information






This month's highlighted items are from recently posted items that highlight emotional issues. Many have no reviews at all. Will you be the first to welcome this author and thank them for sharing their work?


Excerpt:


I wasn't always this way. I used to be outgoing and fun. My friends said I was the greatest. They always wanted to hang out at my house; then again, I was the only one with a trampoline.

Then one day it changed. And it wasn't just all at once like things tend to happen. It was slow. Excruciatingly slow. A shell started to grow. Not break. Grow. I was being wrapped up, like a present for under a Christmas tree, but with much sturdier wrapping.




~
~



Excerpt:


Why are the stars shining so brightly when my soul is so dimly lit? Why is it raining when there are tears coming from my face? Why is there holes in the ground when I have fallen in a trench I will never get out of?




~
~



Excerpt:


They say, food is love,
and how we eat is how we live.
I would know, I used to be a greedy, little rat,
always taking more than I actually wanted.
I was 6 when she forced a clove of garlic down my throat.
If you love, you'll eat it.
Eat it if you love me.
Don't you love me?
Do you love me?
I swallowed it then but my mouth
could never again form the words
I love you
without tasting the sting.




~
~



Excerpt:


I can't recall a recent time
When divinity was divine.
And everyone who beared a cross
Didn't care how much they lost.
We blame our waves. We blame our skies.
We say, "Hey, all the good ones died."
We say, "You're different so you're out.
Hey, isn't that what life's about?"




~
~



Excerpt:


I have the ability to trick people into believing any emotion I want them to think I'm feeling – partially due to the fact that I've covered up my issues my entire life. The only people who know are my sister Kay, Pinky and Carey, oh and Steve, my boyfriend. They only know because there's no way I could hide all my anxiety attacks and depression from them, they are the closest people to me.




~
~



Excerpt:


The warmth returns a bit at a time, bringing longer days, happier folks as they shed their winter wear. We are thankful for the melting of the ice and snow that takes place but the water tends to turn into a river and the river rises with all the water causing a general mess. Dirt generally clings to all vehicles to such an extent that they look like blocks of sand.




~
~



Excerpt:
Sometimes I think I wake up with a stranger.
This morning, that stranger rolled over
and got out of my bed when I knew I couldn't,
slapping the blaring alarm like an automaton.
Her hands pull off her jams,
the nightshirt up, over her head,
facing impossible cold to dress for
an even more impossible day.


~
~



Have an opinion on what you've read here today? Then send the Editor feedback! Find an item that you think would be perfect for showcasing here? Submit it for consideration in the newsletter!
https://Writing.Com/main/newsletters/action/nli_form



Don't forget to support our sponsor!




| | |
| --- | --- |
| ASIN: B00KN0JEYA | |


| | |
| --- | --- |
| ASIN: B000FC0SIM | |



To stop receiving this newsletter, click here for your newsletter subscription list. Simply uncheck the box next to any newsletter(s) you wish to cancel and then click to "Submit Changes". You can edit your subscriptions at any time.