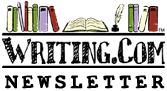 Romance/Love





This week: How Important is Location in a Romance

Edited by: Dawn Embers
More Newsletters By This Editor



1. About this Newsletter
2. A Word from our Sponsor
3. Letter from the Editor
4. Editor's Picks
5. A Word from Writing.Com
6. Ask & Answer
7. Removal instructions





Romance/Love Newsletter by Elf

Considering the importance of setting in romance stories for the meet cutes and beyond.



| | |
| --- | --- |
| ASIN: B01DSJSURY | |



For those of us that aren't very descriptive, it can be easy to forget the minor details like what rooms and other places the characters might be in during each scene. Without a little detail, you might end up with what is referred to as the white room. This is where the characters are somewhere but the readers aren't given the information to tell them anything about the location of where things are happening.

So, detail can be helpful. Setting can help for a number of reasons in every genre, including romance and love stories. This doesn't mean you need to spend 10,000 words on the setting, or even 1,000. Every situation and moment will vary, so you'll have to work on the story to find what is right each time. So, amount aside, what are some reasons to add setting details in a romance story?

1. Category/Subgenre

In particular, historical romances and making sure a story fits within a specific type or category, setting can be quite useful and important. The little details of the rooms and other locations will help show the reader what makes the story fit in that grouping. A historical setting will look different than one used for an urban or western style place, for example. There are details of clothing and such too, but the gardens where she and the Earl interact or the room where she has to get that long, cumbersome dress that might be on the front cover can be helpful details in setting and bringing the reader into the story.

2. The Meet Cute

That moment when the characters meet and have that spark is one where having a little setting detail might be helpful. You can create the moment with some information about where the characters are located will give the moment depth. Sure, there are times when focusing on the other factors more of the characters and other details will be more important. However, doing a little about the places around the characters along with what brings them together will have added benefits for this part of the story too.

3. Conflict

We can't forget conflict in the romance and love stories, which can include details of the places where the problems are happening. While it's possible to have the setting be a part of the conflict (fighting over a ranch or such). But the setting doesn't have to be a large part of the conflict in order to be mentioned during the moments of conflict. A minor mention or two, something that doesn't take away from the moment of the problem, this will help keep the reader within the story and focused on the situations while seeing the scene as things go down on the page.


Those are just a few reasons and places within the romance/love stories where setting could be handy. The amount of words used in order to show the scenes/details will vary depending on the story. Main point is, don't forget the setting. I need to work on that in my novel edits too. That's what rewrites and edits are for, fixing the weaker points, which for me includes setting details. But what do you think about the use of setting in romance stories? Let me know.





The LGBT Writing Contest - reopens 2021 (18+)
Bi-monthly contest (with great prizes) for LGBT characters.
#

1980539

by Osirantinous
a very Wodehouse challenge (E)
A blind set of challenges hosted by Writing.com groups/members. Come test your fortitude!
#

1280691

by iKïyå§ama
Invalid Item
This item number is not valid.
#

1948893

by Not Available.
Grandma (E)
An old lady misses her beloved Henry
#

2081144

by Lifeaholic
Invalid Item
This item number is not valid.
#

2080973

by Not Available.
Loving Hearts (E)
Listen to your heart
#

2080862

by Mac1
Invalid Item
This item number is not valid.
#

2080556

by Not Available.



Have an opinion on what you've read here today? Then send the Editor feedback! Find an item that you think would be perfect for showcasing here? Submit it for consideration in the newsletter!
https://Writing.Com/main/newsletters/action/nli_form



Don't forget to support our sponsor!




| | |
| --- | --- |
| ASIN: 0910355479 | |





Do you think the setting is important in a romance story? How much detail do you like to see as the reader?



Last time, I discussed some on symbolism since it was before Valentine's Day and hearts were visible in all of the stores. Here are the two responses sent in:

Comment by Monty

Good advice in this News Letter and written to hold the readers interest.



- Thank you




Comment by SkyHawk - Into The Music

Normally, I procrastinate. Frankly, since my parent's divorce many years ago, many of the holidays have lost meaning for me -- which gets a little strange when you have a fiancée who values holidays greatly. But this year, I had to handle Valentines early, because I'm going to be out of town until late Valentines evening. So I got stuff together for her and left it on her nightstand before I left town. Needless to say, she was greatly surprised by it!



- Sounds like a great surprise.






| | |
| --- | --- |
| ASIN: 1542722411 | Book |



To stop receiving this newsletter, click here for your newsletter subscription list. Simply uncheck the box next to any newsletter(s) you wish to cancel and then click to "Submit Changes". You can edit your subscriptions at any time.