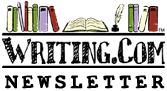 For Authors





This week: Stepping out of your comfort zone

Edited by: Elle - on hiatus
More Newsletters By This Editor



1. About this Newsletter
2. A Word from our Sponsor
3. Letter from the Editor
4. Editor's Picks
5. A Word from Writing.Com
6. Ask & Answer
7. Removal instructions





I was recently challenged to write a piece outlining what I loved about Writing.com and why I have stayed a member of this site for more than five years. It's the people, of course, who make this site so amazing, but as I read over my tributes to the wonderful members I have encountered in my time here so far, I came to realise something interesting - my favourite people are the ones who push me out of my comfort zone, the ones who motivate me to try something new and the ones who challenge me. And it is thanks to these people that I have tried so many new aspects of writing in my time at Writing.com, and I look forward to trying more.



| | |
| --- | --- |
| ASIN: B000FC0SIM | |



Like most people, I like my comfort zone. It's comfortable, hence the name. But I also know that if we don't step out of our comfort zones every now and then, they never expand. We never grow. We become stuck in a rut that we call our comfort zone. So I do like to try new things every now and then, but like most people, I find it daunting. I look to other people for encouragement and support, and that's something that the folks on Writing.com do really well. Now I'd like to be one of those people for you. I'd like to encourage you to try something new. Writing.com is a wonderful place to experiment. There's nothing to lose, plenty of encouragement and feedback, and often the chance to win. There might even be a chance for you to win in this newsletter, so keep reading!

Write a poem. Poets, don't skip this one just yet. If you've never written a poem, it can seem daunting. There's so much to learn about poetry, and some amazing poets here on Writing.com. I do understand how intimidating those poets can be and why you'd be afraid to share your less than stellar attempts at experimenting. But honestly, most of the poets on this site LOVE the idea that people are giving poetry a try. I know there is a lot of banter on the newsfeed where established poets coax and challenge non-poets to give it a try. They are very supportive, and you literally have nothing to lose. I recommend checking out "~ The Poet's Place Cafe~"
which runs weekly mini-challenges where you are challenged to try something new with poetry, whether it is a form or a new way of thinking, or even writing to a prompt. You'll even earn gift points just for giving the weekly challenge a go, and because most people (established poets or otherwise) are trying something new to them, it is a great learning environment where it is okay to make mistakes. "Contest Central Station"
has a list of poetry contests if you want to find more prompts to inspire you, or you want to throw your hat in the ring and give a contest a try.

Now, established poets. It won't hurt you to step out of your comfort zone too. Try a new form. There are free verse poetry contests like "Shadows and Light Poetry Contest"
and contests just for traditional poetry, like "Poetic Traditions Poetry Contest"
, and everything in between. Try one you've never tried before. Or maybe try non-fiction poetry, dark poetry, children's poetry, fantasy poetry, or poetic prose. Try reading your poem aloud at "Poetry Readings"
. There is bound to be something you haven't tried before. Step out of your comfort zone and give it a go!

Write a short story. This is really the flip side of the above. If you're a poet who doesn't feel you have anything to offer in terms of story writing, now is the time to prove yourself wrong and step out of that comfort zone. Poetry lends itself nicely to prose, resulting in vivid, descriptive writing. If you're really feeling skittish, try writing poetic prose first (and yes, there's a contest for that too!) and then try entering short story contests. It's not about winning, it's about extending yourself and giving it a go. The results might surprise you. As above, check out "Contest Central Station"
for a list of short story contests.

Write a blog. There are some great resources out there for bloggers, and the groups are very welcoming and supportive. Generally speaking, there is no rivalry between the groups, so you can belong to one or all, whatever suits you. When I joined Writing.com, I'd already been blogging for nearly ten years, but despite that, I'd never written a blog post in response to a prompt before. It was an interesting challenge, and one that I found I enjoy. The groups vary in the style of prompts they use, and most allow you to come and go as you please, only doing the prompts that appeal to you. If you're interested in giving blogging a try, make sure you sign up for the "Blogging Bliss Newsletter"
which has articles written by bloggers, for bloggers. Also be sure to check out these groups:
"Welcome To My Reality Forum"

"30-Day Blogging Challenge"

"Blog City ~ Every Blogger's Paradise"

"Blogging Circle of Friends "

"Invalid Item"


Write a newsletter. Newsletter writing is quite a different skill from poetry, short stories or blogging. I don't profess to be an expert, despite being the author of the newsletter you're reading at this very moment, but it is a challenge I encourage you to try. There are a number of member-run newsletters around the site that would welcome contributors, probably too many to list here, so use the search function to search for newsletters and see approach the editor about submitting an article or editing a newsletter edition.

Host a contest. If you can think of a contest that either hasn't be done before (that you know of) or isn't being done at the moment, why not try running it yourself? There is a lot of help out there to get you started. Check out "How to Create a Contest"
, and if you need help with judging or help with funding the prizes, also check out the "Contest Central Judges Pool"
and "Application for Funds and Support-CLOSED"
. Generally speaking, it is more fun if you run a contest where the entries are likely to appeal to you as a reader. If hosting is too daunting for you right now, there is a contest that allows newbies to give judging a go - "Invalid Item"
.

Take a class. There is a wealth of educational items on this site, and a large number of people willing to pass on their knowledge and experience. I definitely recommend "New Horizons Academy "
and "The Newbies Academy Group"
, but there are plenty more out there if you look. I've done a few myself, and I always learn something that I can take with me to improve my writing.

Turn off your inner editor. By entering a challenge that requires you to produce something within just 24 hours, you have to learn to turn your inner editor off and just go with the flow. It's a good way of teaching yourself to just write and get words down on paper. It doesn't mean you should never edit what you write, as you absolutely should, but sometimes just getting the words down on paper is the real challenge. There are a number of daily challenges on Writing.com, including "The Writer's Cramp"
and the "Daily Flash Fiction Challenge"
, and if you get the hang of it, I encourage you to try National Poetry Writing Month (NaPoWriMo) which is in April, or National Novel Writing Month (NaNoWriMo) which is in November. Both these month-long challenges force you to write a certain amount each day, and train you to turn off your inner editor. There are also endurance challenges (month-long or year-long) listed at "Contest Central Station"
.

Write something with a partner. I have to be honest, this is one I haven't tried yet. Writing in collaboration with another person adds an entirely new dimension to your writing, and in particular the way that you write. You have to be (I assume) more of a planner than a pantser, and you certainly have to consider how your contribution is going to work with your partner's contribution. Writing needn't be a solitary occupation/hobby, and Writing.com has proved that. This is another way to bring others into your world of writing. Be sure to check out "It Takes Two"
.

Write something really short. When writing micro-fiction (or poetry!) you don't have the luxury of using any superfluous words. It forces you to consider every word very carefully, and is a fantastic exercise for all writers. Check out these contests:
"Invalid Item"

"Invalid Item"

"Invalid Item"


Write about an LGBT character. "The LGBT Writing Contest - reopens 2021"
isn't just for those who identify as LGBT (or any of the other variations and I certainly don't mean to exclude anyone). I'm a heterosexual female, happily married to a man, but I've given it a go. You might be surprised by the challenges involved in writing something that can't rely on the standard 'he said, she said' default - it makes it hard when both your characters are 'he' or 'she' and you need to get creative with your wording so that your reader isn't confused about who is doing or saying what. A definite challenge. And of course characters who identify as non-binary present an even greater challenge to the author. Why not give it a go? That contest accepts both short stories and poetry, and there are other contests around the site that also welcome LGBT characters.

Write a story that has no dialogue. It's amazing how much we rely on dialogue to move our stories forward, and to add pace and bring the reader into the action. Challenging yourself to write a piece without any dialogue at all will force you to be creative, and also teach you to be precise about your use of dialogue in future writing. The "No Dialogue Contest - ON HIATUS"
is for pieces 700 words or less, so it's a nice easy way to give it a try.

Alternatively, Write a story that ONLY contains dialogue! "The Dialogue 500"
challenges you to use only dialogue to write a whole story. No descriptions, no dialogue tags, just dialogue. Can you do it? Are you up for the challenge?

Write something that is non-fiction. Fiction authors vastly outweigh the non-fiction authors on Writing.com, but there are contests, support and encouragement available for non-fiction writers. Many poets have experimented with writing non-fiction poems, and most bloggers are used to writing about themselves, but (speaking as a blogger who struggles to write non-fiction), there is a unique challenge to writing non-fiction. Personally, I found it to be one of the most rewarding things I've tried in my time here at Writing.com. If you want to give it a go, there are resources available for both poetry and short stories, so check out these items:
"Roots & Wings Contest "
and "Roots & Wings Discussion Forum"

"Invalid Item"

"Invalid Item"

"Invalid Item"

"Invalid Item"

"Invalid Item"


Write erotica. This is certainly something I would never have had the courage to try outside of Writing.com's friendly and supportive environment. "The Weekly Quickie Contest"
has weekly prompts, it allows quite a bit of freedom in terms of writing from a perspective that feels comfortable to you, and it allows you to control the level of heat/intimacy in your story. Plus, the word limit means you can write a short piece which is always nice when you're experimenting with a new genre.

Submit something to a publisher. This can be one of the most daunting steps of all. As someone who isn't particularly worried about whether or not my work is published, I didn't see myself taking this step for some time (if ever), but the folks at Writing.com encouraged me to give it a go. I was taught to see my first rejection as something to celebrate and even treasure. And yes, I was rejected. But you know what? I got back on the horse and submitted more things. If I get more rejections, that's cool too. In fact, on Writing.com, you can even earn merit badges for getting rejections! Check out "Level Up! "
for a wealth of publishing advice and encouragement, but there are also genre specific publishing resources out there.

If you do take this opportunity to try something you've never done before, and break free from your comfort zone, I'd love to hear about it. Send me a note via the feedback form below, and there might even be some merit badges given away.

a very Wodehouse challenge (E)
A blind set of challenges hosted by Writing.com groups/members. Come test your fortitude!
#

1280691

by iKïyå§ama
Invalid Item
This item number is not valid.
#

1948893

by Not Available.
Poetic Exploration (E)
A group exploring the vast wonders of Poetry
#

1725497

by ShelleyA~12 years at WDC
Invalid Item
This item number is not valid.
#

2080765

by Not Available.
The Challenge (13+)
Earn whatever Merit Badge you want!
#

1970121

by Shaye
Invalid Item
This item number is not valid.
#

2032025

by Not Available.
Night & Day Poetic Prose Contest (13+)
Closed until further notice.
#

1984516

by 🌑 Darleens lost in the Dark
The Newsletter (E)
The FSFS Newsletter is written by FSFS members covering everything Fantasy and Sci-Fi
#

2019469

by David the Dark one!
Invalid Item
This item number is not valid.
#

2059254

by Not Available.
Coffee Shop Discussions (E)
Drink Coffee, Discuss, Earn Rewards and Raise Funds
#

2045688

by Fran 🏅🇬🇧🇬🇧🏅



Have an opinion on what you've read here today? Then send the Editor feedback! Find an item that you think would be perfect for showcasing here? Submit it for consideration in the newsletter!
https://Writing.Com/main/newsletters/action/nli_form



Don't forget to support our sponsor!




| | |
| --- | --- |
| ASIN: B085272J6B | Kindle |



Remember, if you try something new after reading this newsletter, tell me about it using the feedback form below, and I'll be sure to find a reward of some kind. Alternatively, tell me about a time you broke out of your comfort zone and tried something new in regard to your writing.


| | |
| --- | --- |
| ASIN: 0995498113 | |



To stop receiving this newsletter, click here for your newsletter subscription list. Simply uncheck the box next to any newsletter(s) you wish to cancel and then click to "Submit Changes". You can edit your subscriptions at any time.