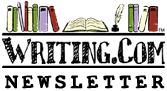 Poetry





This week: What makes a winner?

Edited by: Elle - on hiatus
More Newsletters By This Editor



1. About this Newsletter
2. A Word from our Sponsor
3. Letter from the Editor
4. Editor's Picks
5. A Word from Writing.Com
6. Ask & Answer
7. Removal instructions





I was inspired to write this newsletter after being involved in "The 9th Annual Quills Ceremony"
. Having a behind the scenes look into one of Writing.com's most exalted contests was fascinating, and I wanted to share some of what I learned.



| | |
| --- | --- |
| ASIN: B07B63CTKX | |



"The Quill Awards"
have been going for nine years now, longer than I have been on site. Last year I was given the opportunity to assist with judging, and this year, for the first time ever, I had a chance to see behind-the-scenes, and I found it fascinating.

Anyone can nominate a poem for the Quills. There are seven different poetry categories - free verse and structured are both divided into three different lengths, and then there is a category for best poetry collection. There are also a variety of genre categories that nominated poems are sorted into, that are judged by public vote. Nominations come in from the community, so if your poem is visible on the site and written in the current year, it is eligible to be nominated. Of course, the more visible your poem, the more likely it is to be nominated, and by that I mean if it is entered into contests, shared on the newsfeed, etc. Quality will always be a consideration of course, because the Quills is about selecting the best of the best, the cream of the crop, but yes, any poem written in 2016 can be nominated for the 10th annual Quills.

So the question then is...how is that winning poem selected? What makes that winning poem so great, and how can we learn from it? How can I go out and write the next winning poem?

There didn't seem to be a consistent pattern with the judging. Sometimes the judges would agree on a winner, but often they wouldn't. And it didn't seem to make a difference if it was a panel of selected judges, or a community vote. In some cases, judges (or voters) would rank poems in exactly the opposite order from each other. It was more obvious with the poetry categories than any other. Whether it was three judges or fifteen voters, they never ranked the nominated poems in exactly the same order. Eventually the accumulated rankings would settle to reveal a winner (and honourable mention in most cases), but while there was occasionally a unanimous winner, that was rare, and none of the judges ever agreed on all the placings.

So what does that tell us about how to write that winning poem? Well, I think the answer is that you can't sit down and decide to write a winning poem. Write the poem that's in your heart, and it will speak to some people but not to others. Some people will love it, others won't like it all. Some will rate it five stars, and some may rate it just one star. Feedback is a wonderful thing, and we can certainly learn from it, and grow and expand and experiment... But in the end, write the poems you want to write. There will always be some who like it and some who won't, and that's okay. It's when we give up and decide that we're not even going to try that we truly lose.





These items recently won a Quill or honourable mention at "The 9th Annual Quills Ceremony"
. There are some amazing poems here that are well worth the read.



I Watched a Dancer (E)
What did I see when I paused to watch a dancer? For the newbie poetry contest.
#

2049280

by Julie
The Christmas Sweater (E)
To Santa Claus, a message from A Disappointed Parent – a holiday in verse.
#

2067485

by BD Mitchell
Organ (13+)
A Blitz poem about the most important organ of them all.
#

2050384

by Shaye
Frankenstanza (13+)
Pains in the writing process.
#

2037787

by Cinn
Invalid Item
This item number is not valid.
#

2047200

by Not Available.
i hate carnations (18+)
it seems like yesterday and not 11 years ago. ~2015 Quill Award Winner~
#

2069526

by Whata Knows Black Cats Rule!
Silent Witness (13+)
In crimson wreaths, she rests in final sleep. 2015 Quill Best Dark Poem
#

2029803

by HuntersMoon-Lucky 13
Her Dark Desire (18+)
A Terza Rima Sonnet about an angel's fall from grace
#

2064029

by Andy~NaNo'ing
The Lady and the Dolphins Three (E)
A Quatern Poem
#

2060343

by Lostwordsmith
Promise and the Tender Leaf (E)
Inspired by the departure of two former Writing.com members from our world.
#

2064290

by Brian K Compton
My Voice (E)
my silence is often the loudest
#

2034674

by iKïyå§ama
Invalid Item
This item number is not valid.
#

2046042

by Not Available.
The Last Day of Her Journal (E)
The life of any woman
#

2055264

by Alexi
Invalid Item
This item number is not valid.
#

2051052

by Not Available.
Royal Wootton Bassett (E)
Quills Honourable Mention - Best War/Militaria. Featured in 2016 WDC Anthology.
#

2052066

by Choconuts Roasting
Invalid Item
This item number is not valid.
#

2048566

by Not Available.
Book of Miscellany (GC)
Poems, snippets, odds & ends. A place for drafts and ideas.
#

1915395

by Cinn
2015 (E)
Poetry written in 2015.
#

2026137

by Cinn
Poetry (13+)
Winner of 2015 Quill Award for Best Drama/Emotional
#

2046827

by Choconuts Roasting
Love Shouldn't Hurt Poetry Contest (GC)
1st Poetry Contest raising awareness about abuse. Next round is Feb.5th-Mar 5th
#

2040807

by Witchy woman
Poetic Traditions Poetry Contest (E)
Test your skill and talent in the art of traditional poetry in this monthly contest.
#

2055137

by Brenpoet
The Littlest Poetry Contest (E)
Enter your best children's poetry and be in to win!
#

2031529

by Elle - on hiatus
Linericks (18+)
A Linerick is a Limerick written one piece at a time!
#

986307

by deemac



Have an opinion on what you've read here today? Then send the Editor feedback! Find an item that you think would be perfect for showcasing here? Submit it for consideration in the newsletter!
https://Writing.Com/main/newsletters/action/nli_form



Don't forget to support our sponsor!




| | |
| --- | --- |
| ASIN: B07RKLNKH7 | Kindle |



Have you read a poem (written in 2016) that you thought was a winner? Nominate it for a Quill, and put it in the running for next year's ceremony!


The Quill Awards: Nomination Form (E)
Nominate someone for a Quill!
#

1536048

by Elle - on hiatus



Feedback from my last poetry newsletter - "Poetry Newsletter (March 9, 2016)"
:

Great NL, Elle! It is amusing that we came up with different educational (but fun) poetry activities based on the same few discussions. Hopefully, people will enjoy both and also learn from each other along the way.
~ Cinn


I love the idea of listening to other writers poems. I look forward to hearing them and hopeful I can record one to read as well. ~ Madsmom

| | |
| --- | --- |
| ASIN: B000FC0SIM | |



To stop receiving this newsletter, click here for your newsletter subscription list. Simply uncheck the box next to any newsletter(s) you wish to cancel and then click to "Submit Changes". You can edit your subscriptions at any time.