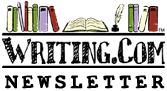 Noticing Newbies





This week: A Farewell

Edited by: Jace
More Newsletters By This Editor



1. About this Newsletter
2. A Word from our Sponsor
3. Letter from the Editor
4. Editor's Picks
5. A Word from Writing.Com
6. Ask & Answer
7. Removal instructions





Hi, I'm Jace
.

Welcome to this issue of the Noticing Newbies newsletter. Join me as I take you into some nooks and crannies of Writing.Com that you may not have found time to check out yet. This newsletter is about and for you. And for you seasoned members, I hope you'll find something you can take from my ramblings.
Your Noticing Newbies Newsletter full-time Editors:

| | |
| --- | --- |
| ASIN: B083RZ2C5F | Kindle |

Stepping Down





There is nothing permanent except change.
Heraclitus



This Noticing Newbies newsletter issue will be my final one as a full-time editor. I've thoroughly enjoyed my time as your editor but feel it's time to let someone with fresh ideas take over.

Over the past five years, I've written 80 newsletters in eight of the thirteen genres. This issue is number 64 as a Noticing Newbies editor. I'll continue to write newsletters when needed. What is truly staggering is that those 80 newsletters have garnered almost 85,000 views. If only one percent of those folks gained some insightful idea to help them, then I've influenced almost one thousand people positively. And I consider myself as by no means unique in this capacity--all our newsletter editors contribute greatly to the continued well-being of Writing.Com.



The only way to make sense out of change is to plunge into it, move with it, and join the dance.
Alan Watts



For those new members reading my words, get involved with the on-site activities. I know you joined because you write, and you wish to improve your writing abilities. There's no doubt in my mind that you'll succeed here. I learned a lot in my early days. (Of course, I continue to learn here.)

But I really blossomed as a writer when I joined a couple groups that interested me, when I started reviewing other members' works, and when I learned to accept the comments and criticisms from those members of my work. In essence, I embraced WDC fully. I made friendships, poked into the various nooks and crannies of the site to learn their workings, and I pushed myself into writing in genres and styles I never tried before. I discovered a deeper passion for writing, and found I was more versatile than I ever thought I could be. You can do that as well.



Change is inevitable. Change is constant.
Benjamin Disraeli



Are you nostalgic about the history of Writing.Com? I've always been interested in the history of things. Everything! Writing.Com is a very dynamic and forward-thinking writing site. Stick around for a short while and things will change (for the better IMHO). My first Noticing Newbies newsletter shared my passion for both history and change by featuring our then-new Reference Guide, "Writing.Com 101"
. Its introduction preceded Writing.Com's 10th Birthday, and the first major site update called v10. Check out "Introducing Writing.Com v10!"
if that nostalgic bug grabs you.

Over the years the The StoryMaster
has introduced numerous updates, changes and tweaks that have made the site better for us as members and writers. I'm certain that will continue far into the future. Things we take for granted today (including notification tagging, skins and emoticons, extensive WritingML capabilities, covers, instructional videos, and editing icon bars to name a few) didn't exist when I joined eight years ago. Who can guess what changes will occur in the next eight years?

I'd like to leave you with one last thought--many ideas that have been implemented came about from suggestions by members. Obviously not all ideas can be used, but they will certainly NEVER be used if you don't mention them. We have a forum designed to highlight member suggestions--"Suggestion Box"
.

Thank you for reading, supporting and encouraging my efforts as a Noticing Newbies newsletter editor. I'm not going away; I just want to poke my head (and my abilities) into some different areas here. See you around the site.


The quotes used were found at: http://www.brainyquote.com/quotes/quotes/b/benjamindi154148.html?src=t_change




Check out these Newbies (I've selected folks who have filled out their Biography or something in their Bio-Block). Take a moment to review something in their Port ... or just say hi.

A Strangely Peaceful Return (18+)
A modernized Lovecraftian tale of an evil being causing devastation. What is his plan?
#

2087770

by Chronicles of Hunter
Learning Every Day (E)
Learning to be loved by another...
#

2086972

by Elizabeth F. Gadsby
I Can Hear You (E)
A nurse, now a patient in a coma, experiences life on the other side of things.
#

2086917

by Girlinwhite
Invalid Item
This item number is not valid.
#

2086460

by Not Available.
The forrrest (13+)
A short story of a unknown battle, from the account of an unknown soldier
#

2087489

by Stephen.J.H.



Have an opinion on what you've read here today? Then send the Editor feedback! Find an item that you think would be perfect for showcasing here? Submit it for consideration in the newsletter!
https://Writing.Com/main/newsletters/action/nli_form



Don't forget to support our sponsor!




| | |
| --- | --- |
| ASIN: 0995498113 | |



And from the mailbox about my last Noticing Newbies newsletter, "Auctions and Raffles"
.

Alas, there was no feedback on my last newsletter. I hope that's because you were all bidding on the plethora of auctions.

| | |
| --- | --- |
| ASIN: 0995498113 | |



To stop receiving this newsletter, click here for your newsletter subscription list. Simply uncheck the box next to any newsletter(s) you wish to cancel and then click to "Submit Changes". You can edit your subscriptions at any time.