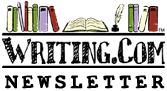 Contests & Activities





This week: Challenge yourself

Edited by: Gaby
More Newsletters By This Editor



1. About this Newsletter
2. A Word from our Sponsor
3. Letter from the Editor
4. Editor's Picks
5. A Word from Writing.Com
6. Ask & Answer
7. Removal instructions



Hey, everyone! I'm Gaby and I'm your editor for this issue of the Contests&Activities Newsletter.

| | |
| --- | --- |
| ASIN: B01MQP5740 | Kindle |

Did you know that writers are really competitive? You'd think that all of us introverts prefer being quiet and don't like trouble, but come to find out, the opposite is more true.

Entering contests challenges you in a few ways. You get to face your own inner demons and that terrifying writer's block, and you get to test your writing skill. While your competition may be better than you, they're rather quiet, don't poke much at you, and when the winners are announced, all is done with a major courtesy. We congratulate the winners, tell ourselves that we'll do better next time, and out the door we go.

Our portfolios contain pieces which are good for our standards, because, let's face it, with time you know your own writing capabilities. Then there are those we'd like to hide away in a dark corner in hopes that no one will come across them. If a piece you've written doesn't win a contest, you're glad you've tried. At times, you know you didn't give it your best and that's alright. Perhaps the challenge itself was just to write anything instead of winning something. When the next round comes around, your confidence is better and you'll give it another try. This time you may succeed. If you don't, you'll shake hands with the winners again, tell yourself that next time you'll do better, and out the door you go again.

Where is the challenge in that?!

I've entered a few contests over the years - I'm better at creating activities rather than writing for them - and sometimes I've won, other times I simply congratulated winners and off I went. To me, the challenging part can be writing a piece, but competition matters when writing. If all those who participated in a contest had to also review my written piece, there might be more pressure on me to try even harder. If I reviewed their pieces, I'd get to see their writing and could compare my own with it.

Is my writing really that good?

You can't make that decision.
I'm sorry, but you can't. Your writing will always be judged by others. Over time, you may see the difference of your writing from ten years ago and today, and even if it had gotten really good, you don't get to make that call. That is why competition with interaction is very important.

It isn't necessary to create a contest where participants have to review each other, but you can if you like that. You as a writer should consider making that part of your own challenge. Write something for a contest, then read and review all pieces entered into it. They are your competition. Learn from them! Compare. Be open-minded. Don't shy away from a challenge!

'Til next time!
~ Gaby

Invalid Item
This item number is not valid.
#

2085951

by Not Available.
Invalid Item
This item number is not valid.
#

2087949

by Not Available.
Them's Fighting Words (Conflict Contest) (13+)
WEEKLY Fun action-writing prompt and contest! I post the pictures, you write the conflict!
#

1867748

by Thundersbeard 30DBC JULY HOST
Invalid Item
This item number is not valid.
#

2054775

by Not Available.
World Weavers' Championship (13+)
Round 11 "pick and mix" has started!
#

2012128

by Tileira
Invalid Item
This item number is not valid.
#

2087380

by Not Available.
Game of Thrones (13+)
Will return one day ~ until then ~ Thank you all who've participated!
#

456789

by Gaby



Have an opinion on what you've read here today? Then send the Editor feedback! Find an item that you think would be perfect for showcasing here? Submit it for consideration in the newsletter!
https://Writing.Com/main/newsletters/action/nli_form



Don't forget to support our sponsor!




| | |
| --- | --- |
| ASIN: B083RZ2C5F | Kindle |


| | |
| --- | --- |
| ASIN: 197380364X | |



To stop receiving this newsletter, click here for your newsletter subscription list. Simply uncheck the box next to any newsletter(s) you wish to cancel and then click to "Submit Changes". You can edit your subscriptions at any time.