Printed from https://www.writing.com/main/newsletters/action/archives/id/7779-Are-You-Fruity.html
Noticing Newbies: August 03, 2016 Issue [#7779]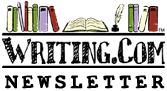 Noticing Newbies





This week: Are You Fruity?

Edited by: Reader? Check out 2233315
More Newsletters By This Editor



1. About this Newsletter
2. A Word from our Sponsor
3. Letter from the Editor
4. Editor's Picks
5. A Word from Writing.Com
6. Ask & Answer
7. Removal instructions




The Noticing Newbies Newsletter's goal is to make the newer members feel welcome and encourage them with useful information and/or links to make navigating Writing.com easier. Writing.com members of all ages and even veteran members can find useful information here. If you have specific questions, try visiting "Writing.Com 101"
and/or "Noticing Newbies"
.

Meet The Noticing Newbies Full-Time Newsletter Editors

| | |
| --- | --- |
| ASIN: 1542722411 | Book |





Love is the poetry of the senses. - Honore de Balzac



One of our greatest pleasures - taste. Do you have a comfort food? How about a food you refuse to eat? What is your favorite food? There is many ways to describe how foods taste by themselves or even in relation to each other.

One of my favorite scenes in a movie is when Nicolas Cage asks Meg Ryan to describe how a pear tastes. Her reply was "You don't know what a pear tastes like?"

"I don't know what it tastes like to you."

Everything tastes different to different people. What you find delicious, another could find repulsive. In writing it's important to describe tastes to fully involve your reader in the character. It tells about them, giving important internal details that cannot be spoken in other ways.

Another interesting way to describe taste is through people. You can describe how a person tastes meaning their kiss or even their personality. Everyone has their own "taste" in movies and activities. Even animals and children have a taste in certain aspects of their lives. Do you have a "spicy" personality, a "sweet" one or you more "bland"?

Today, let's take a moment to write about experiencing the world through your sense of taste. It can be food or whatever way you encounter it. Have you ever been outside while it's snowing and caught a snowflake in your mouth? Describe what your experiences have brought to your life in terms of their flavor.

Write and Review on! ~ Brooke


"
Writing from the Senses
is filled with fresh ideas and powerful examples of evocative writing that are sure to inspire both emerging and veteran writers."--Lavinia Spalding, author of
Writing Away
.
| | |
| --- | --- |
| ASIN: 1611800447 | |


Please enjoy the work of these new members. Leave them a review to welcome them to our community.





~
~
~
~
~
~
~
~
~
~
~
~
~
~
~
~
~
~
~
~



Have an opinion on what you've read here today? Then send the Editor feedback! Find an item that you think would be perfect for showcasing here? Submit it for consideration in the newsletter!
https://Writing.Com/main/newsletters/action/nli_form



Don't forget to support our sponsor!




| | |
| --- | --- |
| ASIN: 0910355479 | |


I received some wonderful feedback to my last newsletter [#7737] "Tools of the Trade"
and I'm proud to share it with you.

From
I did not know about the Ideanary! Great tool!! I will be using that often. Thank you!

Also, I wanted to share two resources that Newbies may find helpful.


WDC Welcome Center (E)
Help for New Members
#

1768104

by Pat ~ Rejoice always!
Invalid Item
This item number is not valid.
#

2044191

by Not Available.
Thank you so much for your feedback and also for sharing these wonderful items with our newbies.

| | |
| --- | --- |
| ASIN: B07B63CTKX | |



To stop receiving this newsletter, click here for your newsletter subscription list. Simply uncheck the box next to any newsletter(s) you wish to cancel and then click to "Submit Changes". You can edit your subscriptions at any time.



Printed from https://www.writing.com/main/newsletters/action/archives/id/7779-Are-You-Fruity.html