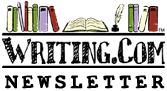 Noticing Newbies





This week: Spelling, Grammar and all that Jazz

Edited by: ember_rain
More Newsletters By This Editor



1. About this Newsletter
2. A Word from our Sponsor
3. Letter from the Editor
4. Editor's Picks
5. A Word from Writing.Com
6. Ask & Answer
7. Removal instructions





As a dyslexic writer, I understand how scary it can be to put yourself out there for others to read your work. But, it is something every writer needs to do. Whether you're submitting to a publisher or posting here for the WDC world to see, you have to get over it eventually or die forever in obscurity with your children wondering why Momma/Daddy never did anything with their work.

The purpose of my newsletter is to entertain a bit if I can, but it is also to help you look at writing ideas as a new member you might not have thought of. To address issues every writer faces at some point in time so you know you're not alone. On occasion, I will throw in a WDC technical issue on how to find your way around here or the ML. What I won't do is give you something that bores me. Yes, I know there will be spelling mistakes. I won't use every their, there or they're correctly. I may spell collage when I mean college. But, what you will get are real answers to problems I have conquered and some I'm still struggling just like some of you.

My one and only goal is to help our new members feel like the belong because you do. Different ideas are welcome. Different styles are welcome and yes even if you have in the past spelled cat K A T out loud and thought you were right or struggle to let characters lead and the plot follow, you have a place here on WDC. None of us are perfect. We all struggle and we are all here to help each other in that struggle.

Friends have jokingly suggested that I drank the WDC kool-aide. I will happily agree. I did and I am so glad I did. Here is to all of our new members finding their writing home with us as well.

Quick note: I lost my editor, He's moved three hours away and has very little internet access, all for the love of a girl. So please bear (or is it bare) with me there will be mistakes. I'm doing the best I can. Lucky for us all Firefox now offers a Grammarly app and it works here on WDC



| | |
| --- | --- |
| ASIN: B07YJZZGW4 | Kindle |



So if you read the about this newsletter section you know I am dyslexic. I will never for the life of me when in the middle of NANOWRIMO catch every instance of using the wrong your, or you're, their, there, and they're or any of the other words that sound alike. Those things can't be caught with a mere spell checker. No, you need something that can point to them and say, "Wrong Word, Silly!" Not to mention the numerous times I have put a period where I needed a comma and vice versa.

I don't normally make recommendations for things off WDC but since this can be used in conjunction with WDC, I am making an exception. Last week I was once again looking for a good way to edit my work, now that my eldest son has moved to the swamps of southern Arkansas. I came across grammarly.com I have used it before but never with any real enthusiasm. When I got there, this time, I found that there was, in essence, a toolbar you could download. It isn't really a toolbar so much as a program that attaches to your browser. They have one for Windows, Firefox, and Chrome. Firefox and Chrome, I have been told by The StoryMaster
are the best for using on this website. He tests updates on those, or at least he did a couple of years ago when windows was giving me fits and I took to "Technical Support Forum"
to see what was up.

Regardless, it adds a little green button with an upside down refresh symbol on it to your toolbar. It means that I have a ton of little red lines all over this newsletter that I can go back and fix. It works great on smaller pieces. It can be a bit of a pain when you start getting into longer work. But, when it doesn't want to work right I just click on that green icon, pick new document at the bottom of the drop down menu and it opens up Grammarly in a new tab. Copy and paste from one to the other, fix all the red marks, then copy and paste back to my item on WDC and voila you have a fairly well-edited piece.

Now, like in all spell check situations you have to use your head. Not all of the suggestions are correct or perfect. We are in a constant disagreement over the use of is and are. But, you can ignore suggestions that you don't agree with. The other thing is I know on the last chapter I posted after running it through their system, said there were 23 advanced issues. I have the free version so it won't fix those. But, if you invite enough of your friends to sign up, they will let you upgrade for free at least for a little while.

So if you have been looking for a decent free grammar checker, I would recommend Grammarly.com's toolbar app to anyone who understands it won't solve all of your problems but it will come darn close.





Just a few items from our newest members
Invalid Item
This item number is not valid.
#

2094018

by Not Available.
The first Duty (E)
Solace in the milky way galaxy announcing the formal arrival of the Hanseatic league.
#

2094016

by Clyde
Happiness Is An Inside Job (E)
Happiness is ultimate desire of everyone .
#

2093999

by Nashrah Khan
Nameless Village, Faceless Me (E)
The intimate madness of war
#

2093961

by Lakin
What is perfection (E)
psychology
#

2093958

by Launa Davis
Invalid Item
This item number is not valid.
#

2093957

by Not Available.
Dystopian Tree (E)
A piece about bullying--told from a unique perspective.
#

2093903

by Timothy Sam
Invalid Item
This item number is not valid.
#

2093758

by Not Available.
Invalid Item
This item number is not valid.
#

2093676

by Not Available.
Invalid Item
This item number is not valid.
#

2093606

by Not Available.



Have an opinion on what you've read here today? Then send the Editor feedback! Find an item that you think would be perfect for showcasing here? Submit it for consideration in the newsletter!
https://Writing.Com/main/newsletters/action/nli_form



Don't forget to support our sponsor!




| | |
| --- | --- |
| ASIN: 0996254145 | |



So what is your favorite method for grammar checking?


| | |
| --- | --- |
| ASIN: B07RKLNKH7 | Kindle |



To stop receiving this newsletter, click here for your newsletter subscription list. Simply uncheck the box next to any newsletter(s) you wish to cancel and then click to "Submit Changes". You can edit your subscriptions at any time.