Printed from https://www.writing.com/main/newsletters/action/archives/id/7851
Drama: September 14, 2016 Issue [#7851]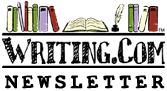 Drama





This week: Pacing a Drama

Edited by: Annette
More Newsletters By This Editor



1. About this Newsletter
2. A Word from our Sponsor
3. Letter from the Editor
4. Editor's Picks
5. A Word from Writing.Com
6. Ask & Answer
7. Removal instructions



Hello dramatic writers and readers, I am Annette
, your guest editor for this issue.

| | |
| --- | --- |
| ASIN: B01MQP5740 | Kindle |

Pacing a Drama
Balance Your Drama
Where to Put All of That Drama?
Recently, I read the first two chapters of a book here on Writing.Com. The genre chosen by the author was Romance, but Drama fits also in there.

In the first chapter, the author describes the main character (I will call her Rose) and those who torment her. She gives a short glimpse at the character who will be her romantic interest (I will call him Bob). The first chapter then goes back to introduce the reader to more abuse Rose has to live through.

By the second chapter, I am ready to see Rose show some life, a will to live, or even get a hopeful chapter involving Bob. While Bob is there and he provides some hope and mental relief, Rose spends some more time languishing in the bad parts of the first chapter that weren't narrated in the first chapter.

As a reader of a romantic drama, I felt unnecessarily dragged back into the negatives of Rose's life when this second chapter was the one that should make me feel sympathetic with Rose. This is the same as making me want to read on. By the time I was done with the second chapter, Rose was still behaving like a cookie-cutter victim in action and thought. Of course a novel character won't come full circle in the second chapter, but as a reader I need to find something likable in her. I want to know that as I go along for the ride and read through the following chapters in which Rose will be exposed to more abuse and humiliation, there is something in her that makes me want to root for her.

That is why I think balance in drama is needed. I know there are readers who will be just fine reading a whole book about a character that gets beat up the whole time and maybe even dies in the end. Personally, I'd want to see even this character that gets beat up the whole time and dies in the end to show some resilience and also give me a reason to read on.

Think Anne Frank. She had all the reasons somebody needs to write a diary focused on all the terrible things happening to her, her family, and the world at large. She wrote about those things. But she also wrote about the things that made life worth living. I, for one, did not feel trapped along with her while reading The Diary of Anne Frank because she refused to let her spirit be trapped. She was a free spirit. That balanced her terrible trapped situation.



Dance me to the end of love (18+)
When you spy on your man...
#

2092111

by WakeUpAndLive️~wonder search
The Fare (13+)
flash fiction submission
#

2095007

by Dawsongirl
Invalid Item
This item number is not valid.
#

2095131

by Not Available.
Once in a While Rocks (18+)
Long ago, in a land kind of far away...
#

2085264

by Whata Turkey
Lost (13+)
Military/War story about a 26 year old officer stranded in enemy territory.
#

2095486

by HonestlyCrookedPhilosopher
Invalid Item
This item number is not valid.
#

2095559

by Not Available.
Invalid Item
This item number is not valid.
#

2057261

by Not Available.
Invalid Item
This item number is not valid.
#

2095837

by Not Available.
The Mystery of Bo's Obsession (E)
Bo dug up a gun, a metal box with cash. Where will he dig next?
#

2095506

by Jeannie☃️
Invalid Item
This item number is not valid.
#

2091742

by Not Available.



Have an opinion on what you've read here today? Then send the Editor feedback! Find an item that you think would be perfect for showcasing here? Submit it for consideration in the newsletter!
https://Writing.Com/main/newsletters/action/nli_form



Don't forget to support our sponsor!




| | |
| --- | --- |
| ASIN: B083RZ2C5F | Kindle |


| | |
| --- | --- |
| ASIN: B07N36MHWD | Kindle |



To stop receiving this newsletter, click here for your newsletter subscription list. Simply uncheck the box next to any newsletter(s) you wish to cancel and then click to "Submit Changes". You can edit your subscriptions at any time.



Printed from https://www.writing.com/main/newsletters/action/archives/id/7851