Printed from https://www.writing.com/main/newsletters/action/archives/id/7910-Fantasy--Horror-A-Fitting-October-Pair.html
Fantasy: October 12, 2016 Issue [#7910]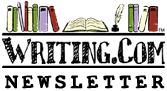 Fantasy





This week: Fantasy & Horror: A Fitting October Pair

Edited by: Dawn Embers
More Newsletters By This Editor



1. About this Newsletter
2. A Word from our Sponsor
3. Letter from the Editor
4. Editor's Picks
5. A Word from Writing.Com
6. Ask & Answer
7. Removal instructions





Fantasy Newsletter by Dawn

October is a good month for both fantasy and horror.



| | |
| --- | --- |
| ASIN: B07NPKP5BF | Toy |



One genre I don't understand is horror. I've tried in the past and even have a couple flash fiction pieces that include a serial killer who dresses up like a clown, but I am not a horror writer by any means. Nor do I watch horror. So, why bring it up? Well, I have a coworker who works at Universal Studios and is part of the Fright Nights they have going on this month in celebration of the upcoming holiday, Halloween.

And while I don't understand the dynamics of horror and how to write to those expectations, what I can see how ones can write horror within speculative fiction. Fantasy and science fiction both have elements that can create amazing horrors within the world building, characters and in general the use of the imagination to create the stories. Horror, after all, is under the umbrella known as speculative fiction when it comes to creating genre labels.

October is a good month to try horror because of Halloween. It's not just a month of pumpkin spice flavored well, everything. There are many elements that can work both with fantasy and horror.

1. Monsters/Creatures

These can be found in all of speculative fiction. In particular, horror but we do actually have many monsters and different types of creatures in fantasy and even sci-fi. If you want to know some specific creatures/monsters, there are some newsletters out already on the topic. For a few recent examples, check out the fantasy newsletters by Prosperous Snow writing poetry
on mythical monsters. And don't forget to subscribe to the Horror/Scary newsletter as well. Characters can be of many types, human or otherwise, and even some of the so called monsters could be the main pov character, depending on the story.

2. Setting

There are plenty of locations that help create the sense of being within a fantasy or horror story. Both can help make a story feel within the genre based on how the setting is displayed. How you incorporate the elements of location and description will help greatly in making the story come across as horror or fantasy. It's all part of creating the right atmosphere that goes so well with these genres in particular.

3. Conflict

Another cross between with the genres is the types of conflicts that arise can work for either. This can involve epic problems that threaten the entire world or be found on a more micro, personal scale for the characters involved. It's important to have a conflict that fits the story and helps to a degree with the genre. While horror does focus on the element of creating a specific reaction, often fear, it's quite the task to create the story and world in order to give such visceral reactions through words (as we're talking stories and not the cinema).


In random summary as this one is a bit of a mix-up ramble, the basics are that whether it's October or not, fantasy and horror can make for a good combination. And if you've done one but not the other, trying something different works as a good way to stretch your skills as a writer. Sure, I don't understand horror that much but every now and then I give it a try. So, how about you? Going to add some horror to your fantasy world? Or are you a horror writer who will add fantasy to those horrific tales?






The Midnight Traveler's Contest (18+)
Story contest for the darker souls ~ Next round - TBD
#

1935914

by Gaby
Magic Words Contest (13+)
A fantasy short story contest. Fantastic Prizes. Open TBA
#

1871010

by A E Willcox
Other Worlds Contest (18+)
Science Fiction Short Story Contest. Open: 1st - 30th September 2019
#

2078460

by A E Willcox
Supernatural Writing Contest (18+)
No prompt! Old or new! Stories and poems accepted!
#

1771874

by Shaye
WEIRD TALES CONTEST (18+)
A Contest Inspired by the Old Pulp Fiction Covers of Weird Tales Magazine
#

2083492

by Beacon-Light Forever
Paranormal Romance Short Story Contest (13+)
A Monthly Romance Contest -- a 2016 Quill Award Winner and a 2020 Quill Award Nominee
#

2089860

by Jim Hall
Lefu (13+)
A curse is on a town where a boy is sacrificed to evil souls every other Halloween night.
#

2099065

by Anthony Sanders
Invalid Item
This item number is not valid.
#

2098861

by Not Available.
Isle of the Undead (13+)
When nightmares walk. Dark. Weird Tales entry - photo prompt
#

2098796

by BlackAdder
The Craftswoman (18+)
A wanted woman has something in store for the men looking for her.
#

2098502

by SB Musing



Have an opinion on what you've read here today? Then send the Editor feedback! Find an item that you think would be perfect for showcasing here? Submit it for consideration in the newsletter!
https://Writing.Com/main/newsletters/action/nli_form



Don't forget to support our sponsor!




| | |
| --- | --- |
| ASIN: B01CJ2TNQI | |



Have you used horror in your fantasy story? Or fantasy in your horror story?


Last month, I wrote about finding balance in life when dealing with writing and having other things to do. Thanks to elfindragon who sent in a comment for that one.

Comment by Elfin Dragon - contest hunting

I think balance comes with knowing where to take the reader. There needs to be action, drama, some lulls and yes, even a little romance. Everything creates a sense of balance in the story as you take the reader for a ride.




| | |
| --- | --- |
| ASIN: B07NPKP5BF | Toy |



To stop receiving this newsletter, click here for your newsletter subscription list. Simply uncheck the box next to any newsletter(s) you wish to cancel and then click to "Submit Changes". You can edit your subscriptions at any time.



Printed from https://www.writing.com/main/newsletters/action/archives/id/7910-Fantasy--Horror-A-Fitting-October-Pair.html