Printed from https://www.writing.com/main/newsletters/action/archives/id/7938-Characters-and-Costumes.html
Romance/Love: October 26, 2016 Issue [#7938]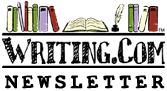 Romance/Love





This week: Characters and Costumes

Edited by: Dawn Embers
More Newsletters By This Editor



1. About this Newsletter
2. A Word from our Sponsor
3. Letter from the Editor
4. Editor's Picks
5. A Word from Writing.Com
6. Ask & Answer
7. Removal instructions





Romance Newsletter by Dawn

A discussion on costumes and their use with specific characters in relation to romance stories.



| | |
| --- | --- |
| ASIN: B083RZ2C5F | Kindle |



It's that time of year. Halloween is almost here and the question becomes, will you wear a costume for the holiday or not. There are even a couple of prompts around the site that are costume inspired, which brings me to this newsletter topic. While it's fun to consider costumes in real life and doing things like cosplay, there is also room for questioning what our characters would do given the opportunity to play dress up.

This works for both romance and erotica, although some of the more "adult" stories probably have a bigger claim on costume usage. Just a guess but it makes sense since there are different levels of role playing and more room for the costumes within the story, but that doesn't mean a romance with adults or teens that keeps the content rating low can't play dress up either.

And it can be for Halloween (or similar holiday if working with a fantasy/sci-fi type world) or maybe not. That is part of the fun and where this can help show more about the characters.

For example, I have a set of romance characters where one of them is a fan of dressing for different occasions throughout the year. He had a cat outfit for spring/summer and from November until Christmas, he has elf costumes. However, despite his often wearing costumes, the one day he doesn't do anything for is Halloween. I'm still working out the reasoning but will be interesting with his boyfriend who doesn't dress up for anything except maybe Halloween. The holiday is fun inspiration but use your imagination. What other reasons could your romance character have in order to wear a costume?

Whether you write a story that includes costumes or not, it could make for an interesting character exploration to consider if the person would wear any type of costume. If they would, then you can go into the types they would prefer and if there were any reasons or particular situations that would drive them to get costumes or not. Might be good character prep if you're getting ready for NaNoWriMo. Novel writing month is almost upon us after all.

So, back to the main question. Do any of your characters like to wear costumes? And if so, what costumes do they like?



A Romance Contest (13+)
A short story contest for the Seasons of Romance: Autumn
#

1892844

by Osirantinous
Paranormal Romance Short Story Contest (13+)
A Monthly Romance Contest -- a 2016 Quill Award Winner and a 2020 Quill Award Nominee
#

2089860

by Jim Hall
Paradise Cove Writing Challenge-On Hold (18+)
A romance/erotica contest from The Talent Pond.
#

1380461

by Jeff
CLOSED - Tales of Seduction (18+)
Stories of Erotica, Romance, or Love, wherever your muse takes you!
#

1702029

by QPdoll
We Will Return Every Autumn (E)
A Fall Romance - A chance meeting on a park bench leads to a lifelong love story.
#

2099306

by Espero
Thanksgiving Break Part 1 (13+)
Adam comes back to visit Chelsea, but doesn't find the same girl he left.
#

2099023

by Purple Princess
Invalid Item
This item number is not valid.
#

2100492

by Not Available.
Invalid Item
This item number is not valid.
#

2100481

by Not Available.



Have an opinion on what you've read here today? Then send the Editor feedback! Find an item that you think would be perfect for showcasing here? Submit it for consideration in the newsletter!
https://Writing.Com/main/newsletters/action/nli_form



Don't forget to support our sponsor!




| | |
| --- | --- |
| ASIN: B01FST8A90 | |



Do any of your romance characters enjoy playing dress-up or costumes?


Last time I discussed characters who are reluctant to have love but find it in the end.

Comment by Quick-Quill

I have a MC and antagonist who will eventually join to look for something. She thinks they are related so pushes him away. He's adopted and can't understand why she won't admit to the attraction. MMM?




| | |
| --- | --- |
| ASIN: B07N36MHWD | Kindle |



To stop receiving this newsletter, click here for your newsletter subscription list. Simply uncheck the box next to any newsletter(s) you wish to cancel and then click to "Submit Changes". You can edit your subscriptions at any time.



Printed from https://www.writing.com/main/newsletters/action/archives/id/7938-Characters-and-Costumes.html