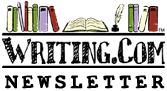 Fantasy





This week: Creating a Holiday

Edited by: Robert Waltz
More Newsletters By This Editor



1. About this Newsletter
2. A Word from our Sponsor
3. Letter from the Editor
4. Editor's Picks
5. A Word from Writing.Com
6. Ask & Answer
7. Removal instructions





All holidays can be good times.
-John Clayton

I celebrate everyone's religious holidays. if it's good enough for the righteous, it's good enough for the self-righteous, I always say.
-Bette Midler

I once wanted to become an atheist, but I gave up - they have no holidays.
-Henny Youngman

https://www.brainyquote.com/quotes/keywords/holidays.html



| | |
| --- | --- |
| ASIN: 197380364X | |



With Thanksgiving coming up here in the US, and Christmas with its wider audience not far behind, I thought I'd devote some time to holidays in the context of fantasy writing.

Whether you're writing fantasy or science fiction, if the world you're writing about is not past or present Earth, you can add detail and depth to your creation by coming up with some holidays for them to celebrate - with bonus points if you can work them into the plot.

All holidays were made up at some point, and you can do the same. There are three basic types of holidays, with variations and combinations for the fun of it.

The first, and possibly oldest, is the seasonal holiday. These are often tied to astronomical observances - solstice, equinox, a certain star rising just when the sun sets, etc. A culture might use these to mark harvests or planting seasons, or just to predict when the seasons are going to change. The fun part here is that if you're not writing about Earth, these types of holidays can get complicated - consider, for example, Three-Moon-Day, the time when all three moons line up at the same point in the sky.

Another type of holiday is commemorative: a birth, a death, a military victory, that sort of thing. These aren't always happy holidays (especially if it's commemorating your enemy's military victory). Often these are tied in with seasonal holidays, even if one or the other has to be fudged a bit (hence Christmas taking place near the winter solstice). Most of the holidays we celebrate in the US are commemorative, but some have their origins in seasonal holidays.

Finally, of course, there's the religious holiday - which is the sense from which the word "holiday" itself derives (from "holy day.") These can be, and usually are, extensions of the two other types I've discussed here, but in a world that you create, you're not limited to these origins. So this is where you can be most creative; for example, an observance could be on a different day every year, or skip years, or happen multiple times in one year, for example if some god that populates your fantasy world decides, on a whim, to make his or her people have a holiday.

Just one piece of advice: Don't make the mistake George Lucas did with "Life Day" (from the Star Wars Holiday Special). Everyone involved in that fiasco is still trying to pretend it never happened, but we of the internet are here to make sure they can never live it down.



Some fantasy for your holiday reading:



Have an opinion on what you've read here today? Then send the Editor feedback! Find an item that you think would be perfect for showcasing here? Submit it for consideration in the newsletter!
https://Writing.Com/main/newsletters/action/nli_form



Don't forget to support our sponsor!




| | |
| --- | --- |
| ASIN: B004PICKDS | |

Last time, in "World Building for NaNoWriMo"
, I went over a seven-day crash course in world building. Unfortunately, it generated no comments. Hopefully, that's because everyone was too busy NaNoing. I know I've been.

So that's it for me for November! See you next month. Until then,



DREAM ON!!!







| | |
| --- | --- |
| ASIN: B07B63CTKX | |



To stop receiving this newsletter, click here for your newsletter subscription list. Simply uncheck the box next to any newsletter(s) you wish to cancel and then click to "Submit Changes". You can edit your subscriptions at any time.