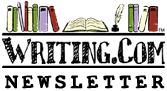 Horror/Scary





This week: BLACK FRIDAY

Edited by: W.D.Wilcox
More Newsletters By This Editor



1. About this Newsletter
2. A Word from our Sponsor
3. Letter from the Editor
4. Editor's Picks
5. A Word from Writing.Com
6. Ask & Answer
7. Removal instructions




| | |
| --- | --- |
| ASIN: 197380364X | |



BLACK FRIDAY


Aww..Thanksgiving, a wonderful time to gather and share with friends and family.

So, what happens the day after? What happens when a bit of overindulgence on Thanksgiving turns into an unrelenting urge to go out and purchase more stuff? I'll tell you what...you get your pride, greed, lust, envy, gluttony, wrath, and sloth all rolled in to one glorious holiday. I think that pretty much sums up Thanksgiving in America. In a matter of days we manage to cover all the seven deadly sins.

Hey, I'm right there with you. I ate too much, napped excessively, got out there and shopped while lusting after the things I wanted to have that was better than my neighbors until I became extremely angry at the mobs in the local mall. How have we sunk to this? Why didn't I just go to the local shelters and help serve food to the needy, to the people who would really appreciate a good Thanksgiving?

To be truthful, I worked on Black Friday. I sell furniture for Macy's Furniture Gallery in Tukwila, WA. But I saw you out there. All of you, looking for the best deals you could find. If somebody told me they'd give me a $20 bill just to stay home on Black Friday, I'd take it. Because if you think about it that's about all you really save.

It makes sense that the term "Black Friday" might refer to the single day of the year when retail companies finally go "into the black" (i.e. make a profit). The day after Thanksgiving is, of course, when crowds of turkey-stuffed shoppers descend on stores all over the country to take advantage of the season's biggest holiday bargains. But the real story behind Black Friday is a bit more complicated—and darker—than that.

The first recorded use of the term "Black Friday" was applied not to holiday shopping but to financial crisis: specifically, the crash of the U.S. gold market on September 24, 1869. Two notoriously ruthless Wall Street financiers, Jay Gould and Jim Fisk, worked together to buy up as much as they could of the nation's gold, hoping to drive the price sky-high and sell it for astonishing profits. On that Friday in September, the conspiracy finally unraveled, sending the stock market into free-fall and bankrupting everyone from Wall Street barons to farmers.

The most commonly repeated story behind the post-Thanksgiving shopping-related Black Friday tradition links it to retailers. As the story goes, after an entire year of operating at a loss ("in the red") stores would supposedly earn a profit ("went into the black") on the day after Thanksgiving, because holiday shoppers blew so much money on discounted merchandise. Though it's true that retail companies used to record losses in red and profits in black when doing their accounting, this version of Black Friday's origin is the officially sanctioned—but inaccurate—story behind the tradition.

In recent years, another myth has surfaced that gives a particularly ugly twist to the tradition, claiming that back in the 1800s Southern plantation owners could buy slaves at a discount on the day after Thanksgiving. Though this version of Black Friday's roots has understandably led some to call for a boycott of the retail holiday, it has no basis in fact.

The true story behind Black Friday, however, is not as sunny as retailers might have you believe. Back in the 1950s, police in the city of Philadelphia used the term to describe the chaos that ensued on the day after Thanksgiving, when hordes of suburban shoppers and tourists flooded into the city in advance of the big Army-Navy football game held on that Saturday every year. Not only would Philly cops not be able to take the day off, but they would have to work extra-long shifts dealing with the additional crowds and traffic. Shoplifters would also take advantage of the bedlam in stores to make off with merchandise, adding to the law enforcement headache.

By 1961, "Black Friday" had caught on in Philadelphia, to the extent that the city's merchants and boosters tried unsuccessfully to change it to "Big Friday" in order to remove the negative connotations. The term didn't spread to the rest of the country until much later, however, and as recently as 1985 it wasn't in common use nationwide. Sometime in the late 1980s, however, retailers found a way to reinvent Black Friday and turn it into something that reflected positively, rather than negatively, on them and their customers. The result was the "red to black" concept of the holiday mentioned earlier, and the notion that the day after Thanksgiving marked the occasion when America's stores finally turned a profit. (In fact, stores traditionally see bigger sales on the Saturday before Christmas.)

The Black Friday story stuck, and pretty soon the term's darker roots in Philadelphia were largely forgotten. Since then, the one-day sales bonanza has morphed into a four-day event, and spawned other "retail holidays" such as Small Business Saturday/Sunday and Cyber Monday. Stores started opening earlier and earlier on that Friday, and now the most dedicated shoppers can head out right after their Thanksgiving meal. According to a pre-holiday survey this year by the National Retail Federation, an estimated 135.8 million Americans definitely plan to shop over the Thanksgiving weekend (58.7 percent of those surveyed), though even more (183.8 million, or 79.6 percent) said they would or might take advantage of the online deals offered on Cyber Monday.

Now you know why they call it Black Friday. Let's get ready for the next one...Merry Christmas.


Until next time,









TALES OF SINS
Invalid Item
This item number is not valid.
#

704438

by Not Available.
REVENGE (13+)
Pride; the fall
#

1210754

by GEOFFREY ROBSON
Murmurationis Cotidie (GC)
A book for all my SCREAMS!!! Entries.
#

2084239

by Cat Voleur
Invalid Item
This item number is not valid.
#

547443

by Not Available.
God's Snowball (13+)
Space debris heads our way. (Flash Fiction)
#

1639526

by Hyperiongate
After 5 (13+)
A dark obsession changes the lives of mother and child.
#

171596

by Starr* Rathburn
Damon's Lilies (18+)
The curves of a woman are beautiful, like the petals of pink lilies...
#

1842590

by tcprescott
Something Horror This Way Comes (13+)
A burnt-out witch is up to no good
#

2060464

by W.D.Wilcox



Have an opinion on what you've read here today? Then send the Editor feedback! Find an item that you think would be perfect for showcasing here? Submit it for consideration in the newsletter!
https://Writing.Com/main/newsletters/action/nli_form



Don't forget to support our sponsor!




| | |
| --- | --- |
| ASIN: B07RKLNKH7 | Kindle |

DEAD

LETTERS
LJPC - the tortoise

Hi Bill! The best thing about your story, "THE HOME"
, is the voice of Bob, so you really got into your dad's mindset well. I think he'd be proud of the story.

~ Laura


KingArpod

Wow, I thought "THE HOME"
was great the first time and you made it even better, like i said wow.


River

I read the story, "THE HOME"
, thought it was an excellent piece.




| | |
| --- | --- |
| ASIN: 197380364X | |



To stop receiving this newsletter, click here for your newsletter subscription list. Simply uncheck the box next to any newsletter(s) you wish to cancel and then click to "Submit Changes". You can edit your subscriptions at any time.