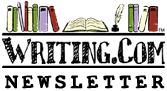 Horror/Scary





This week: What's Up with the MC ?

Edited by: Kate - Writing & Reading
More Newsletters By This Editor



1. About this Newsletter
2. A Word from our Sponsor
3. Letter from the Editor
4. Editor's Picks
5. A Word from Writing.Com
6. Ask & Answer
7. Removal instructions



Welcome to this week's edition of the WDC Horror Newsletter, where we strive to make you feel a need to lock your windows, draw tight your shades and, whatever you do, keep away from the door.



I think that true horror is accomplished
by slowly getting into your brain.
The old way is much more scary.
Sergio Aragones





| | |
| --- | --- |
| ASIN: B01CJ2TNQI | |

Greetings, insightful writers. As writers of horror poetic and prosaic, we peel away the carefully constructed layers of skin to reveal for our readers what lies (sometimes literally) at the core of mundane reality's onion. Engage the shadow that lurks just out of sight, right around the corner of the mind's eye. What one does not see, but on some level perceives. Yes, it's in the mind, the psyche


Create strong characters, mortal, sentient, non-human, zombie, space traveler, go on, engage your own! Both the protagonist and antagonist will need have strong emotional issues that stand in the way of accomplishing their goals. The antagonist in a psychological story need not be a person; instead perhaps the inner demon or alterego of the protagonist fighting to keep him/her from success, and often survival. .


I would interview each main character as well as ancillary ones that appear to either thwart or help the 'good guys' and/or the 'bad guys'. Is there some emotional need or torment that keeps them form accomplishing the need; and why, what's the point of going on? You will not use (tell) up front everything you learn, but what you learn will guide your characters (and your pen) to show the why and how of their need along the journey to success or defeat.


Plot your tale around the emotional aspect of the story. A psychological story is internal, which means a good deal of it revolves around the turmoil in your lead character's head; what horrifies him/her. The emphasis is on the struggle within the character's mind, more so than constant physical action. Remember, though, that it's brain to hand to cut the line and drop the hapless human into the piranha pool . Now, in the case of zombies, the brain may run not on cognitive functions but neuro-impulses for survival (consumption of energy/food). So the psychology of survival incites action and its respondent re-action.


What does your character fear. Is it survival, loss of love, loss of 'humanity' or physical existence? Is it capture by aliens, or mutated mortals (zombies and their 'ilk'), or consumption by mutated or newly released super veggies or dragons or faeries. Show us this fear, set it up early in the story and your readers will wait for a payoff you deliver when your character oversomes (or succumbs to) that fear,


Show your characters (and readers) the way ~

Write On!!
Kate
Kate - Writing & Reading

I hope you enjoy (in the safety of your well-lighted home) some post-apocalyptic or end-time, or new-time horrors brought forth from the depths of the collective mortal psyche by several members of our Community. If you can see it, engage their otherworlds ~ perchance a review
The King of Crows (13+)
Beware travelers for the King of Crows this world commands.
#

2104529

by Starr Phenix
Invalid Item
This item number is not valid.
#

2104528

by Not Available.
The Locket (13+)
For I'll Give You A Sentence Contest. Let go, she says, but he can't.
#

1977474

by ⭐Princette♥PengthuluWrites
Sleigh Bells (13+)
Restless things trying to find their way. Entry for the Screams 24-hour contest.
#

2103919

by Obligatory Joke
Modern Day Bloody Mary (18+)
Written for the Folklore Writing Contest - Prompt: Bloody Mary.
#

2103706

by Choconut ~ Memoir? Me? Eek!
Invalid Item
This item number is not valid.
#

2102741

by Not Available.
Invalid Item
This item number is not valid.
#

2101951

by Not Available.
The fun of fishing (E)
Mark has time to kill
#

2101720

by WakeUpAndLive️~wonder search
The Witch's Mirror (E)
By James Linen
#

2100376

by James Linen
Weekly SCREAMS!!! (XGC)
A Terrifying Contest Of Horror And Three Time Quill Award Winner!
#

2020439

by Angus



Have an opinion on what you've read here today? Then send the Editor feedback! Find an item that you think would be perfect for showcasing here? Submit it for consideration in the newsletter!
https://Writing.Com/main/newsletters/action/nli_form



Don't forget to support our sponsor!




| | |
| --- | --- |
| ASIN: B07NPKP5BF | Toy |

Until we next meet, open the doors cautiously, be prepared, to see what has been and create what might be. Whether it be you the writer or the story's evolved character ~

Write On!!
Kate
Kate - Writing & Reading

| | |
| --- | --- |
| ASIN: B07P4NVL51 | |



To stop receiving this newsletter, click here for your newsletter subscription list. Simply uncheck the box next to any newsletter(s) you wish to cancel and then click to "Submit Changes". You can edit your subscriptions at any time.