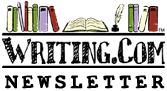 Romance/Love





This week: While the Sun is Shining

Edited by: Thankful Sonali Internet Issue
More Newsletters By This Editor



1. About this Newsletter
2. A Word from our Sponsor
3. Letter from the Editor
4. Editor's Picks
5. A Word from Writing.Com
6. Ask & Answer
7. Removal instructions



So much of a relationship involves communication.
And maybe, a bit of pre-communication, so that when communication slows down, the spadework done earlier helps.

| | |
| --- | --- |
| ASIN: B07YJZZGW4 | Kindle |



Dear Reader,

Maybe it's because I'm single. Maybe it is because I have the most wonderfully understanding Dad ever. Maybe it's because I have a spare bedroom. Maybe it's because there are always cookies in the cookie jar. (Or maybe it's because I'm nice!)

Whatever be the reason, I find that I am sometimes called upon to play host to irate wives who have walked out of home, having thrown something at their respective husbands' heads before leaving. The last lady to appear was carrying an overnight bag.

A few cookies, some tea, maybe a tear or two later, they start asking: "Will he laugh at me if I go home now?" And a little while after that, a sheepish man shows up at the door, asking, 'Is she here?' and trying to hide his face.

Now I know they love each othser. Every time, that has been the one thing that has stood out. They love each other, it's just that something has triggered a raw nerve or pushed a wrong button at that moment. Something was the last straw on a pent up issue. Something -- was --- something (fill in with whatever your experiences tell you to) and she couldn't stay a minute longer.

Now, they love each other and they want to make up.

BUT ...

The three letter word comes in. EGO.

How can I be the one to go back / say 'come back'?
Won't that prove that I'm in the wrong? Why should I go out of my way to prove that I'm in the wrong? I'm not in the wrong. I'm in the right. S/he was the one who ...
Often, this prolongs the fight, or enhances the bitterness. The ego that makes it difficult to kiss and make up tries to throw up excuses, to blame the other.

Now, I'm no relationship expert. But I've dispensed some tea and cookies, so I'm going to take the liberty of dispensing some advice to you, my poor, innocent readers.



Fix the roof while the sun is shining.



Don't wait till you have had a fight, to decide what to do in the event of a fight. Have a plan. (To those who are familiar with Harry Potter, remember the Deluminator that Dumbledore gave Ron, because he knew that Ron would always want to come back.)

So plan it, so that it doesn't become an ego issue, it just becomes doing what we'd said we'd do. For example: "If I walk out with a suitcase, wait three hours, then buy two boxes of chocolates and come to Sonali's house. Give one box of chocolates to Sonali and one to me, take me home and leave Sonali there." See what I mean? So much simpler than wondering, "Will he show up? When?" "Should I show up? When?" and so on. It's all something we had decided before.

I know, I know, it sounds funny now. But honestly, those are good cookies and I feel pangs when they're gulped down like that without even being chewed or tasted. "Sho he takesh hish mother (gulps the chunk of cookie without noticing it) out for coffee and he hasn't taken me out in months!" (Picks another cookie and puts in in the mouth, whole, not noticing Sonali cringing.)

If nothing else, it would help me to ration out the supply of cookies, to know that I have to hold the fort for three hours till he comes. Don't make it less than three hours. It takes three hours

to get all the gossip

for her to vent it all out so that she's ready

for sex

to talk calmly after that.

And being a gal, I'm agony aunt to other gals. I don't really know what the equivalent guy thing is. Whatever it is, you figure out how you're going to solve it between you. (Golf? Food, according to his Mamma's recipe? Sex?)

Jokes aside, young couples. Or established couples. Make up your plan to make up (clever!
) before you need to. Save the cookies!!


L
ve,
Sonali.



Add here!

Is the fight over? (ASR)
How do you indicate that the fight is over? Who makes the first move? For a newsletter.
#

2104731

by Thankful Sonali Internet Issue

By our p
ets and auth
rs!
You Saved Me (E)
I'm so luck to have him
#

2074633

by fendi
Invalid Item
This item number is not valid.
#

2104691

by Not Available.
Stay (E)
Watching her walk away and can't do a thing about it
#

1849813

by jpmurphy
A Beginning Is A Little Thing (ASR)
Baby steps can take one a long way but do Sid and Dips want to go in different directions?
#

2104942

by Just an Ordinary Boo!
Society's Soul (E)
for Project Write World Dec 16 - A Quote by Nelson Mandela
#

2106329

by Elfin Dragon - contest hunting
All time fav
urites!!
WdC SuperPower Reviewers Group (E)
Join the fun! We inspire reviewers through kindness and learning! Four time Quill winner!
#

1300305

by Maryann
Three Word Mayhem! (13+)
Mayhem is afoot!
#

555590

by Jay (away for a while)
The Writer's Cramp (13+)
Write the best POEM or STORY in 24 hours or less and win 10K GPs!
#

333655

by Sophy v.2021
The WDC Angel Army (ASR)
Dedicated to promoting positivity, encouragement, and support to the WDC community.
#

1188309

by iKïyå§ama



Have an opinion on what you've read here today? Then send the Editor feedback! Find an item that you think would be perfect for showcasing here? Submit it for consideration in the newsletter!
https://Writing.Com/main/newsletters/action/nli_form



Don't forget to support our sponsor!




| | |
| --- | --- |
| ASIN: B07NPKP5BF | Toy |

Thanks f
r the response to "Romance/Love Newsletter (December 30, 2009)"
esprit
Sonali, another fantastic letter! Good idea to write about signals, I haven't seen the topic in a while and we all need reminding. Your approach was excellent.


| | |
| --- | --- |
| ASIN: B00KN0JEYA | |



To stop receiving this newsletter, click here for your newsletter subscription list. Simply uncheck the box next to any newsletter(s) you wish to cancel and then click to "Submit Changes". You can edit your subscriptions at any time.