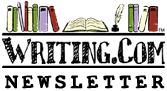 Noticing Newbies





This week: Life at the Laundrymat

Edited by: ember_rain
More Newsletters By This Editor



1. About this Newsletter
2. A Word from our Sponsor
3. Letter from the Editor
4. Editor's Picks
5. A Word from Writing.Com
6. Ask & Answer
7. Removal instructions





As a dyslexic writer, I understand how scary it can be to put yourself out there for others to read your work. But, it is something every writer needs to do. Whether you're submitting to a publisher or posting here for the WDC world to see, you have to get over it eventually or die forever in obscurity with your children wondering why Momma/Daddy never did anything with their work.

The purpose of my newsletter is to entertain a bit if I can, but it is also to help you look at writing ideas as a new member you might not have thought of. To address issues every writer faces at some point in time so you know you're not alone. On occasion, I will throw in a WDC technical issue on how to find your way around here or the ML. What I won't do is give you something that bores me. Yes, I know there will be spelling mistakes. I won't use every their, there or they're correctly. I may spell collage when I mean college. But, what you will get are real answers to problems I have conquered and some I'm still struggling just like some of you.

My one and only goal is to help our new members feel like the belong because you do. Different ideas are welcome. Different styles are welcome and yes even if you have in the past spelled cat K A T out loud and thought you were right or struggle to let characters lead and the plot follow, you have a place here on WDC. None of us are perfect. We all struggle and we are all here to help each other in that struggle.

Friends have jokingly suggested that I drank the WDC kool-aide. I will happily agree. I did and I am so glad I did. Here is to all of our new members finding their writing home with us as well.

Quick note: I lost my editor, He's moved three hours away and has very little internet access, all for the love of a girl. So please bear (or is it bare) with me there will be mistakes. I'm doing the best I can. Lucky for us all Firefox now offers a Grammarly app and it works here on WDC



| | |
| --- | --- |
| ASIN: B07P4NVL51 | Toy |



So, normally we go do laundry at the laundry mat on Saturdays. At our laundry mat, there are less people on Saturdays and I can have a bit of peace and quite. This week though hubby is both sick and had to work on Saturday. He was so loopy by the time he got home, I decided it was safer for us all just to do it today, Sunday.

Now the reason I go to the laundry mat is I got tired of replacing my washer and dryer every two years. Yeah having it at home is a convience not having to pay to fix them or buy new ones is better. There in lies the irony though. This week, I had a bit more laundry than usual and decided to use one of the big machines. It would save me nearly two dollars I could use for drying. Only when I put in my money and selected the cycle it did nothing. Well, it did sprits a bit of water but then it told me to reselect the cycle. So, I did and it said it again. I cycled through all the cycles three times getting the same flashing results. So, I moved back to my normal smaller machines and added a third after I called the owner and left him a message.

I was positive that I wouldn't hear from him before we left. But, he called back and is currently on his way down here. This is the most expensive laundrymat in the area. It's also the best maintained usually other than the driers and hes hoping to replace them sometime next year. I like this man but I was ready to blow up at him because I really couldn't afford to waste 6 dollars on laundry. That 6 dollars would feed hubby for three days at work.

He did, however, called us back. We are waiting on him to get here and the clothes to dry. I don't mind. I know in there somewhere is a story about a short tempered woman, whose husband is driving her crazy because hes sick and shes getting a sore throat nd a man who can fix it, that turns out to be nicer than he probably should be in the face of anyone upset over 6 bucks and the loss of a bit of laundry detergent.

There is a story in everyday events as well as extrodinary ones. You can find character traits of characters in everyone you see. You just have to make sure you keep your eyes open for the ones that inspire the most.



A look at some of our newest members work
Invalid Item
This item number is not valid.
#

2105264

by Not Available.
The Heart of the Skin (18+)
Writing what I think others cannot tell. There is nothing deeper than the skin.
#

2105242

by WallMover
Natalie and Shayne (13+)
Which would you choose? Featured in the "Noticing Newbies Newsletter (December 14, 2016)"
#

2105225

by Ragna Bjornson
The Darkest Hour (13+)
The aftermath of a deadly biological attack that annihilated 90%of the American population
#

2105093

by luci.in.the.sky
Invalid Item
This item number is not valid.
#

2105086

by Not Available.
By the time you receive this there will only be one more day left of sign ups for the item below. If you know anyone who is in need of a bit of emotional support through this holiday season,even if its, you please don't hesitate to drop by and fill out the form. You will notice we don't ask for a reason. The reason isn't what is important. What is important is we are a family here and will do all we can to help each other through what can be difficult times.
Invalid Item
This item number is not valid.
#

2066280

by Not Available.



Have an opinion on what you've read here today? Then send the Editor feedback! Find an item that you think would be perfect for showcasing here? Submit it for consideration in the newsletter!
https://Writing.Com/main/newsletters/action/nli_form



Don't forget to support our sponsor!




| | |
| --- | --- |
| ASIN: B01CJ2TNQI | |



So what have you experienced that lead to the development of good characters or a great story?

Comments about my last newsletter:

Elfin Dragon - contest hunting
said: My worst writer's block lasted for several months. I just couldn't seem to get motivated to write ANYTHING. Words just didn't want to flow from my brain to my fingers. Oh, they were stuck in there to be sure. It was just my fingers didn't want to write them. Weird, huh?

GaelicQueen
said: I am also in the tangle of NaNoWriMo and have struggled to reach the near halfway point. I missed a few writing sessions with my Muse because some reality issues keep demanding my attention.




| | |
| --- | --- |
| ASIN: B004PICKDS | |



To stop receiving this newsletter, click here for your newsletter subscription list. Simply uncheck the box next to any newsletter(s) you wish to cancel and then click to "Submit Changes". You can edit your subscriptions at any time.