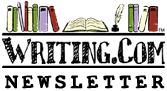 Poetry





This week: It's not true!

Edited by: Elle - on hiatus
More Newsletters By This Editor



1. About this Newsletter
2. A Word from our Sponsor
3. Letter from the Editor
4. Editor's Picks
5. A Word from Writing.Com
6. Ask & Answer
7. Removal instructions





My poetry has greatly evolved since I joined Writing.com and I still have so much to learn. Every poet that I interact with, whether they are newbies or full of experience, has something to teach me. I would never claim to be an expert on poetry, but I do like to think I can provide a different perspective or something for you to think about...



| | |
| --- | --- |
| ASIN: B07B63CTKX | |



Earlier this year I made the decision to make a lot of my writing public. For a long time I kept the majority of my writing visible to Writing.com members only, not the general public, and I decided that it was time for me to make that leap.

Most publishers will not accept submission that are freely available on the internet, but will accept ones that are restricted-access, such as those only visible to Writing.com members. I decided that publication was not my goal, so why was I maintaining this restriction? Time to go public!

The first thing I noticed was the assumptions.
About half of my poetry is autobiographical, which means that I wrote it about experiences and emotions that I personally experienced. The other half are based on observations of other people's lives, prompts and just plain imagination. Most of my darkest poetry is fictional.

I recently wrote "The fight is over"
which is written from the perspective of someone whose marriage has failed. And I find it incredibly awkward that people assume it is autobiographical. My husband and I are very happily married, and yet family and friends (and random strangers!) assume that we are having serious relationship issues because I write poetry about fictional situations.
I always remind myself that it is a compliment that someone thinks I have expressed a fictional situation so well that it rings true. And trust me, I'm honored that they think so, but at the same time, it's not an assumption I'm comfortable with. Similarly, I wrote a couple of poems from the perspective of someone who had experienced domestic abuse, and found myself having to give disclaimers every time someone read them. I think people are really starting to worry what sort of man I'm married to! Poor Steve.


I have had a number of reviews of my poetry where the reviewer has made a comment regarding the situation described in the poem, with the most common being sympathy. It is totally fine to make a comment on how a poem makes you feel, what it makes you think of or reminds you of, or why it spoke to you in particular (maybe you've been in a similar situation). But be very careful about assuming that the poet has written from personal experience. When I encounter these poems and wish to make a personal comment of sympathy or similar to the poet, I always note it with a disclaimer. 'I don't know if this poem is autobiographical or not, but if it is....' This leaves the door open for the poet to respond without making it awkward.

So, the next time you're reading a poem, please take a moment to pause and think. Yes, it may be a personal expression of the poet's thoughts, experience, and emotions. But on the other hand, it might be observational or entirely fictional. And trust me, you can't always tell just by reading it.





Please be aware that the authors have specifically advised that these poems are NOT autobiographical!
Hobby Horse (E)
Poem written for the Writer's Cramp 8/23, using the words tendrils, saga, memory, sting
#

2054404

by Choconuts Roasting
Choking on Ashes (18+)
When you need to burn the image of what you were to create what you will be.
#

2100608

by SB Musing
A Better Love Tomorrow (E)
Like an aging couple yearning renewal the nearer they draw to home, yearn completeness.
#

1162131

by Brian K Compton
When Autumn Comes (E)
Associating death with the season and the loss of love that will never return.
#

2098393

by Brian K Compton
Sorry (13+)
A poem written from a bloody prompt
#

2050182

by Choconuts Roasting
Memories Forgotten (13+)
Searching for my own personal treasure
#

2072664

by Andy~NaNo'ing
Pondering Sorrow (ASR)
The feelings after the event passes as life continues leaving you this way (14 lines)
#

2081807

by Wordsmitty ✍️
Invalid Item
This item number is not valid.
#

747599

by Not Available.
Invalid Item
This item number is not valid.
#

2103365

by Not Available.
A Shattered Soul (ASR)
Brief interaction with a person struggling with schizophrenia
#

2101201

by tucknits



Have an opinion on what you've read here today? Then send the Editor feedback! Find an item that you think would be perfect for showcasing here? Submit it for consideration in the newsletter!
https://Writing.Com/main/newsletters/action/nli_form



Don't forget to support our sponsor!




| | |
| --- | --- |
| ASIN: B07RKLNKH7 | Kindle |



Feedback for "What makes a winner?"
:

A fine News Letter because the words that a poet puts on paper are not ink on the sheet from the brain alone but rather a pen dipped in there heart. ~ Monty


Awesome, knowledge by experience. You are correct when you had mentioned poetry comes from the heart. ~ jerics


Feedback for "Expanding My Horizons"
:

Thanks for the newsletter, Elle, and for highlighting my winning poem. I really appreciate it!
~ Sally

| | |
| --- | --- |
| ASIN: 1945043032 | |



To stop receiving this newsletter, click here for your newsletter subscription list. Simply uncheck the box next to any newsletter(s) you wish to cancel and then click to "Submit Changes". You can edit your subscriptions at any time.