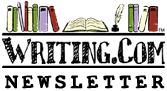 Fantasy





This week: The New Year Cometh

Edited by: Prosperous Snow
More Newsletters By This Editor



1. About this Newsletter
2. A Word from our Sponsor
3. Letter from the Editor
4. Editor's Picks
5. A Word from Writing.Com
6. Ask & Answer
7. Removal instructions







Each New Year comes in with a shout,
Twelve months later it hobbles out.
Shedding tears for unaccomplished goals:
So just remember this as the days pass,
It is a brand new year
So put behind you your fear
And make a plan to accomplish your goals.


Happy New Year
Raise your glasses of holiday cheer
As you sing Auld Lang Syne
And the Time Square ball descends
Ringing in a brand new year
While you consume spoon by spoon
Good luck for the New Year.




| | |
| --- | --- |
| ASIN: B07RKLNKH7 | Kindle |



How are you celebrating the New Year? Are you going to follow your family or cultural tradition? Are you going to find a new way the celebrate the moment when 2016 gives birth to 2017? There are numerous ways to celebrate a new year many of which are intended to bring the individual or family good luck in the coming year. Different cultures have different ways of celebrating and many of these include foods or actions that bring prosperity and good luck to celebrants over the next 365 days.

I was raised in a family that considered pork as part of the New Year's celebration. My Grandmother would fix black eyed peas and pork (usually pigs feet) which was supposed to bring good luck or prosperity over the coming year. However, my roommate considers eating pork on New Year's day bad luck. As authors we need to remember that people of different cultural backgrounds have different superstitions about food.

This time of year food superstitions are one of most basic superstitions people have. The reason for this is that the food one eats at the beginning of the year are intended to bring prosperity and good luck throughout the year. Another myth that many people have concerns actions you can or cannot do on New Year's day. For instance, my Grandmother would not clean house or wash clothes on New Year's Day because she thought if you did it on New Year's Day you would be doing it everyday for the rest of the year.

Remember when you write about New Year celebrations in your fantasy or science fiction stories to pay attention to the cultural myths and old wives' tales of your worlds. Those old wives' tales reveal the culture of the characters. Also remember when you put a religious celebration in your story that there are probably certain types of foods, drinks, and actions that are part of those commemorations or celebrations.

Newsletter challenge: Write a fantasy or science fiction story or poem about a food that brings either good or bad luck if consumed during a New Year's celebration. Tell us what good or bad luck results in the consumption of that food. Word count between 500-2000 or no more then 40 lines of poetry. Deadline: Thursday, January 19, 2019. E-mail item to me or submit under Writing.Com Item ID To Highlight (Optional):




Invalid Item
This item number is not valid.
#

2088348

by Not Available.

Excerpt: It turned, it reveled
It ate its own tail,
It ate,
It ate,
And then it creates


Alan's Requiem (E)
An artificial person contemplates his end.
#

2040056

by Graham B.

Excerpt: Alan's chrome-and-plastic fingers plucked timidly at the guitar strings, then launched into Asturias. His titanium chassis rocked back and forth on his stool, and his optics swayed in a way which would lead one to imagine that they would be half-closed, in the manner of musicians.


Invalid Item
This item number is not valid.
#

2102179

by Not Available.

Excerpt: I'm an elf on a shelf; what's so scary about that? Every time someone enters the room and sees me, they scream and run away. Do you realize how annoying that is? How can I relax and enjoy the season with all the running and screaming?


Discipline (13+)
A shameful homecoming.
#

2103896

by Antonia Ryder

Excerpt: Kire glimpsed the wall surrounding his family's courtyard long before he was ready for it. His eye, thank the spirits, had stopped stinging, but his shoulder still refused to cease its throbs. He caught himself pressing his fingers against the tense, bruised muscles in attempt to release them as home loomed closer. He tightened his jaw to endure it. He'd embarrassed his father enough for a lifetime and had no intentions of adding to that shame.


Invalid Item
This item number is not valid.
#

2025101

by Not Available.

Excerpt: I am so lucky to be an Assistant for this class. This is one of my favorite lessons that the Teacher does.
Observing and taking note of each student as they learn is so enlightening for me.


The Nutcracker Story (E)
Nutcracker Story (to the tune of Winter Wonderland)
#

2104268

by Espero

Excerpt: Family and friends, gather together,
All came, despite the weather.
The guests toast,
Stahlbaum, the host.
Sugar Plums dance around the tree.


Termination of Employment (13+)
As Father Christmas retires, who is up to the job of replacing him? For What a Character.
#

2104532

by Robert Edward Baker

Excerpt: Father Christmas stretched in his chair and popped his aching joints. He needed a break. Every year the world's population increased, and his workload grew heavier. Christmas list number 975,342,641 lay in front of him on his desk. If only kids had more imagination. Even the elves were bored of making games consoles, and it was no easy task to bore an elf. He glanced at Mother Christmas, happily ensconced beside their hovel's roaring fire patching one of his ten thousand red suits. He wished he could join her, but the warmth and soothing crackling sound always sent him to sleep. As he lifted Christmas list number 975,342,642, someone knocked on the front door.


In The Snow (ASR)
The bitter cold, a deserted planet, and a survivor left only with memories.
#

2013541

by Zarek

Excerpt: An icy breeze bit Sellas face as she crouched in the snow. The world around was white, barren, filled with towering cliffs of ice, and vapors rising from the valley below. A dead tree loomed behind her, where rested the boxy form of her red and green shuttle, her only way off this planet. Seasons never changed here, though the sun did shine faintly over the horizon, the bitter cold had ruled for hundreds of years and would rule for thousands more. The tree was a fossil, a twisted gray rock that had died before her people had crafted even the simplest tools.


Invalid Item
This item number is not valid.
#

2104529

by Not Available.

Excerpt: In this land of ice and snow,
hides horrors most will never know.
'Neath sheets of white this spectre stands.
The King of Crows this world commands.







Have an opinion on what you've read here today? Then send the Editor feedback! Find an item that you think would be perfect for showcasing here? Submit it for consideration in the newsletter!
https://Writing.Com/main/newsletters/action/nli_form



Don't forget to support our sponsor!




| | |
| --- | --- |
| ASIN: 0995498113 | |

Robert Edward Baker
writes: Thank you for including 'Harry the Hamster' in your newsletter. I was delighted to see him there. Bob
You're welcome. It was a pleasure to read "Harry the Hamster". Prosperous Snow

| | |
| --- | --- |
| ASIN: 1542722411 | Book |



To stop receiving this newsletter, click here for your newsletter subscription list. Simply uncheck the box next to any newsletter(s) you wish to cancel and then click to "Submit Changes". You can edit your subscriptions at any time.