Printed from https://www.writing.com/main/newsletters/action/archives/id/8059-Start-the-Story-with-an-Ending.html
Fantasy: January 04, 2017 Issue [#8059]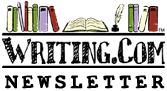 Fantasy





This week: Start the Story with an Ending

Edited by: Dawn Embers
More Newsletters By This Editor



1. About this Newsletter
2. A Word from our Sponsor
3. Letter from the Editor
4. Editor's Picks
5. A Word from Writing.Com
6. Ask & Answer
7. Removal instructions





A Fantasy Newsletter by Dawn

Stories have to start some where and in a number of cases, things start when something ends for the characters. We look at the possibility of having the start be an ending.



| | |
| --- | --- |
| ASIN: B004PICKDS | |



It's a new year and time for my first fantasy ramble, I mean newsletter of the year. With many topic options as I did a couple of prompts about endings and beginnings, I started to think about how the beginning of the story can be along with a little bit of writing advice I've heard over the years.

There are many who suggest that one way to start writing is to go to the end of the novel first. However, this isn't about writing the last paragraphs or even the ending of a novel before anything else. Nope. Instead, I want to talk about how the beginning of the story and main conflict might involve an ending in some way or another. Obviously not the end of the story, though on the rare occasion one can pull off having the actual end first followed by showing how the character got to that point but not very often. However, it is common for something big to change in the beginning for the point of view character and/or others. That can include having something end for them.

On place I've seen this is in epic fantasy. During the very beginning as we're just getting to know the main character, they experience a change in their status quo. This causes the need for action so that we can have a story develop. If things just stayed the same, nothing really happened, most of the time that wouldn't be a story that we want to read about let alone for hundreds of pages.

What happens can be something small to spark that shift into a different section of their lives or it can be big. Letters signifying a need to leave have been used, for example, and depending on the home setting the level of change that creates can vary. Or it can be an attack or battle that destroys the home and puts the character in a position where they can't stay anymore. Common for quest stories, there has to be that moment that gives motivation to act.

However, romance subplots can have endings near the beginning as well. Looking at series of stories in particular, things aren't always going to be easy and there might be times when the one couple aren't meant to be together. Or even we just see the end of a relationship as maybe that is the cause for things to change, pushing the character in a different direction.

The basic point boils down to the fact that a story has to start some where. It's a new year, we're at a start right after experiencing an end. Let's get some stories started too. Try having something big end for the main point of view, then if you feel like having a little fun, go write the end of the story before you do the middle, just to see how that turns out. Or write a story backwards from ending to beginning, that would be different. Either way, let's get writing beginnings and endings.

Magic Words Contest (13+)
A fantasy short story contest. Fantastic Prizes. Open from March 15th. Closes April 30th.
#

1871010

by A E Willcox
The LGBT Writing Contest - reopens 2021 (18+)
Bi-monthly contest (with great prizes) for LGBT characters.
#

1980539

by Osirantinous
Kittiara's Writing Contest (ASR)
Short story and poetry contest, with a theme!
#

861112

by Kittiara
Supernatural Writing Contest (18+)
No prompt! Old or new! Stories and poems accepted!
#

1771874

by Shaye
Paranormal Romance Short Story Contest (13+)
A Monthly Romance Contest -- a 2016 Quill Award Winner and a 2020 Quill Award Nominee
#

2089860

by Jim Hall
Invalid Item
This item number is not valid.
#

2106831

by Not Available.
Hiding Sunflowers for the Future (13+)
A time traveler debates whether or not to save the world with a woman in a bar.
#

2106633

by TheNoMonster
Invalid Item
This item number is not valid.
#

2106398

by Not Available.



Have an opinion on what you've read here today? Then send the Editor feedback! Find an item that you think would be perfect for showcasing here? Submit it for consideration in the newsletter!
https://Writing.Com/main/newsletters/action/nli_form



Don't forget to support our sponsor!




| | |
| --- | --- |
| ASIN: 1542722411 | Book |



Do you have a story that starts with an ending? What ends for the character(s)?


Last month I discussed my opinions on a movie and how useful it can be for character and world building. Here are the two comments sent in over the topic and movie:

Comment by Elfin Dragon - contest hunting

I'm fascinated by the world Rowling created. I have to admit that I have every movie and all the books, including the "not" Harry Potter books which are related to that specific world. They are inspiring to read and get information from as a writer. I haven't seen the "Fantastic Beasts" movie yet but am champing at the bit to do so.

Comment by Quick-Quill

I read all but the play. I love her characters, her not just their make up but their "Character." In Magical Beasts I loved the suitcase and the creatures. I'm not enamored with the person who chose the actors in most of the cases, but they opened up a whole possible series. My friend is writing a series of novels based on an American magical group similar to the one in the movie. Who knew?




| | |
| --- | --- |
| ASIN: B07N36MHWD | Kindle |



To stop receiving this newsletter, click here for your newsletter subscription list. Simply uncheck the box next to any newsletter(s) you wish to cancel and then click to "Submit Changes". You can edit your subscriptions at any time.



Printed from https://www.writing.com/main/newsletters/action/archives/id/8059-Start-the-Story-with-an-Ending.html