Printed from https://www.writing.com/main/newsletters/action/archives/id/8067-New-Year-Resolutions.html
Noticing Newbies: January 04, 2017 Issue [#8067]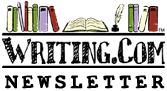 Noticing Newbies





This week: New Year Resolutions.

Edited by: Sisco ~ Back!
More Newsletters By This Editor



1. About this Newsletter
2. A Word from our Sponsor
3. Letter from the Editor
4. Editor's Picks
5. A Word from Writing.Com
6. Ask & Answer
7. Removal instructions





Hello everyone. I am Sisco ~ Back!
. I'm one of the four permanent editors of the Noticing Newbies newsletter.

My aim is to ensure you have a smooth transition into the site. I still remember my first day here. "Bitem?" Do I have to be a computer programmer to put my writing on here?
Forty-eight hours later, I realized it was a case of easy when you know how!. My biggest mistake when I joined was that I didn't take the time to read the "Writing.Com 101"
. I was excited and wanted to do everything the same day. Sound familiar?

You will see my contributions every four weeks and I hope they help you with using this great site.

My fellow permanent editors are Reader? Check out 2233315
, ember_rain, and Sara♥Jean
.



| | |
| --- | --- |
| ASIN: 197380364X | |



Happy new year everyone. I hope 2017 is a great year for you and your writing.

Have you made any new year resolutions? If so, what are they?

I realized late last year that I hadn't written a short story on WDC. One of my resolutions for this year is to write one and enter it into an official WDC contest.

What can you do for your resolution this year?

You can write something you haven't attempted before:

1. Make a post in a forum.
The best place for your first post is "Noticing Newbies"


2. A poem.
You could write freestyle or try a new poetry form if you have written poetry.

3. A short story.
If you have written one, try to write one in a different genre.

4. A review.
We love reviews of our work, so go and make another writer's day.

5. A novelette.
Slightly more challenging and perhaps longer than anything else you have written.

6. A novel.
Either a new one or one you have meant to write for years.

7. A book review.
Many members on WDC have published novels.

Alternatively:

1. Read more books to improve your writing.
Many respected authors say you write better novels the more books you read; Stephen King for example.


2. Enter a contest on WDC. There are contests for just about any type of writing. WDC also has official paid-member only contests with some amazingly generous prizes.

3. Join a group.
We have groups for writing and socializing. Let me know if you can't find one you want.
(You could consider starting up your own group if one doesn't exist for your needs.)

4. Take a course to improve your writing skills.
The New Horizons Academy is accepting registrations on the 7th January for this term. "New Horizons Academy Course Catalog"


5. Do something you have been putting off for months/years!


If none of the above appeals to you, you could try to do something offline. Try a new sport or just do more exercise to get fit and feel healthier. We tend to write better when we are feeling healthy and alert.

Personally, I have major issues with depression. So I have had to make some significant adjustments to my life recently to function. (I am also disabled.) It has taken many months of trying new routines and medication, but finally, I seem to have cracked it.
My point? Don't be afraid to try new things this year; unless they could cause you harm!



This week I have chosen a selection from read a newbie.

Community > Read a Newbie

Selections:


Invalid Item
This item number is not valid.
#

2107383

by Not Available.
Invalid Item
This item number is not valid.
#

2107387

by Not Available.
Autumn's Palette (E)
Walking on an autumn day.
#

2107368

by Rhoswen - Goal Reacher
Dreaming Moon (E)
I wrote this in college while watching the full moon.
#

2107367

by the_nomie
Invalid Item
This item number is not valid.
#

2107353

by Not Available.
Invalid Item
This item number is not valid.
#

2107332

by Not Available.
Peace (E)
A poem I wrote this evening about my father
#

2107327

by Heissman
Invalid Item
This item number is not valid.
#

2107291

by Not Available.



Have an opinion on what you've read here today? Then send the Editor feedback! Find an item that you think would be perfect for showcasing here? Submit it for consideration in the newsletter!
https://Writing.Com/main/newsletters/action/nli_form



Don't forget to support our sponsor!




| | |
| --- | --- |
| ASIN: B083RZJVJ8 | |



From "Noticing Newbies Newsletter (December 7, 2016)"
K.HBey
wrote: I have so appreciated your Christmas story and especially the philosophy of giving presents even with simple means.The purpose is to make others happy.
Happy Merry Christmas to you and to all the Christian community.Happy new year to you and to all the nations around the world.



Thank you for your comment. I hope you had a very merry Christmas and you are enjoying the new year.




| | |
| --- | --- |
| ASIN: B07YJZZGW4 | Kindle |



To stop receiving this newsletter, click here for your newsletter subscription list. Simply uncheck the box next to any newsletter(s) you wish to cancel and then click to "Submit Changes". You can edit your subscriptions at any time.



Printed from https://www.writing.com/main/newsletters/action/archives/id/8067-New-Year-Resolutions.html