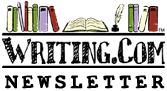 Fantasy





This week: Food

Edited by: Robert Waltz
More Newsletters By This Editor



1. About this Newsletter
2. A Word from our Sponsor
3. Letter from the Editor
4. Editor's Picks
5. A Word from Writing.Com
6. Ask & Answer
7. Removal instructions





There is no sincerer love than the love of food.
-George Bernard Shaw

In France, cooking is a serious art form and a national sport.
-Julia Child

If more of us valued food and cheer and song above hoarded gold, it would be a merrier world.
-J. R. R. Tolkien



| | |
| --- | --- |
| ASIN: B01FST8A90 | |



When crafting a setting in fantasy or science fiction, don't forget to include food. Almost everyone needs to eat, so there's plenty of opportunity to showcase different meal options in different settings.

There are a couple of reasons to do this. First of all, you can usually benefit from adding depth to your world, and "Jala grabbed a quick bite before going out" doesn't add the same flavor as "Jala raided the closet for a can of roast serpent."

Food trends seem to change over relatively short periods of time, based on several factors such as price, availability, popularity, and even marketing. Look at recipe books from the 1970s if you want some examples; I haven't seen a Jell-O mold in some years now (fortunately), but when I was a kid, they were ubiquitous.

Point is, it's unlikely that people in another time and/or place will be dining on steak and potatoes, or bacon and eggs, or even quinoa and kale. People from other cultures might see those foods as wrong or disgusting, much as an American might feel about balut (a partially developed embryo eaten within an egg, popular in Southeast Asia among other places), or deep-fried spiders (also Asian). And from an objective standpoint, isn't it weird that we drink cow's milk? Think about it.

And, of course, there's the various fad Western diets to contend with as well. What kind of fad diets might a different culture adopt at a different time?

There's really two ways you can go with this in a story. You can go with something like the food habits of your own culture, maybe adding or switching one ingredient (for instance, pasta with goat sauce). This will tend to anchor your foods to a reader's frame of reference. Alternatively, go all-out weird, such as with the foods I mentioned above (if, that is, you're writing for a Western audience), or come up with something (perhaps literally) outlandish.

Either way, even if everyone in your story doesn't eat, everyone who reads it does - and it's a way for a reader to relate to, or be repulsed by, a character in your story.

Just be sure you, as the author, eat first - you don't want to get hungry when you're in the middle of writing. I learned that from experience.





Let's look at some fantasy works from our authors:


















Have an opinion on what you've read here today? Then send the Editor feedback! Find an item that you think would be perfect for showcasing here? Submit it for consideration in the newsletter!
https://Writing.Com/main/newsletters/action/nli_form



Don't forget to support our sponsor!




| | |
| --- | --- |
| ASIN: B01FST8A90 | |

Last time, in "Moon Lore"
, I talked about the moon.


TopsyTurvyMumsy
: I'm disappointed that you didn't mention syzygy (which really doesn't correlate to the way the moon appears in the sky, but oh well) . . . because it's a pretty awesome word, and when Dr B was very wee they would randomly yell out the spelling of the word.


Well. It does, kind of. When the moon is full (or new), it forms a syzygy with the Earth and Sun, especially so when there is an eclipse. So yeah, I should have worked it in there somewhere.


And that's it for me for January! See you next month. Until then,



DREAM ON!!!




| | |
| --- | --- |
| ASIN: 1542722411 | Book |



To stop receiving this newsletter, click here for your newsletter subscription list. Simply uncheck the box next to any newsletter(s) you wish to cancel and then click to "Submit Changes". You can edit your subscriptions at any time.