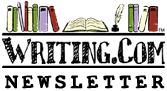 Horror/Scary





This week: Keeping it appropriate

Edited by: Andy~2021 has to be better
More Newsletters By This Editor



1. About this Newsletter
2. A Word from our Sponsor
3. Letter from the Editor
4. Editor's Picks
5. A Word from Writing.Com
6. Ask & Answer
7. Removal instructions



It's when you come home and notice everything you own has been taken away and replaced by an exact substitute. It's when the lights go out and you feel something behind you, you hear it, you feel its breath against your ear, but when you turn around, there's nothing there.

~Stephen King (on terror)

| | |
| --- | --- |
| ASIN: B01IEVJVAG | |



Greetings horror fans. I'm your guest editor for this week, and welcome to my very first Newsletter.

I've always thought of myself first and foremost as a writer and reader of horror, which is one of the main reasons why I love being one of the judges for "SCREAMS!!!"
so much. I'll read a novel by Stephen King or Dean Koontz before choosing one by Mark Twain or Jules Verne. Don't get me wrong; I enjoy reading the classics, and have even been known to occasionally read Jane Austen, but the darkness, the cruelty, and the suspense draw me every time.

With the 30th anniversary of the publication of IT only a few months ago, and the impending 30th anniversary of the publication of Misery, both by Stephen King, I've been thinking more and more lately about what writing horror involves.

Writing horror is easy isn't it? You start off with a scary monster, or a Michael Meyers or Jason Voorhies type of character, throw in some violence, add a dash of blood and gore, sprinkle liberally with expletives, and you're all set. But what if you were asked to write a horror story at a rating no higher than 13+ ?

You can still have your vampires, werewolves, ghosts, and other such beasties, but you will need to get creative with how your scary creature behaves and acts in your story or poem, but there are lots of ways this can be achieved. You could write a vampire piece, but focus on the hunt for his next victim and not the actual kill - what goes through its mind, is there conscience thought in choosing the next victim or it simply an animal acting on instinct, can it hear its victim's heartbeat, or does it know what its victim life was like. Or you could write a scene about someone transforming into a werewolf for the first time - think about what goes through their mind, what are they afraid will happen once they transform, or are they even consciously aware of what's happening to them.

There is also the multitude of sounds, smells, and physical sensations that all add to the suspense, and none of them need to be written in graphic detail to add fear to a scene: the creaking floorboard, the noise coming from the attic, the breath against your ear that may or may not be imagined, and lets not forget the shadow in the corner or the fluttering curtain that can hide something far scarier than your reader could ever imagine.

And don't ignore the real world. Just because horror is scary, doesn't mean it has to be supernatural. There can also be just as many sources of inspiration for horror in the real world, such as a wronged woman, a child abductor, a crazy person. Just how far can a woman go to get revenge on a husband who cheats on her? What about a co-worker who thinks you have a great life and decides to copy you, right down to buying the same kind of perfume/aftershave? Think of films like Psycho, Scream, Fatal Attraction, The Silence of the Lambs, and The Wicker Man. These are all examples of horror that took place in the real world, yet are just as terrifying as the darkest, gore-filled, Ouija-Board-Gone-wrong, ghost story.

Until next time!

Andy
Andy~2021 has to be better




Have an opinion on what you've read here today? Then send the Editor feedback! Find an item that you think would be perfect for showcasing here? Submit it for consideration in the newsletter!
https://Writing.Com/main/newsletters/action/nli_form



Don't forget to support our sponsor!




| | |
| --- | --- |
| ASIN: B07K6Z2ZBF | |



The next time you are browsing the pages of WDC looking for a horror story/poem, why not check out something rated 13+ and see how the author has captured the horror. Perhaps even leave them a review.

If you're feeling really brave, then check out today's prompt over at "SCREAMS!!!"
and write your own terrifying 13+ horror story. We get a lot of 18+ and GC rated entries, and I love our writers dearly for their efforts, but I for one would like to see a few more 13+ entries.

Or if you want to find out just how well you know Stephen King and his work, I suggest you check out "The Stephen King Trivia"
by iKïyå§ama
.


| | |
| --- | --- |
| ASIN: B000FC0SIM | |



To stop receiving this newsletter, click here for your newsletter subscription list. Simply uncheck the box next to any newsletter(s) you wish to cancel and then click to "Submit Changes". You can edit your subscriptions at any time.