Printed from https://www.writing.com/main/newsletters/action/archives/id/8108-The-Magician-Character.html
Fantasy: February 01, 2017 Issue [#8108]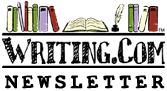 Fantasy





This week: The Magician Character

Edited by: Dawn Embers
More Newsletters By This Editor



1. About this Newsletter
2. A Word from our Sponsor
3. Letter from the Editor
4. Editor's Picks
5. A Word from Writing.Com
6. Ask & Answer
7. Removal instructions





Fantasy Newsletter by Dawn

Looking at a specific character found within fantasy: the Magician. It is one term for a character who wields magic but there are other names that also will be explored in this week's newsletter.



| | |
| --- | --- |
| ASIN: B01DSJSURY | |



It's time to talk character and this time, we're going with the magicians (not the tv show or the book though those do have magicians and are speculative fiction). For some of us who write fantasy, and the occasional sci-fi or other subgenres under the speculative fiction umbrella, there is the use of magic. Some worlds have everyone able to use some type and others have the more common limited ability to certain people.

Those who can do magic versus those who can't has many names. In the world of Harry Potter, for example, there are the muggles and the main magic users often have the term wizard (though it's not limited to that term as there can also be found references to witches and sorcerer's). Many other books both famous and not have used similar terms. For author Jim Butcher, there is also the wizard. However, for Lev Grossman, there are the magicians.

Another term close to magician is that of the mage. Linked to the religious status known as the Magi, mages are found within fantasy and were one of my favorite types of characters, hence my username being elfmage7. I like magic under pretty much any name within spec fic but was drawn to the mage, which I'm using in my own epic fantasy somewhat cliche series.

The reasons for the term, whether it's mage, magician, witch, warlock, wizard and all of the others vary depending on the world and characters. Sometimes you will list those reasons in the book to explain the setup to the reader and other times it will be that way just because that is what you wrote.

There are all of these different words to use for someone who is capable of doing magic. And the reasons for the different terms can help develop the world or even the character if the POV happens to be someone who can do magic or is going to learn how. I will go into some of those reasons next time with this newsletter.

For now, I am just curious. What do you call the characters who can wield/use magic in your stories? Do you know why you use that term? Think about it and let us know. Write some magicians, witches or any other type of magic character. We can always use more speculative fiction on the site.



Paranormal Romance Short Story Contest (13+)
A Monthly Romance Contest -- a 2016 Quill Award Winner
#

2089860

by Jim Hall - B-Day 7/22
Kit'z Higher Ratings Contest (18+)
A contest for items with a higher content rating.
#

887621

by Kittiara
The Grim Reaper Contest - Closed (13+)
This is a Horror Flash Fiction Contest. See you on October 2020!
#

2046245

by Fictiøn Ðiva the Wørd Weava
Invalid Item
This item number is not valid.
#

2110090

by Not Available.
Invalid Item
This item number is not valid.
#

2110562

by Not Available.
Leftovers (E)
Great Foods Will Never Go Away
#

1965155

by Angus
The Shadow (E)
Anna and Harold are two normal kids in school. Until a shadow arrives in class.
#

2110712

by Timepilgrim



Have an opinion on what you've read here today? Then send the Editor feedback! Find an item that you think would be perfect for showcasing here? Submit it for consideration in the newsletter!
https://Writing.Com/main/newsletters/action/nli_form



Don't forget to support our sponsor!




| | |
| --- | --- |
| ASIN: B01MQP5740 | Kindle |



What do you call your magic wielding characters?

Last month, I discussed writing endings either as the very first thing written or how something can end as the story/novel is starting. Here are the comments sent in:

Comment by Elfin Dragon - poetry fiend

I actually have two novels which I have endings for and only one novel with a beginning. What's interesting is at the VERY end of both my main characters die. One is a peaceful, it's just the end of the story, kind of thing. The other is a violent, wow I didn't expect that, sort of thing. I guess I just like killing off my characters.
Comment by Shannon

Great NL! It reminded me of a book I read years ago that was written with the ending first and progressed backwards in time to the beginning of the story. It was a fascinating format and heartbreaking (true) story titled Stuart: ALife Backwards
I highly recommend it to those who haven't already read it.

| | |
| --- | --- |
| ASIN: B00KN0JEYA | |



To stop receiving this newsletter, click here for your newsletter subscription list. Simply uncheck the box next to any newsletter(s) you wish to cancel and then click to "Submit Changes". You can edit your subscriptions at any time.



Printed from https://www.writing.com/main/newsletters/action/archives/id/8108-The-Magician-Character.html