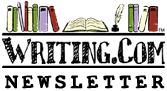 Action/Adventure





This week: Let's Go Doodlebugging!

Edited by: Leger~
More Newsletters By This Editor



1. About this Newsletter
2. A Word from our Sponsor
3. Letter from the Editor
4. Editor's Picks
5. A Word from Writing.Com
6. Ask & Answer
7. Removal instructions



The purpose of this newsletter is to help the Writing.com author hone their craft and improve their skills. Along with that I would like to inform, advocate, and create new, fresh ideas for the author. Write to me if you have an idea you would like presented.
This week's Action / Adventure Editor
Leger~

| | |
| --- | --- |
| ASIN: B01MQP5740 | Kindle |






Moving onward with my exploration of occult topics, I ran into dowsing...which is the art of divination. A person gets a branch, or rod (sometimes merely their mind) and walks around a property water-witching for ground water. Usually. Or so I thought. But it also refers to looking for metal ore, oil, gemstones or even gravesites. While I read references and quotes going back to the 1600's about diving rods, I clearly remember my grandfather using a forked branch to locate the place the well for their cabin would be dug. Being a child, I thought it was a common thing to do and never gave it much thought.

In the South of France in the 17th century it was used in tracking criminals and heretics. Its abuse led to a decree of the inquisition in 1701, forbidding its employment for purposes of justice. In reading further, much of dowsing is attributed to the ideomotor phenomenom. Ideomotor phenomenon is a psychological phenomenon wherein a subject makes motions unconsciously. Think Ouiji boards and freaking your friends out on an epic scale. The things your unconscious mind will do is so amazing.

Oh and want to go doodlebugging? It's a term for using divination for oil in the U.S. If not, stay inspired and Write On!


This month's question: Do you remember the elders of your family using old methods like dowsing?
Have you worked that in your writing?
Answer below
Editors love feedback!

Invalid Item
This item number is not valid.
#

2074453

by Not Available.
Excerpt: Nothing of man—nor man-made could cobble together all the elements of this exquisite exhibition of natural perfection that beckoned not only the young women but also thousands of other inhabitants of the City to take a free day; a mental health day; a 'sick' day—any breed—of day off, to luxuriate in the boughs of nature's bounty.
Descending into Freedom (18+)
Two friends have to become lost in order to find themselves.
#

2091367

by Graham B.
Excerpt: "I've got a family!" he spat. "I've got responsibilities! What do you have?"
The Water Rages On (E)
Hurricane Katrina is wreaking havoc on mankind and the land. Its' Parishes now underwater.
#

2091385

by Intuey
Excerpt: By the time they arrived at the attic ladder, the water was up to Rita's thighs. Rita and Howard both had a child in their arms. Howard with a look of sheer determination climbed rapidly up the ladder and deposited his child into the attic. He came half-way back down and grabbed the child Rita had in her arms and took the child on up the ladder, looking back to make sure Rita was okay. The water lapped up to the fourth step of the ladder. The ocean was engulfing their home. Thank the Lord they didn't have any pets.
An Unlucky Fishing Trip (E)
Scummy, boars, pine trees, water dead as a sewer
#

2074955

by chip
Excerpt: We both sped back faster than a rabbit dashes from a hunter. We didn't know much about these animals, but with a few tusks pointing at us, along with many white teeth, we weren't about to learn if they would inflict fatal harm. Bobby beat me back to the vehicle but was especially jittery, so I promised, if we could find a local hotel, I would pay for the three nights of our trip.
The Water's Edge (E)
She goes for a swim but can't come back, for she has become a mermaid
#

2035776

by DMCarroll
Excerpt: Miriam moved further and further into the lake, each step leaving behind a glowing trail; points of light where her footsteps had been fading slowly back to match the water's glistening surface. As the water moved above her waist a blinding flash of light spread out to the farthest reaches of the water's edge. As the light dimmed, an awareness of some transformation left her confused. She sunk back to lift her foot above the waterline and was alarmed at first that her foot was replaced with a fin.
I Called The Plumber (E)
I open the door and to my husband swimming through water, chasing the tools that got away.
#

2078475

by Intuey
Excerpt: Now, instead of seeing the one initial leak, water is spewing from two opposite pipes! Closing the door, I creep quietly away.

After a spew of explicit curse words coming from below, I wait patiently as to what I feel is the appropriate amount of time. Then like a ballet dancer on tip-toes, I sneak toward the basement door. Holding my breath, I brave one more look. My husband is now wading through a pool of water, a look of indignation upon his face.
Invalid Item
This item number is not valid.
#

1921373

by Not Available.
Excerpt: A shrill ring popped my dream. I cracked one eye open. Grey light filtered in. Couldn't even be eight yet. Another shrill called me to the phone. Reaching for it, I squinted at call display. An in house call. The clock registered just after seven. It's the weekend. Couldn't be someone to see us at this hour.
Invalid Item
This item number is not valid.
#

2068073

by Not Available.
Excerpt: Nereida was an orphan. No one knew where she had come from. She had been found on the doorstep of an orphanage further inland as a baby, wrapped in a simple gray cloak with her name written on a white tag pinned to the garment. As she grew up, she passed from one orphanage to the next. She had no friends, although she was by no means unfriendly. None of the other orphans could ever seem to understand her. When she spoke, it was in a soft, liquid voice. She had no interest in pretty toys or games, and spent most of her time sitting alone, staring into space.



Have an opinion on what you've read here today? Then send the Editor feedback! Find an item that you think would be perfect for showcasing here? Submit it for consideration in the newsletter!
https://Writing.Com/main/newsletters/action/nli_form



Don't forget to support our sponsor!




| | |
| --- | --- |
| ASIN: B01MQP5740 | Kindle |




This month's question: Do you remember the elders of your family using old methods like dowsing?
Have you worked that in your writing?
Answer below
Editors love feedback!




Last month's question: Have you explored the paranormal? How did you use that in your writing?
No replies.


| | |
| --- | --- |
| ASIN: B07YXBT9JT | |



To stop receiving this newsletter, click here for your newsletter subscription list. Simply uncheck the box next to any newsletter(s) you wish to cancel and then click to "Submit Changes". You can edit your subscriptions at any time.