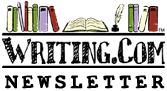 Noticing Newbies





This week: Effective Dialogue is an Art

Edited by: Brooke - RIP Spike
More Newsletters By This Editor



1. About this Newsletter
2. A Word from our Sponsor
3. Letter from the Editor
4. Editor's Picks
5. A Word from Writing.Com
6. Ask & Answer
7. Removal instructions




The Noticing Newbies Newsletter's goal is to make the newer members feel welcome and encourage them with useful information and/or links to make navigating Writing.com easier. Writing.com members of all ages and even veteran members can find useful information here. If you have specific questions, try visiting "Writing.Com 101"
and/or "Noticing Newbies"
.

Meet The Noticing Newbies Full-Time Newsletter Editors

| | |
| --- | --- |
| ASIN: B07P4NVL51 | |


From the mailbox:



My biggest fear is falling into the 'he said', "she said" kind of dialogue. It would be very interesting to debate the best way to write dialogue, either first person, third person, etc. Also if for example, writing something that deals with childhood issues which form a person's future personality and life choices, tenses could become an issue? Perhaps splitting story into different eras by using chapters to separate the different ages from youth to present day (before and after?)would make more sense and make the story cleaner? -

bobbylou1



The question seemed like a great topic for a newsletter. Right?

Writing realistic dialogue doesn't come easily to everyone. However, it is an extremely useful tool in fleshing out a character and advancing the story. Unfortunately, poorly written dialogue has the opposite effect. Nothing can send a reader running faster than bad dialogue. What is the best way to learn what works and what doesn't? Well, we start in a place that was just discussed in "People watching."
by ~ Santa Sisco ~
.


Listen to people's conversations.

Yes, next time when you're in a restaurant or public place, listen. A good writer hears and see's the world around them. Don't be afraid to take notes. The right details and language can really bring your characters to life. Remember though, that the wrong details can stop them dead in their tracks.

Writing effective dialogue is an art. It comes from truly knowing your characters. It can show not only how they speak but how they act and who they are. A tense conversation between a husband and wife can reveal more about their relationship than several paragraphs of descriptive narrative.

Make sure the grammar and word choice are appropriate for the characters. A young man from a college fraternity won't speak the same way as an Army colonel or a five-year-old child. If he does, you definitely need to show the reason. Reading scenes aloud or in front of another person can help you to recognize weak points in your dialogue.

Readers often skip narrative, but seldom skip dialogue. This is because they are drawn to dialogue. The reason? It is often where conflict is built and secrets are revealed. Whenever possible, try and break up long stretches of narrative with dialogue.


Show don't tell – dialogue tags

Dialogue is a great way to show instead of tell. Many writers use the dreaded he said, she said. Once in a while, that is perfectly acceptable. However, nothing can be more irritating than reading those words over and over.
To avoid that pitfall, share action or emotion instead.

She said could be changed to "Anna whispered". He said could turn to "Tom whined as he started back for the house." Both still tell who is speaking but say so much more. When you accent your dialogue with movements or mannerisms, you enhance your scenes and bring your characters to life.

In a dialogue exchange with only two speakers, it may not be necessary to use tags at all. If you make it clear who is speaking at the beginning, you can often leave them out completely.


More than meets the eye

In daily conversation, as in writing, a lot goes on in between the lines. Ulterior motive and innuendo are two examples. When you're writing dialogue, you have the perfect opportunity for developing character, conflict and building suspense.

A conversation can speed up a reader's heart, quicken their breath and bring them deeper into your story. Think about a conversation you've had recently. What was said "between the lines"? What was implied yet the words not actually spoken?

"Are you sure you want another piece of cake?"

This sentence is constructed as a question but is it really? It's an opinion saying, I don't think you should eat any more cake. When your character talks, sometimes he says more than meets the eye.


Tips to proper punctuation in dialogue

While we're talking about dialogue, It's worth mentioning that many authors do not properly separate and punctuate speech. Only lines that contain actual speech verbs should be set off with a comma. These verbs are words such as; she whispered, he screamed, Tom asked. Those words all relate to speech.

Example:
"I like to tell people I have the heart of a small boy," whispered Stephen King. (
Speech verb/comma)

Action verbs should be punctuated as a normal sentence. Words such as laughed, glared, and shrugged are not speech verbs, they are action verbs. You cannot glare or shrug a sentence.

"I just don't tell them I keep it in a jar on my desk." He laughed. (
Action verb/no comma)

Remember not to overuse adverbs in speech. When you find yourself writing "He said quietly" what you should be writing is "He whispered." This will also give your character an action to go along with his speech that will show how he said it.

Listen to your characters. Hear their voices and they will tell a wonderful story.

Write and Review on! ~ Brooke



Erin Kelly is the author and freelance journalist for several newspapers including The Sunday Times and the Daily Mail as well as magazines including Red, Marie Claire and Elle.

.
| | |
| --- | --- |
| ASIN: B01N8VOW5P | Kindle |
Ready to try your new skills?
Why not give this contest a try?





Check out these wonderful items featuring extensive dialogue. Many have no ratings at all. :(





~
~
~
~
~
~
~
~
~
~
~
~
~
~
~
~
~
~
And the following item was sent in by the author.
~
~



Have an opinion on what you've read here today? Then send the Editor feedback! Find an item that you think would be perfect for showcasing here? Submit it for consideration in the newsletter!
https://Writing.Com/main/newsletters/action/nli_form



Don't forget to support our sponsor!




| | |
| --- | --- |
| ASIN: B083RZ37SZ | |


I received some wonderful feedback to my last newsletter [#8131] "Are Your Characters Dead or Alive?"
and I'm proud to share it with you.

From The Ink Maiden~
This is wonderful advice. Thanks so much.




You're very welcome.Thank you for writing in!



From hbk16


These are interesting advice on how to focus on characters in someone writing.To draw characters in writing needs many rich descriptions.A thing which puts a writer as an observer of herself/himself or others and to express deep feelings about such characters.Someone characters are in fact a mixture of contradictory manners and ways to be as a person.To attract readers about such or such characters needs originality and a wise style.





I agree! Thank you for writing in and sharing your thoughts. :)



From Jacqueline
hello authors of Noticing Newbies. i have been apart of Writing.com for five years now. I been a paid member and a unpaid. It was been awhile is on put any new work up on my profile and I know as unpaid i can only put a certain amount. I remember reading a newsletter saying how to take the old one down and put them in a file, but i can't find it, so I was hopping if you can tell me how i can store my old work so i can put some more up
Thank you Jacqueline Tasik
Sure. On the left side of the screen you will see a list of different things you can click on. Keep looking until you see the one that says "Writing.com Tools". A new menu will pop out to the right. In the second section you will see "Portfolio Export". This is what I believe you're talking about. You can download the contents of your portfolio at any time using this tool. Good luck!

| | |
| --- | --- |
| ASIN: 1542722411 | Book |



To stop receiving this newsletter, click here for your newsletter subscription list. Simply uncheck the box next to any newsletter(s) you wish to cancel and then click to "Submit Changes". You can edit your subscriptions at any time.