Printed from https://www.writing.com/main/newsletters/action/archives/id/8201
Fantasy: March 29, 2017 Issue [#8201]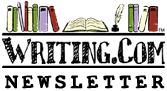 Fantasy





This week: Specific Settings - The Ocean

Edited by: Dawn Embers
More Newsletters By This Editor



1. About this Newsletter
2. A Word from our Sponsor
3. Letter from the Editor
4. Editor's Picks
5. A Word from Writing.Com
6. Ask & Answer
7. Removal instructions





Fantasy Newsletter by Dawn

Back on the discussion of settings with a look at some pitfalls and unique perspectives the ocean or similar large bodies of water can provide. Taking into consideration the option of using oceanic settings for our speculative fiction stories and some that have already paved the way.



| | |
| --- | --- |
| ASIN: B07K6Z2ZBF | |



It has been a while since I've done a setting newsletter. Many months ago it was different ships: air, space, water. Jumping off that idea, I would like to talk about the use water in setting much like that of the ocean. What happens when you set a story on or under the high seas?

Pirates are the one of the first things I think of when considering the ocean for setting as there really are some limits as to what one can do on or in the ocean. There is traveling over it on ships or doing something under the sea, so Little Mermaid or Pirates of the Caribbean are what come to mind right away. Oh and the whole concept of Atlantis, which was a city that is supposed to have been hidden under the sea. Other than that, it's a little harder to imagine a story on or in such a large body of water.

There are definite limitations because of the location. If going on top of the sea, with ships or similar, then you have to consider space as a factor. Only so many people/creatures can be kept aboard at a given time. Limits interaction and may require other settings with land to help keep things from getting too crazy from only having endless miles of water surrounding them at all time. The types of characters will also be influenced by the setting.

Interesting fact: Below deck on ships in the past was only about 5 feet from floor to ceiling. We took a tour of an old ship out in Pennsylvania when I was a teen and only two of us didn't have to duck, me being one as I'm still only 4'11.5" in height.

Then there is a more Under the Sea option. Try not to get Sebastian's song stuck in your head while considering the option. While ships have a far more limited space, one good aspect about getting into the actual ocean is that there is a lot more space available. However, you are writing something under water, which will have its own setbacks and restrictions. How different things survive in that situation will be a factor and influence on characters too.

For a while there, mermaid stories were quite popular in the young adult age group. The trend followed the tails of the vampire craze, if memory serves me correct. However, I haven't gotten a chance to read many of them but I do still have a few on my "to read" list over on Goodreads. The one I have read was a book called Tempest Rising and the MC was a teen girl discovering she was part mermaid. It was a little stereotypical with the general storyline that was popular within YA when supernatural type things were involved but it definitely had some interesting elements. Still want to read Excuse My Fins or maybe even Real Mermaids Don't Wear Toe Rings. There are quite a few mermaid options out there, just check Goodreads. I bet there are some pirate novels available too.

So, the ocean is a setting option, whether staying above water or sinking to the dark depths of the sea. How would you use this setting in a story? Write one and let's find out.



Kittiara's Writing Contest (ASR)
Short story and poetry contest, with a theme!
#

861112

by Kittiara
Zodiac Contest/CONTEST CLOSED (18+)
Create a character using personality traits from a Zodiac sign.
#

2115893

by GeminiGem🐒
The Pink Fluffy Unicorn Contest (E)
The greatest writing challenge on WDC! PINK FLUFFY RESULTS NOW OUT!!! :)
#

2113126

by Robert Edward Baker
World Weavers' Championship (13+)
Contest returning August 2021
#

2012128

by Tileira
Just One Point of View Contest (18+)
It's all about third person limited point of view
#

1992580

by Max Griffin 🏳️‍🌈
The LGBT Writing Contest - reopens 2021 (18+)
Bi-monthly contest (with great prizes) for LGBT characters.
#

1980539

by Osirantinous
Fantasy and Science Fiction Society (E)
For Fantasy and Science Fiction authors. Open to all applications. come in and learn
#

2014050

by David the Dark one!
Invalid Item
This item number is not valid.
#

2114398

by Not Available.
The End (GC)
The Host needs Travis Keane—needs his powers. For the prompts "fire" and "expelled."
#

2114841

by beetle
The Heart of Zealous (ASR)
A young hero goes in a quest to restore a once enchanted land now in ruins.
#

2113287

by brom21
The Dragon and the Cat (ASR)
A dragon chases a cat for days.
#

2116707

by Redlive122



Have an opinion on what you've read here today? Then send the Editor feedback! Find an item that you think would be perfect for showcasing here? Submit it for consideration in the newsletter!
https://Writing.Com/main/newsletters/action/nli_form



Don't forget to support our sponsor!




| | |
| --- | --- |
| ASIN: B01IEVJVAG | |



Have you read or are you writing a story set on the high seas? Would you?


Last time talked about the use of words when conducting magic, in particular the verbal method of casting spells.

Comment by brom21

Thanks for the newsletter. When I use magic, it is just a thought or a physical motion like a wave of the hand. I do not use words really. It would probably sound silly if I did it. Lol. My magic is always accompanied by a visible reaction, like a shining orb or a sparkling cloud of silver and so on. light affects area classic element of magic I think. Magic objects are also key items-kind of like Gandolf's staff to name from a familiar example. Thanks for the appealing look into a prime element of fantasy!

- Thank you. I'm glad you enjoyed the newsletter and that's a good point on magic objects too. Will have to discuss physical motion and how the focus/control is done often in magic in the future.



| | |
| --- | --- |
| ASIN: B00KN0JEYA | |



To stop receiving this newsletter, click here for your newsletter subscription list. Simply uncheck the box next to any newsletter(s) you wish to cancel and then click to "Submit Changes". You can edit your subscriptions at any time.



Printed from https://www.writing.com/main/newsletters/action/archives/id/8201