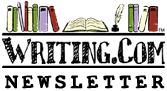 Noticing Newbies





This week: The hook

Edited by: Sisco ~ Back!
More Newsletters By This Editor



1. About this Newsletter
2. A Word from our Sponsor
3. Letter from the Editor
4. Editor's Picks
5. A Word from Writing.Com
6. Ask & Answer
7. Removal instructions





Hello, everyone. I am Sisco ~ Back!
. I'm one of the four permanent editors of the Noticing Newbies newsletter.

My aim is to ensure you have a smooth transition into the site. I still remember my first day here. "Bitem?" Do I have to be a computer programmer to put my writing on here?
Forty-eight hours later, I realized it was a case of easy when you know how!. My biggest mistake when I joined was that I didn't take the time to read the "Writing.Com 101"
. I was excited and wanted to do everything the same day. Sound familiar?

You will see my contributions every four weeks, and I hope they help you with using this great site.

My fellow permanent editors are Reader? Check out 2233315
, ember_rain, and Sara♥Jean
.




| | |
| --- | --- |
| ASIN: 0997970618 | Book |



Someone asked me how we get people to read our work.
The answer depends on what you are writing.

Poetry:

I have seen many poems on WDC that I read because they have been entered into a competition. Some of the poems would have to be skipped if I was looking at a list of poems to read.
"Untitled." with a description, "A poem I wrote when I was bored." Does this make you want to click on it and read on? "Boredom inspires." With a description, "I was bored, and my muse roared."
"Manic." with a description, "I wasn't expecting this to happen." Want to read on?
The title and description of a poem are what grab readers attention; Try to make both as interesting as you can.

Short stories:

The title is crucial for short stories. Try to use a powerful word within the title to gain interest. If the story has an unusual theme, put it in the title. A reader might read the first two or three sentences to see if they want to read on. So make the first few lines as interesting as you can. Ask a question, create tension, and gain interest in reading on.
"
"He felt each and every one of the thirty-seven bullets as they hit him. Why did he walk into such an obvious ambush? Why?
Earlier that day…"
Would you want to read on? If yes, the hook worked.
If no, then you must have an idea of what would work for you. Your readers will probably want the same.


Novels:

I am a former editor at the now-defunct fictionandverse dot com. My section was called, "The hook." Readers submitted the first chapter of their novel, and I would publish the chapters that made me want to read more. (Along with a link for readers to buy the book if they were hooked too.) I loved my job and got to read many novels as the authors would send me a free copy in appreciation. (Unsolicited of course.)
I was also amazed by the dull and dreary entries sent to me with a note saying something like, "It gets a whole lot better from chapter five." Really?

With the first chapter, and possibly more, available to readers on book selling sites, you need to make them your hook! I spent a lot of time writing and editing my first chapter. I used a minor character, a reporter, to be involved in a bomb explosion to get my readers to care about this poor woman and the evil terrorists responsible. The only thing I regret is that I didn't know just how much she would feature in my novel. I wanted to know what happened to her after that first chapter, so she took over a few chapters and became a major character in my novel.
I am not saying that the first chapter has to be full of action, but if it doesn't interest or excite a casual reader, they will probably not read on. Okay, if you are J.K. Rowling or Stephen King, you will get fans to read on.
Until you reach that dizzy height, get working on your hook!

Non-Fiction:

I would hope that the subject matter covered would draw in the right readers for your writing. (I would love for any tips you have. Please leave a comment if you have any.)






This week I have chosen a selection from read a newbie.

Community > Read a Newbie

Selections:


Tale Of Love (E)
The day my hubby and I met, almost 25 yrs. ago. Still in love.
#

2116795

by JA
Invalid Item
This item number is not valid.
#

2116793

by Not Available.
Invalid Item
This item number is not valid.
#

2116791

by Not Available.
Just Me (13+)
Just a short poem of truth
#

2116777

by Morgan Rodgers
Listless Harmony (E)
Fantasy Romance
#

2116771

by StandingDamu
My Process (E)
How I write what I write and why I do it in the first place.
#

2116725

by Bill Bacon
Invalid Item
This item number is not valid.
#

2116716

by Not Available.
The Dragon and the Cat (ASR)
A dragon chases a cat for days.
#

2116707

by Redlive122



Have an opinion on what you've read here today? Then send the Editor feedback! Find an item that you think would be perfect for showcasing here? Submit it for consideration in the newsletter!
https://Writing.Com/main/newsletters/action/nli_form



Don't forget to support our sponsor!




| | |
| --- | --- |
| ASIN: B004PICKDS | |



From "Noticing Newbies Newsletter (February 1, 2017)"
Reader? Check out 2233315
commented:
Loved your "People Watching" NL. I couldn't agree more. Nothing should escape the attention of a writer. It's all research!
Great editorial.
Thank you, Brooke. Coming from a veteran editor like yourself, I'm humbled.


From "Noticing Newbies Newsletter (March 1, 2017)"
Mary Ann MCPhedran/fearless
commented:
Hi I enjoyed reading your news and of the tips in reviewing and the advice on writing. Advice I will try to develop your suggestions and helping newbies. Mary Ann MCPhedran.

Thank you, Mary Ann. I am pleased my newsletters are helping you.


From "Noticing Newbies Newsletter (March 1, 2017)"
Dee
commented:
Your article about assigning stars on reviews came at an interesting time. I received a glowing review with no suggestions or negative comments, and I received a 4.5, which I was pleased with (along with the review). But I did wonder why it didn't make a 5 rating.
When I rate reviews I rate the story as a whole, *and* each element (plot, title, descriptions etc.) from 1-10. In a public review, I always explain why I rated it the way I did if I rate it between 3 - 4.5.
I like people to know that I don't rate stories lower because I may not care for their genre, or because I don't care for their particular story. I've rated stories a 5 before when the writing warrants it, even when the genre or story was something I didn't care for personally, just by sticking to the mechanics and the elements of the genre.

Thank you, Dee. It sounds like you have already found the rating structure that works for you and that is what it's all about.

| | |
| --- | --- |
| ASIN: B085272J6B | Kindle |



To stop receiving this newsletter, click here for your newsletter subscription list. Simply uncheck the box next to any newsletter(s) you wish to cancel and then click to "Submit Changes". You can edit your subscriptions at any time.